The Deep Mountains of Kyoto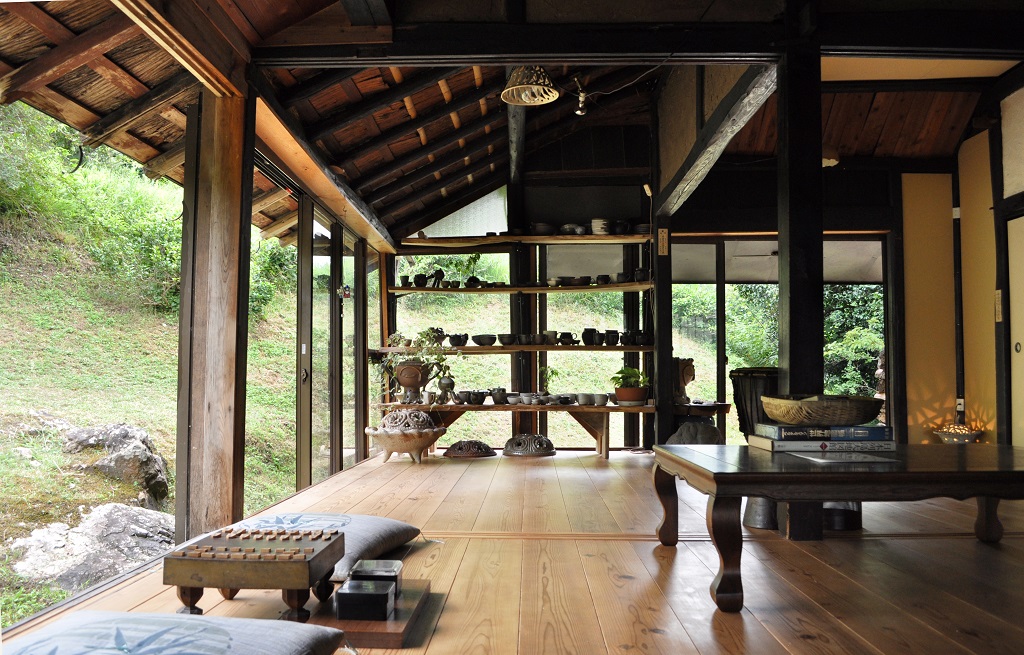 The Deep Mountains of Kyoto
Letters from Hidden Kyoto
By Abby Smith
Originally from California, I came to work in Japan in 2013. A lover of languages and shady spots along the Kamo Riverbank, I have been living in Kyoto since 2016. To this day, this thousand year-old city continues to surprise me--there's always something new to discover hiding in plain sight.
Though still within the city limits, the beautifully pastoral Keihoku is located deep in the mountains of northeast Kyoto. I got a taste of the authentic country lifestyle with the Tanaka family, who run several guest houses out of traditional Japanese country homes, and was surprised to see the extent of the local's artistic talent at a closeby café and glass-making studio.
Keihoku is a region of Kyoto you may not have heard of before. Deep in the mountains northeast of Kyoto, Keihoku is well known for the wood industry supported by its endless rows of cedar trees. Beautiful and sparsely populated, Keihoku is an excellent place to experience the Kyoto City countryside.
The road to Keihoku is an easy trip from the city center, as you'll only need one bus from Kyoto Station (a car ride is also lovely!). The ride is approximately an hour and a half (traffic depending) on JR Bus's Takao-Keihoku Line to the very last stop, in Shuzan.
Meeting my hosts
Once I arrive, I have only to wait a matter of minutes before a car zips up to the bus station, and I'm greeted brightly by my host, Masanori Tanaka. He and his wife are the owners of Banja and Goemon, two traditional houses in the countryside here that have been passed down through the generations: in Banja's cases, eight generations in a single family for a period of 300 years. Now, Mr. Tanaka and his wife rent these houses to visitors seeking a different kind of Kyoto experience: a taste of authentic country life.
The Tanaka family themselves live elsewhere, but will often oblige guests by cooking traditional meals together with them here, chatting, and showing them around this Keihoku village like only they can. It's a service appreciated by guests who might need some tips from a local on everything from where to buy food, to how best to enjoy the unique flow of time here in the mountains.
A Local Kyoto Tour
Stop number one is the supermarket, should guests want to purchase any drinks or special items. At Banja, guests are invited to cook their own food–with help, naturally—with local ingredients. Next is the Keihoku area's official roadside rest stop, or "Michi no Eki," which is a riot of all things Keihoku, from the enormous tree trunk that stands in the middle of the modern building (cedar logging is a major industry in the Keihoku area), to the local crafts glittering in colorful rows towards the back, to the equally colorful fruits and vegetables.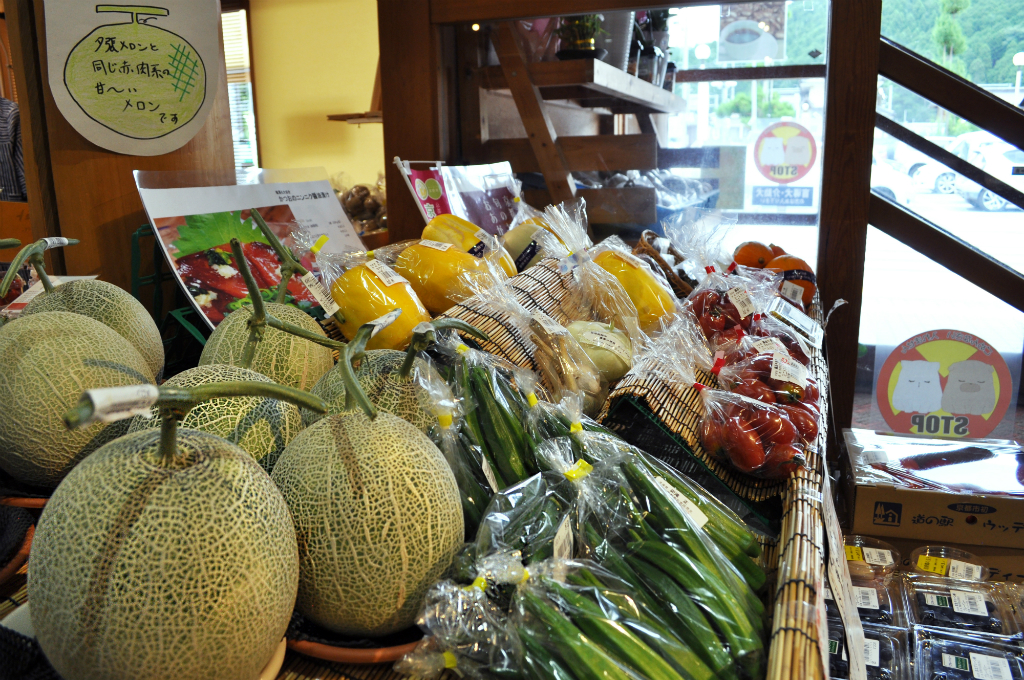 All of this produce, Mr. Tanaka explains, is brought in from fields nearby (sure enough, as we're speaking, there are deliveries underway for not only legumes, but sushi made with fresh river fish!). On closer inspection, the names of the very farmers are printed on the labels. Farm to table, indeed!
During the summer months, Mr. Tanaka likes to point out the nearby river to his guests, which is popular for barbecues and swimming, with its broad banks and shallow, family-friendly waters. It's a nice place to relax if you want to get out of the house, he explains.
Though guests at Banja and Goemon stay for different periods of time, time-permitting, Mr. Tanaka is eager to share the best of Keihoku with everyone, and frequently takes his guests for walks to nearby temples and shrines, through fields, and to see the craft works of the many other creative residents of Keihoku. Particularly in such a rural setting, in which multilingual signs and information are lacking, a local guide here can make all the difference. You may see fireflies by the creek he guides you across in June, and wild deer in the twilight. The location is stunning: an utterly peaceful village, but one that doesn't feel foreign. The residents of Keihoku are very welcoming.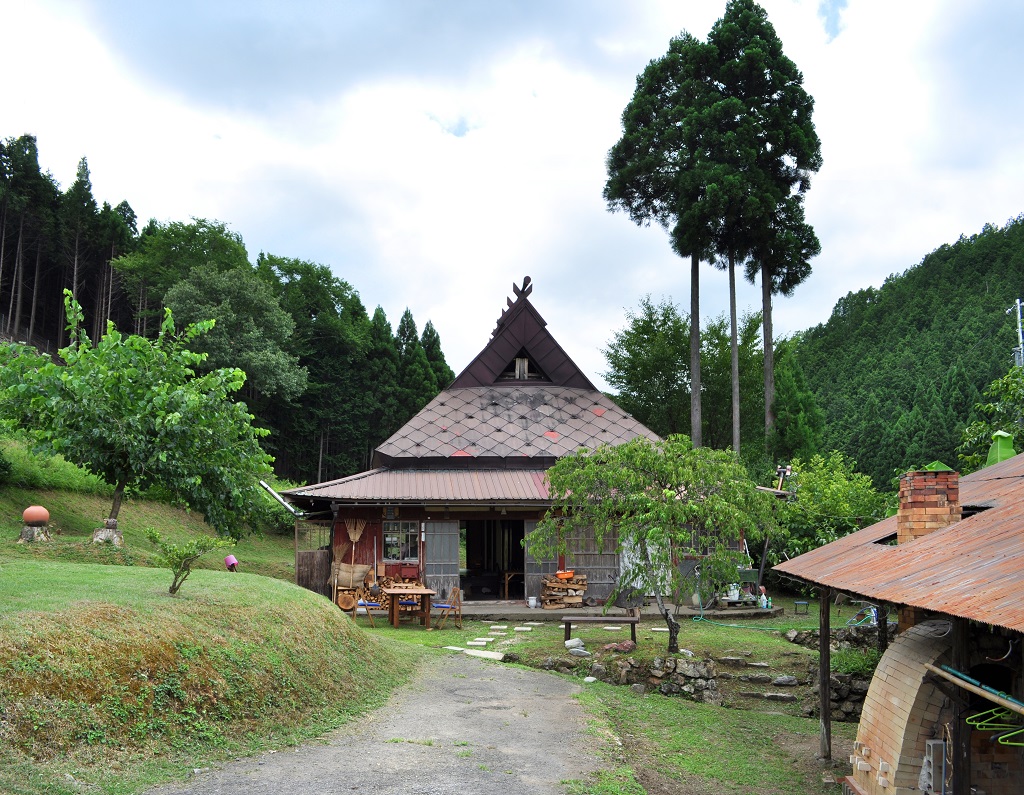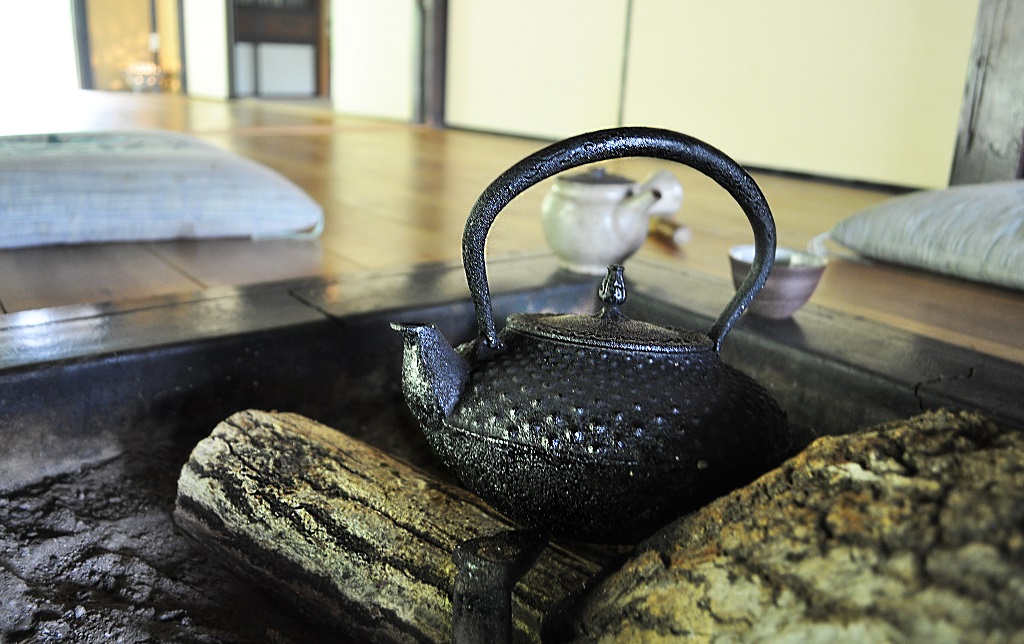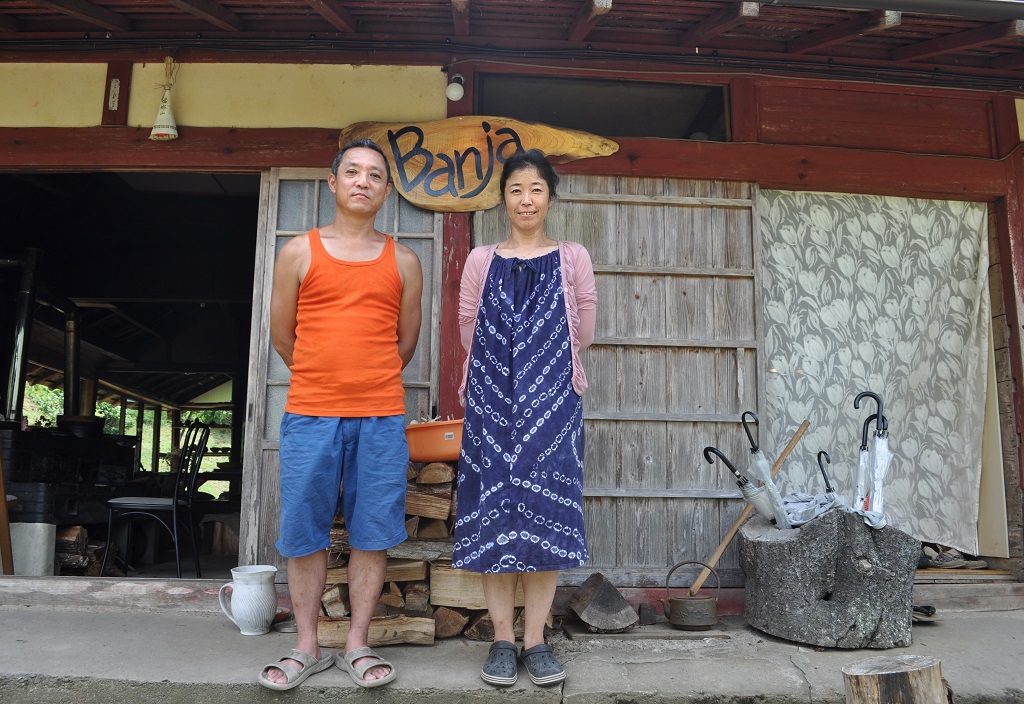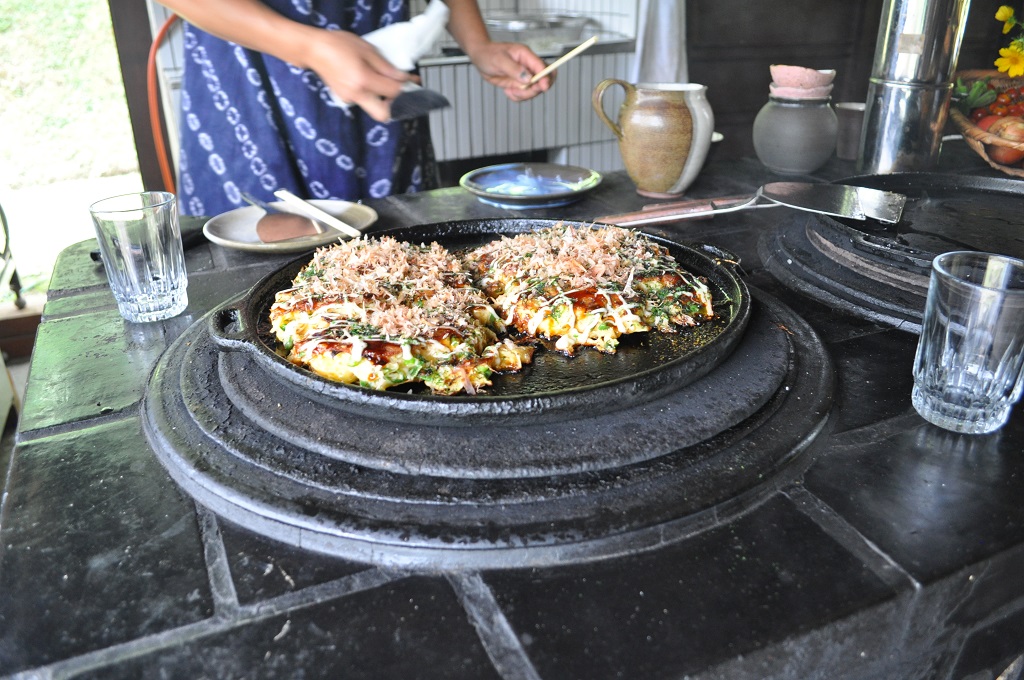 "Living as a Japanese"
Mr. Tanaka has lived in the Keihoku region for 21 years, but before that, he spent six years traveling around the world (and as a result speaks impeccable English). As world travel so often does, this trip inspired a great deal of introspection. Initially, he explains, it was fun to drift about, to "not feel Japanese" while he traveled. But eventually, he began to feel unsure of his identity. "I wanted to try living as a Japanese."
It was this desire that brought him to Banja.
Now, he and his family make guests from many countries feel at home here in the heart of Japan, with stories shared over cups of locally-grown tea around the sunken hearth, home-cooked meals, and at Goemon, even the rustic luxury of a wood-heated bath.
For many visitors to Banja, simply taking it slow and enjoying the slow pace of life out here, and the porch's unobstructed, pastoral view may very well be the point. But if you'd like a little more on your plate, Keihoku is bustling with activities. The Tanakas' teenage sons often teach guests to play shogi (Japanese chess) at the house, and Masanori's wife, Nami, also conducts pottery workshops at her onsite kiln. (Pottery is a passion of Mrs. Tanaka's, visible in the pieces she's created around the house. The most common of these is a little round creature with three long legs: aliens, she explains, matter-of-factly, come to visit earth to learn about love.)
Finding Art in Nature
Despite this village's size, I'm astounded at the creativity of what seems like all of the residents. As we walk down the street from Banja, Mr. Tanaka points out the houses of those around us: behind Banja, a tea master—unusually, black tea, not green!—whose tea plants can be seen growing all around the house. Later, I'm introduced to Michiko Maeda, a member of a whole family of painters who display their works in this remarkable building on their property: an eclectic collection of styles in this unique gallery by the forest.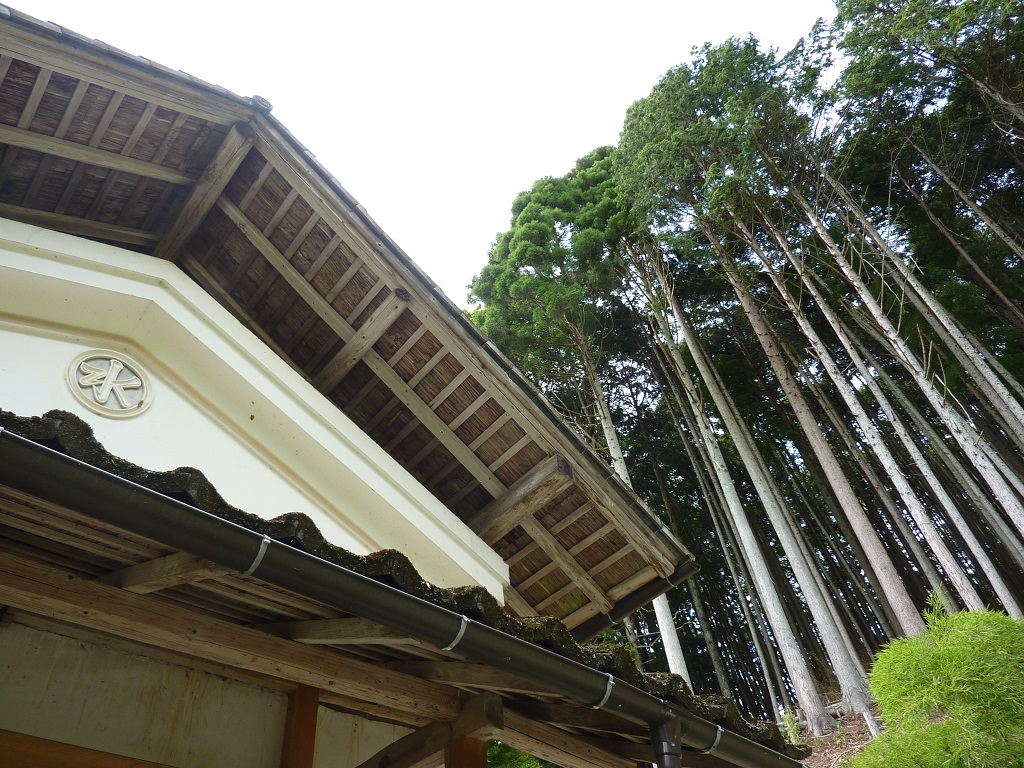 A short walk down the road takes us to a pair of houses whose lawn looks out on the rice fields and cedar trees that extend across the road. This is Culture Café & Gallery Yu, a sign at the entryway announces. Here, I'm greeted by the Tanakas' neighbors, Mieko and Yuuji Kawajiri. As its name indicates, Gallery Yu is both a café and a gallery for local artists–the sun-filled adjoining building displays the Kawajiri's beautiful stained glass artworks, as well as other wood carvings and more from other local artists. Tables and chairs are arranged on the front lawn, where visitors can sit and sip a coffee or tea while looking out at the fields and forests across the way.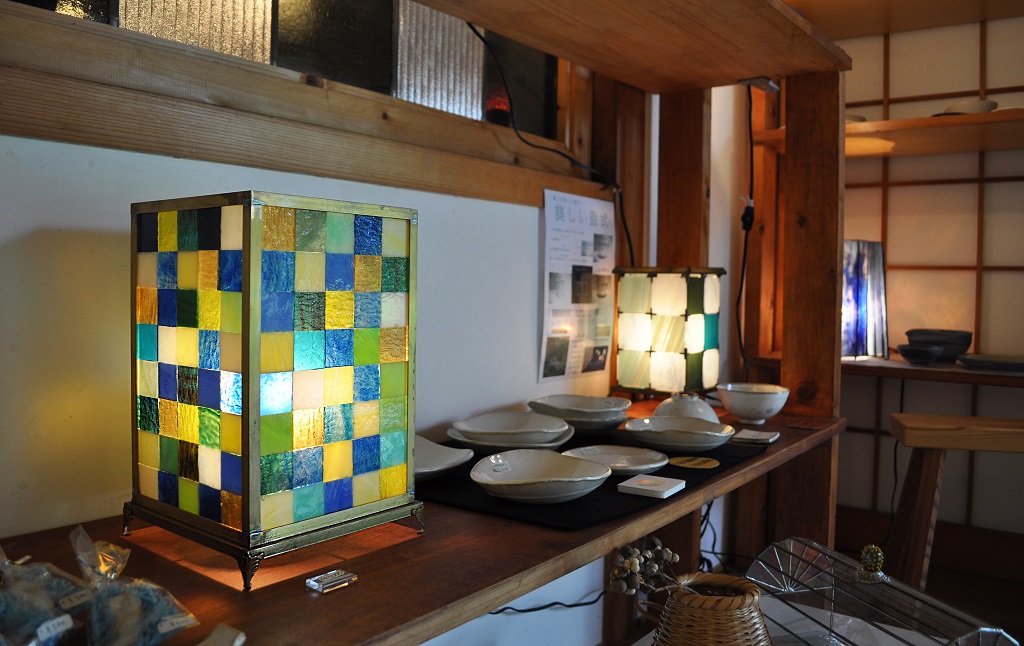 The Kawajiris also run a stained glass workshop here at Gallery Yu, where visitors can try their hand at making everything from simple mosaic coasters to stained glass lampshades.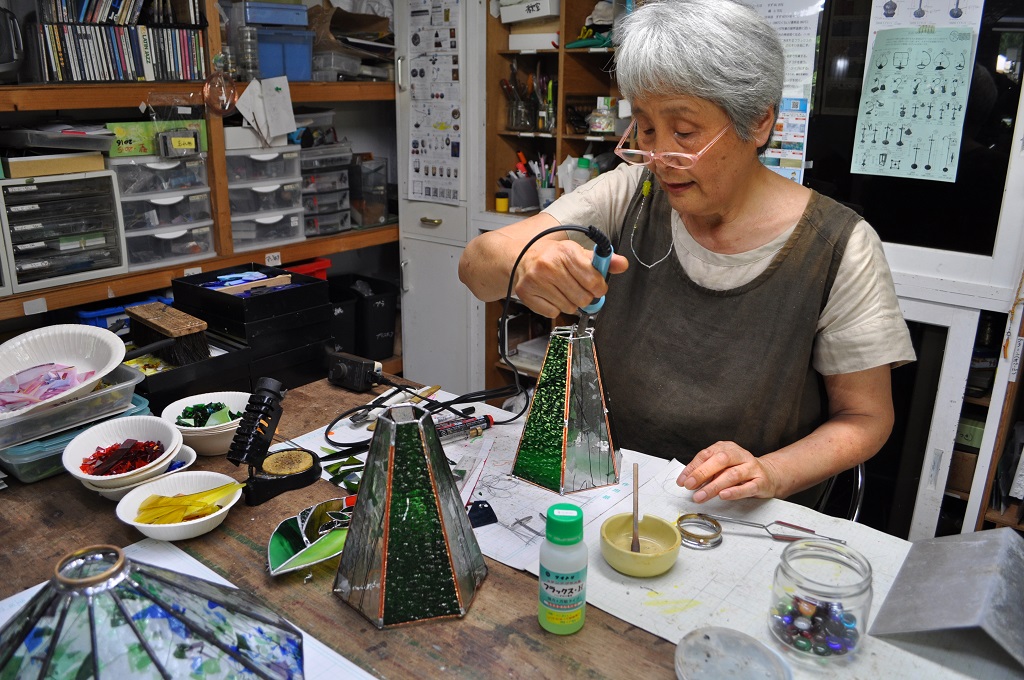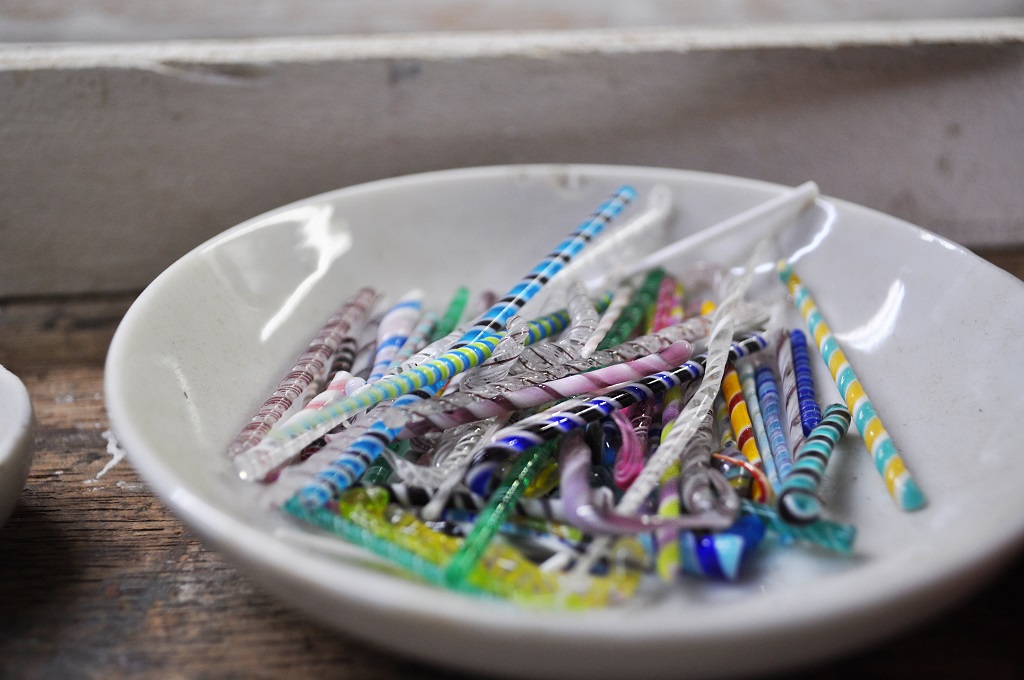 Mr. Kawajiri demonstrates for me how to melt tiny beads of colored glass into beads at the tip of a glass stick. Despite the searing flame, he manipulates the melting glass with deftness and confidence.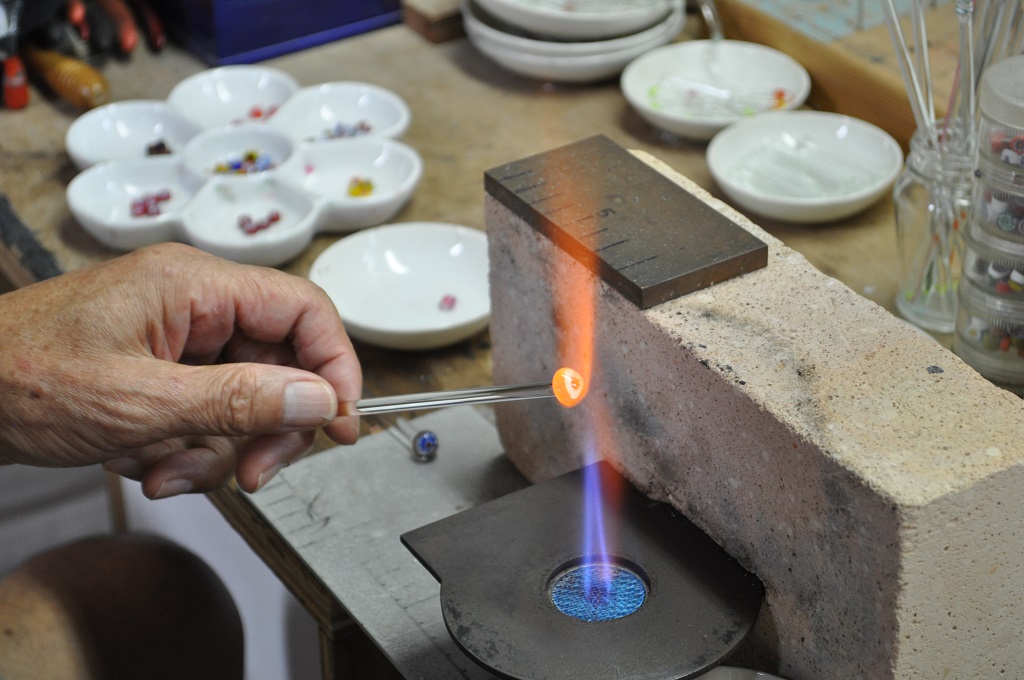 Now it's my turn. I'm awkward, but with Mr. Kawajiri's help I manage to mold my glass into more or less the right shape. A sign on the wall explains how to shape your glass in Japanese, English, and even Chinese, but the Kawajiri's expertise is indispensable. Mrs. Kawajiri is an extremely gentle teacher, and has been working with glass for nearly forty years. "I like having the space out here in the countryside," she explains as she works. "I want visitors to enjoy nature while they enjoying making things. There are many things to look forward to throughout the seasons [in Keihoku], too. We have a craft festival in the fall with almost 100 tents. Even in winter…snow may fall everywhere, but it's special here."
Looking out at the cedars as a breeze blows through them, it's not difficult to imagine what drew these local creatives to Keihoku—or why they're so passionate about sharing it.
See more about the locations in this article