For the Media and Agents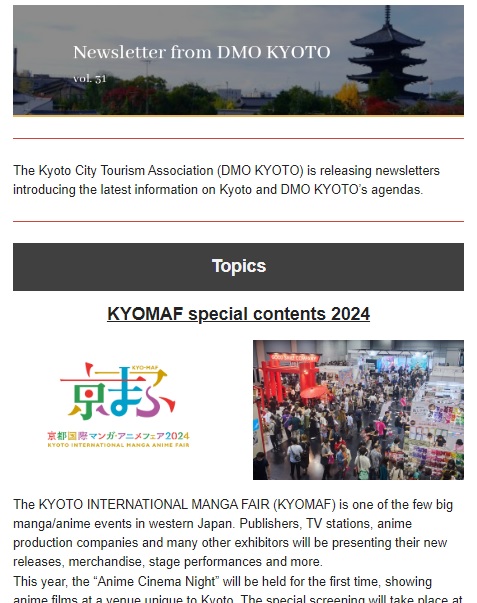 For the Media and Agents
Lists of useful information for the media and agents are available on this page.
As of May 2023, the following lists are kept here. We plan to continue to add new lists.
List of new hotels which opened during January 2020 – September 2023
List of restaurants to enjoy riverside dining, Noryo-yuka / Kawadoko
Link to a website with downloadable photos and videos of Kyoto
List of Accommodations with Onsen
Flower Calendar in Kyoto
List of Experiences,Transportation&Model Courses, Shops&Restaurants, Events&Festivals, and Maps(by Kyoto Online Tourist Information Center)
Kyoto City Tourism Association members actively providing information to overseas media
*User ID and password will be required to access
You will receive a user ID and password after signing up for our newsletter.
DMO KYOTO's Newsletter
We regularly publish our newsletter with prime topics and information on events coming up in the next two or three months to inform you ahead of time about what to look for in Kyoto's travel scene.
When you subscribe to our newsletter, you will gain access to the newsletter-members-only pages, where we will regularly add helpful information for the media and agents.
It is not required that you are a member of the media or agencies to subscribe.
Please sign up to subscribe and become a newsletter member from below:
Contact Form
Click here to contact us