Cherry-Picked Sakura Spots on the Edges of Kyoto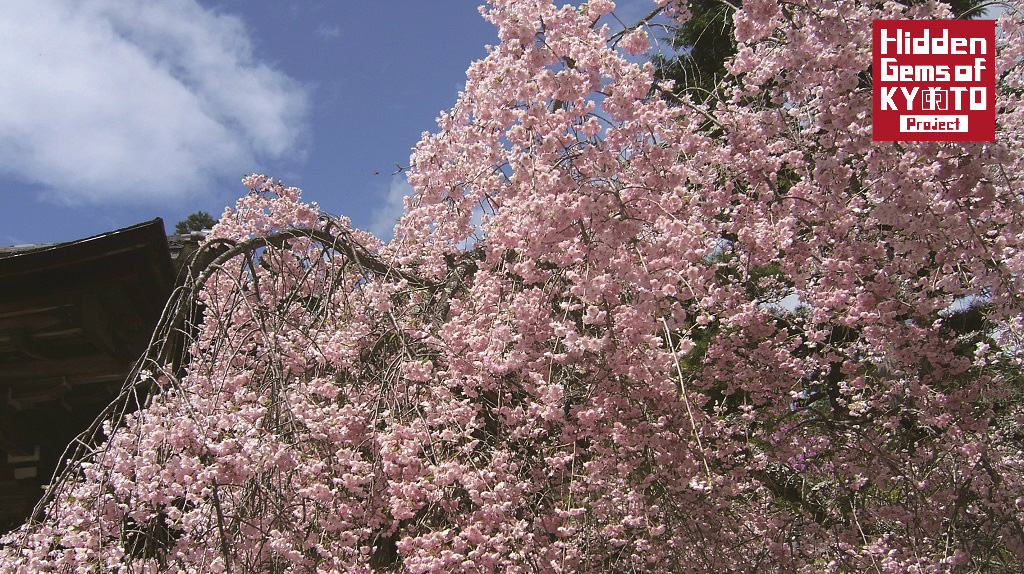 Cherry-Picked Sakura Spots on the Edges of Kyoto
Come springtime, Kyoto is full of gorgeous color, as the cherry blossom season arrives on schedule for its fleeting festival of pink and white. Unfortunately, it's also full of crowds flocking to see these sights, which means that sometimes your only view is one seen over a sea of heads, phones and cameras.
Kyoto is home to a host of famous sakura-viewing spots, though not all of them are in the city proper. If you're willing to stretch your legs a little and venture into the surrounding hills and suburbs, you'll be rewarded with some decidedly less-crowded spots. Most are quite conveniently accessed by public transport, so why not leave the clamour of the town center behind and take in some real spring beauty at your own leisurely pace?
Keihoku: Joshoko-ji Temple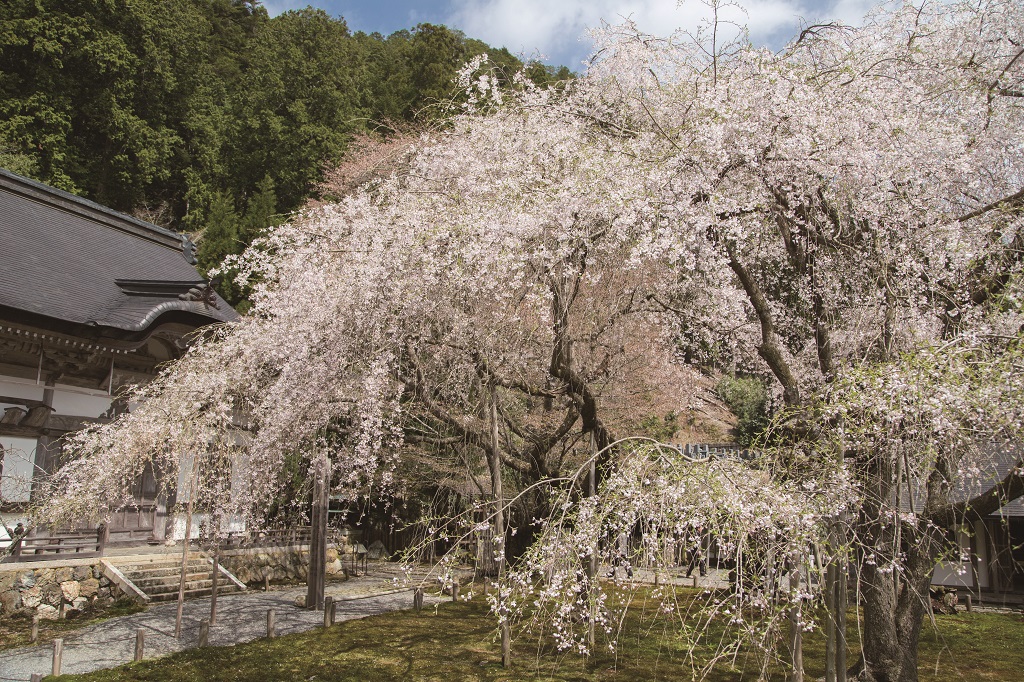 The township of Keihoku, located in the mountains in the far north of the city limits, has been a secluded getaway destination since the 8th century. This tranquil rural area has deep connections with Japan's Imperial household. Joshoko-ji Temple was established in the 14th century. Its famous
kokonoe
cherry is registered as a natural treasure. With serene rural vistas and blossoms trailing over thatched roofs, the
sakura
scenery here has a transitory beauty unmatched by any in the city.
Access: Taking a JR bus from Kyoto Station, alight at the Shuzan bus stop and change to a local Keihoku Furusato bus. It's a 15-minute ride to the Yamagunigoryo-mae bus stop. From here the temple is a 10-minute walk.
Opening Hours: 9:00 - 16:00
Ohara: Sanzen-in Temple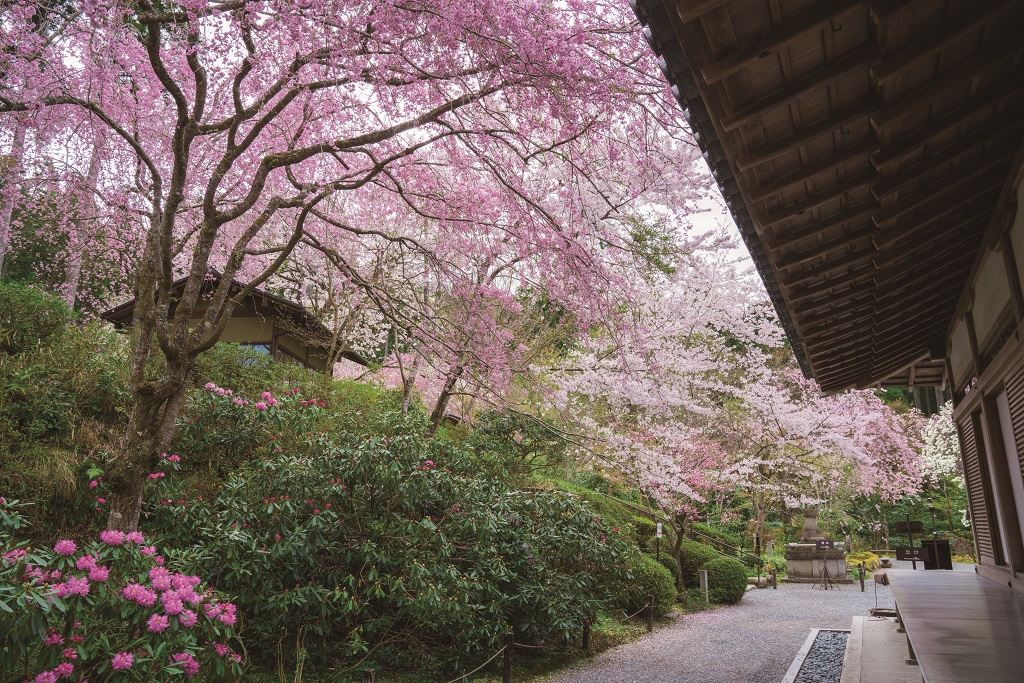 Another of Kyoto's northern gems, the Ohara area is well-known as the city's vegetable garden, supplying delicious local delicacies to the city's restaurants and dining tables. It's just as famous for the magnificent
Sanzen-in Temple
, which is home to National Treasure Amida Nyorai Buddhist icon and lush gardens, and a year-round tourist destination. The weeping cherry near the Oku-no-in Temple is a particular highlight. The grounds are lit up during the sakura season, making the 300-plus cherry trees appear to float mystically above the landscape.
Access: A 60-minute Kyoto Bus ride from Kyoto Station to Ohara bus stop, then a 10-minute walk to Sanzen-in Temple.
Opening Hours: 9:00 - 17:00
Takao: Jingo-ji Temple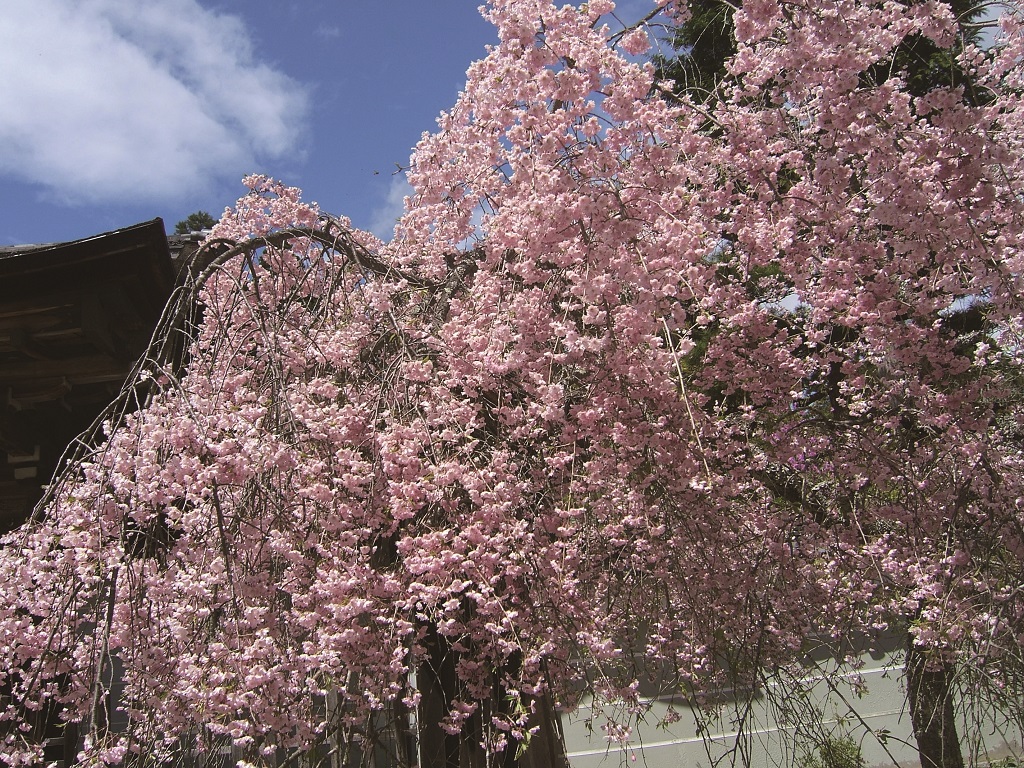 An hour by bus from Kyoto city center will bring you to Takao, a quiet mountain village popular as a hiking destination from Arashiyama.
Jingo-ji Temple
is famous nationwide for its breathtaking autumn scenery, but its springtime cherry views are still miraculously unknown. At this time of year, the unique solemnity of mountain temples and the magnificent views are especially memorable when experienced along with the moving sight of wild and weeping cherries.
Access: Take a JR bus on the Takao Keihoku line from Kyoto Station, and after 50 mins alight at the Yamashiro-Takao bus stop. The temple is a 20-minute walk from here. Alternatively, take the Number 8 bus from the bus stop above City Subway Shijo Station and Hankyu Line Karasuma Station, alight at Takao bus stop after a 45 minute ride. The temple is a 20-minute walk from here.
Opening Hours: 9:00 - 16:00
Nishikyo: Oharano-jinja Shrine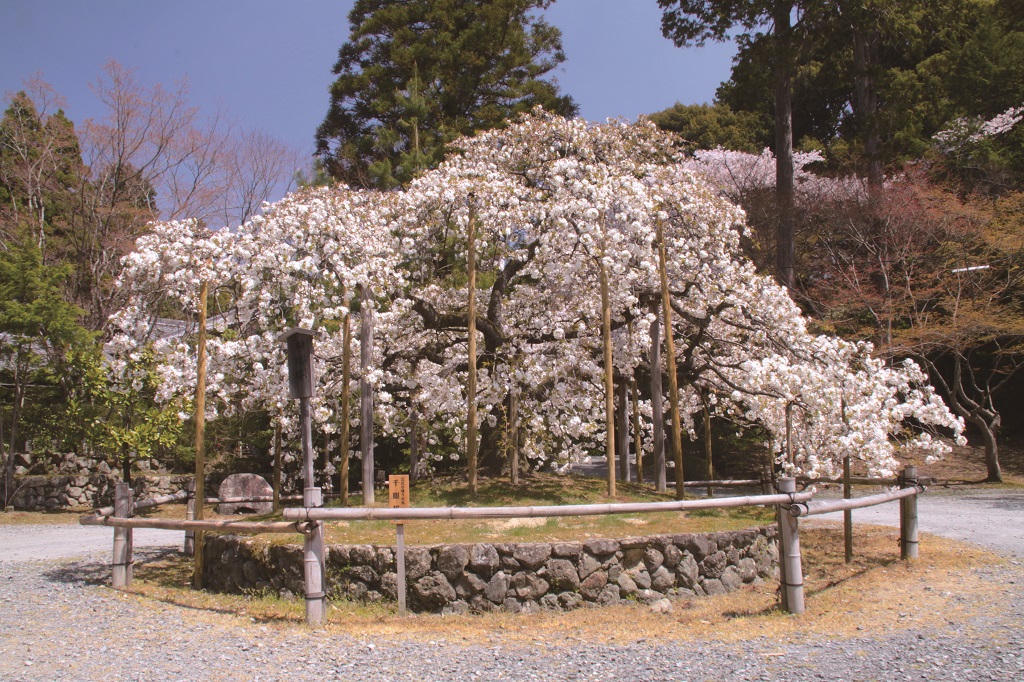 There are some fine cherry blossoms out on the west side of town too. Forty minutes from the station by a train and bus connection will bring you to Oharano, an area rich in nature located in the foothills of the Oshioyama mountain range. Oharano-jinja Shrine is a historic shrine which is said to have been built in 784, around the time that neighboring Nagaoka-kyo was established as the nation's capital. A magnificent weeping cherry tree over 80 years old brings masses of divine white blooms to the shrine every spring. This tree, known as the Sengan-zakura, only blooms for a few days every year, making it a special destination for sakura enthusiasts.
Access: From Kyoto station, take the JR line to Mukomachi Station and change to a Hankyu Bus bound for Minami-kasugacho. The shrine is a seven-minute walk from Minami-kasugacho, the final stop.
Opening Hours: Shrine grounds open to visitors all hours.
Shrine office open 9:00 - 17:00 daily.
Yamashina: Bishamon-do Temple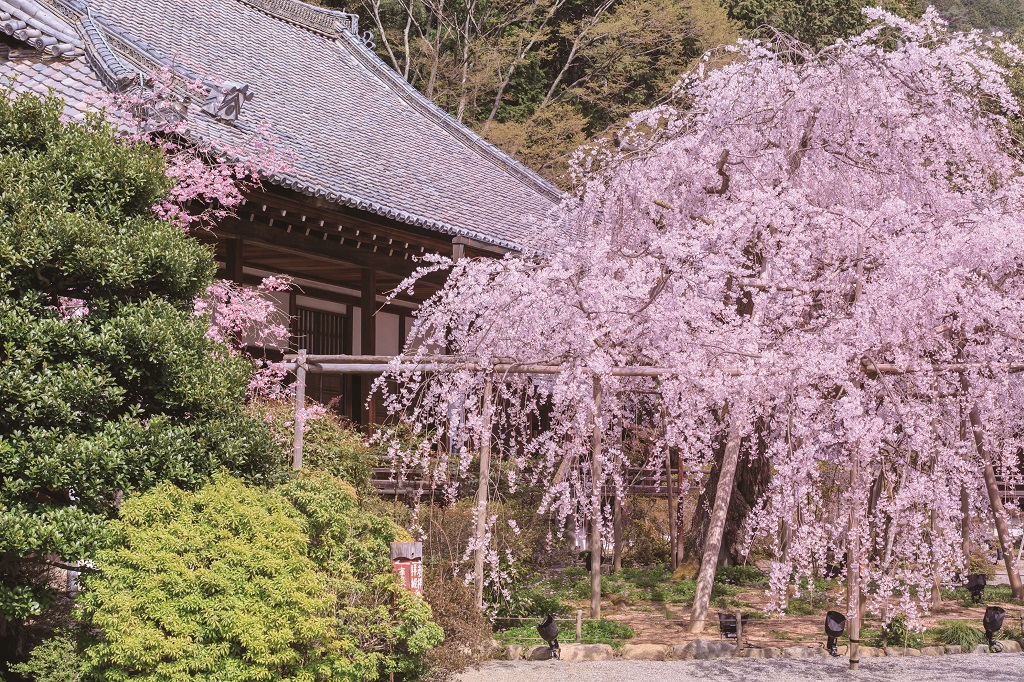 During the Edo Period some three centuries ago, Yamashina flourished at Kyoto's gateway on the Tokaido Road. Bishamondo, one of the area's most historic temples, is famous for its
fusuma-e
sliding door painting. Created on the rules of "reverse-perspective," the painting creates an optical illusion that places the vviewer in the central position regardless of viewing point. As for sakura, the temple's treasure is a 150-year-old weeping cherry known as the
Hannya-zakura
. With its branches stretching over 30 meters wide, the mighty tree has a majesty and grace that only centurions are afforded.
Access: The temple is a 20-minute walk from Yamashina Station on the JR, subway, and Keihan lines. JR Yamashina Station is a five-minute ride from Kyoto Station.
Opening Hours: 8:30 - 17:00
(Gates close at 16:30 until March 15th)
Fushimi: Horikawa Riverbanks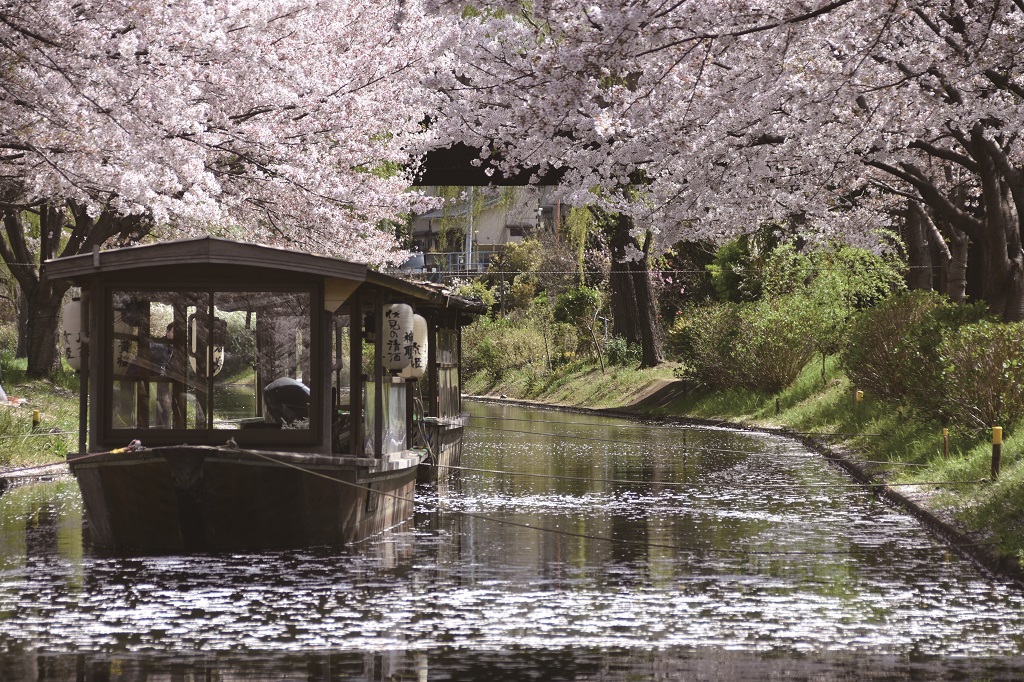 Fushimi, home of Kyoto's sake industry, is a quiet town south of the city, interlaced with a network of canals. These canals were key to the area's prospering as a river port handling trade between Osaka and Kyoto during the Edo and Meiji Periods. The town retains its historic atmosphere to this day, with blocks of white-walled sake storehouses and barges sailing back and forth along the canals. For the best view of the cherry trees exploding into bloom, take one of these tourist boats (the Jikkokubune or the larger Sanjikkoku-bune) and sample some local brews as you drift down the canals.
Access: The tourist boat landing is a five-minute walk from Chushojima Station. From Kyoto Station take the Kintetsu Kyoto Line to Tambabashi Station. Change here for the Keihan Main Line, and alight at Chushojima (Approx. three-minute ride).
Opening Hours: Jikkokubune tours run from March 21st through December 8th, 2019. Fifteen departures daily between 10:00 and 16:20
Sanjikkoku tours sail on March 30th, 31st, April 6th, 7th, 27th, 28th, 29th, and 30th, 2019. Six departures each day between 9:35 and 15:35