Enjoying Kibune in the Rain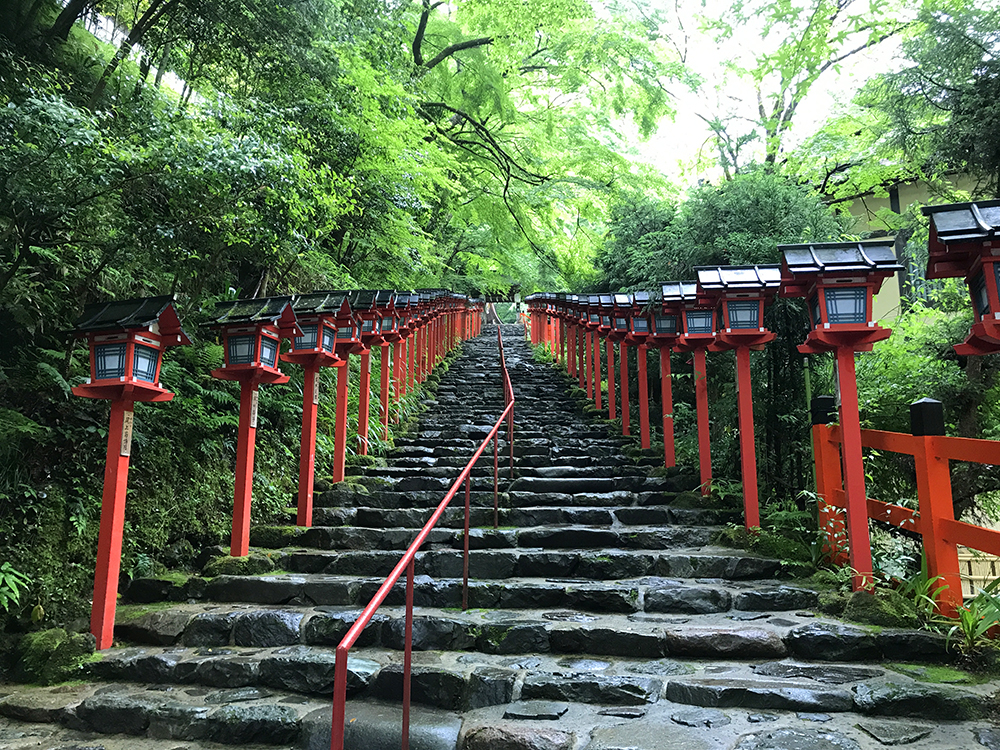 Enjoying Kibune in the Rain

Content Partner
Kyoto Love. Kyoto is an online magazine that has all you need to know to call yourself a Kyoto expert! Kyoto culture in both historical and modern contexts. Get to know Kyoto, get to love Kyoto.
Content Partner

Kyoto Love. Kyoto is an online magazine that has all you need to know to call yourself a Kyoto expert! Kyoto culture in both historical and modern contexts. Get to know Kyoto, get to love Kyoto.
If not now, when? Kyoto's back parlor
This being the second time in my life to live in Kyoto, of course there were many places I wanted to explore on foot. But I lost my courage rather quickly upon seeing the incredible rush of inbound tourism there (in addition to being a homebody from the start).
And then, 2020 arrived. I understand it's selfish to say this, but Kyoto now offers a chance for crowd-averse country cousins like myself that is unlikely to ever come again.
Wherever you find shadows, you'll find light. At the end of May when the state of emergency was lifted, I felt a sense of urgency like "If I don't go now, when will I ever go?" And so I set off for the areas that intrigued me.
Since it was early summer in Kyoto, of course the first place I thought of was the well-known Kibune area, "the back parlor of Kyoto."
It's a place that can even cool your spirit on those suddenly scorching days that arrive after the cherry blossoms have faded.
"Kawadoko riverside dining in Kibune in Kyoto"—kawadoko, Kibune, Kyoto—all those "k" sounds roll lightly off the tongue like the stepping stones across Kamo River, and even just the sound is somehow cooling, don't you think?
So with that in mind, I caught a Keihan train on a lightly drizzling Sunday morning, got off at Demachiyanagi Station and headed for the Eizan Railway.
After an approximately 30-minute ride on the comfortable, scenic train, I arrived at Kibuneguchi Station.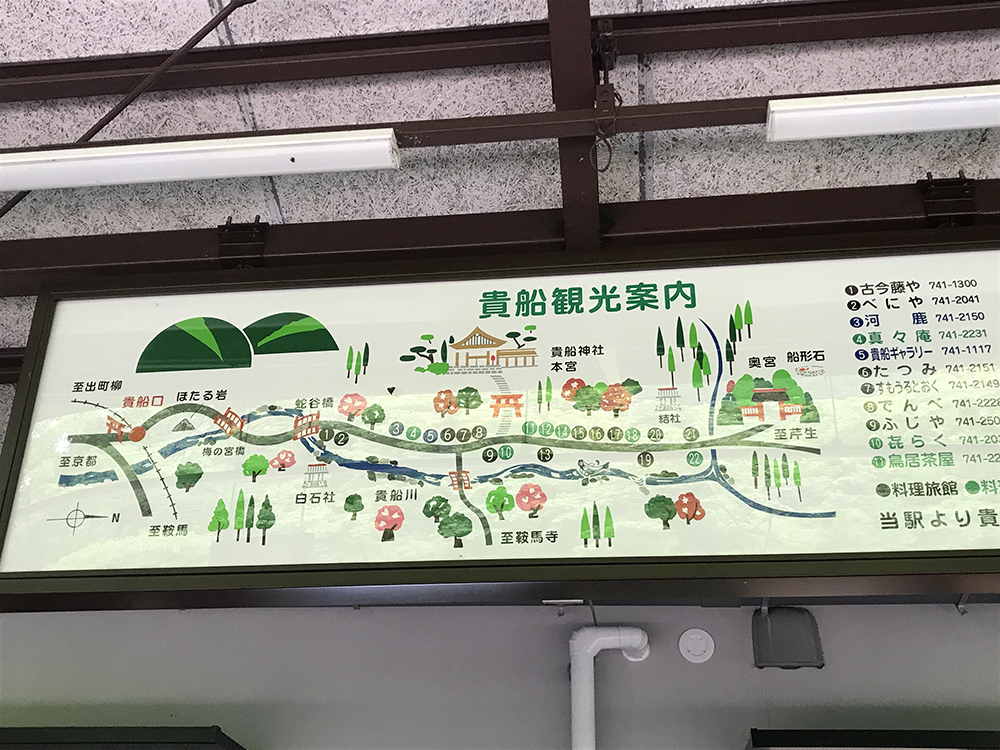 The gurgling of the Kibune River reached my ears before I'd even come down the steps of the station building.


Fewer than 10 people had gotten off at the station with me. About half of them seemed to be in a group, and they lined up at a bus stop outside the station. The remainder were walking up the slope in front of me.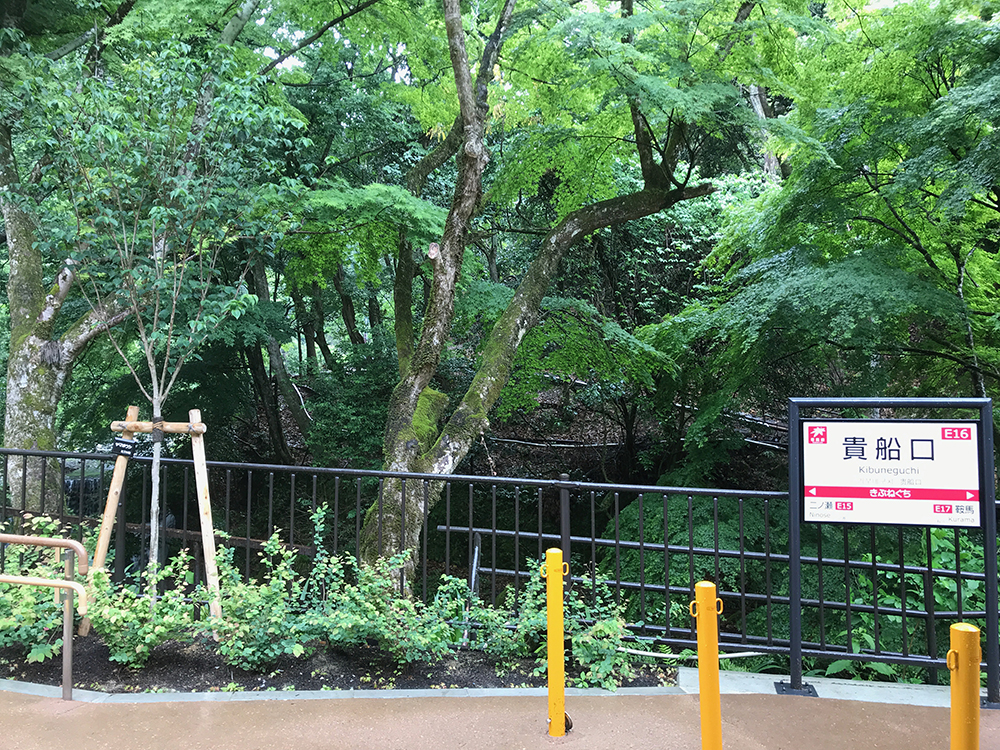 First a bit torn about whether to take the bus, I thought I'd try walking to start as I don't really care for standing in lines, and I followed after those who had gone ahead of me.
I was essentially alone aside from the occasional passing car. Opening and closing my folding umbrella as needed, I walked up the well-maintained road running the mountainous area.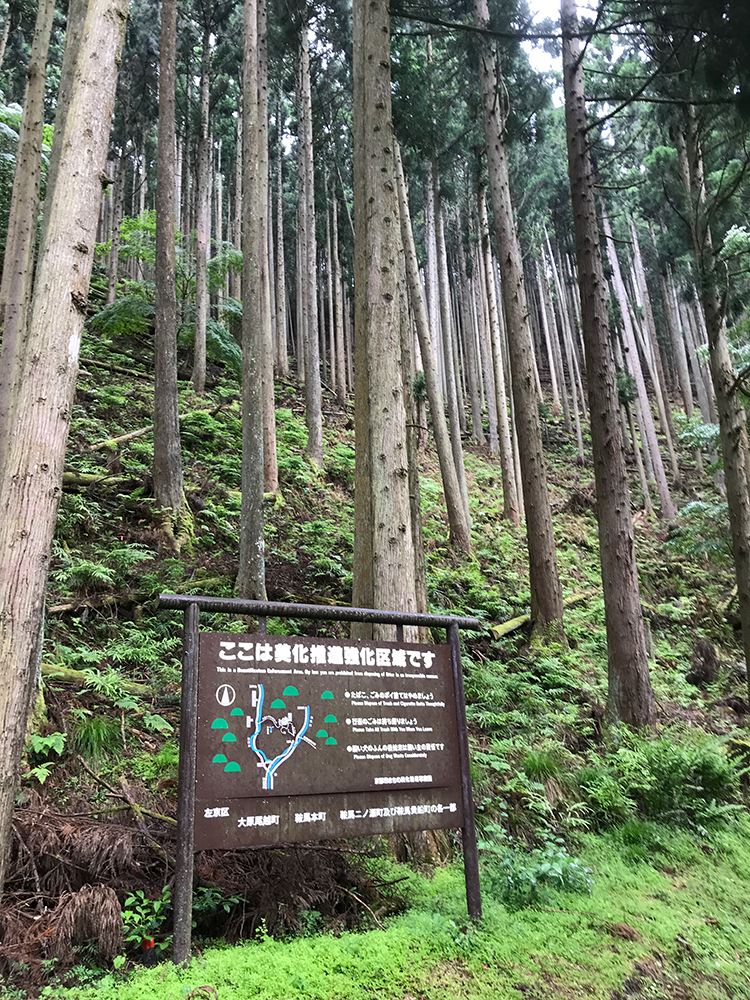 Not so different from the mountains back home?
I'd noticed this from the view out the train window too, but the mountain scenery looked very similar to the landscape near my family home in Kyushu.
I hadn't expected my long-admired Kibune to make me feel surprisingly nostalgic for my own hometown!
One of the things I like about Kyoto is that it's neither too "city" nor too "country."
Even along the bustling Shijo-dori Street, there aren't clusters of tall buildings towering over you and all around you like in Fukuoka, Osaka or Tokyo. And if you venture outside the city area, you can even encounter scenes like these.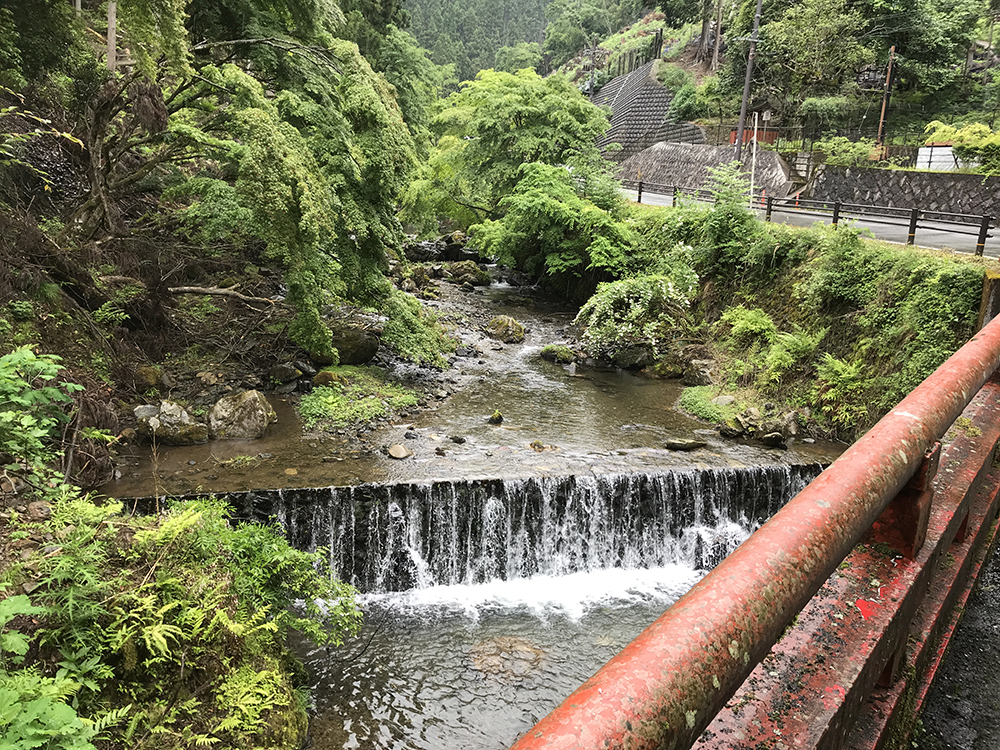 (I spoke to myself in my Kyushu dialect, "Aye, what's this?! The 'back parlor of Kyoto?' Ain't no different from the mountains back home!")
I crossed a small bridge, and after ascending further and further . . . something like a row of platforms came into view on the river flowing to my right.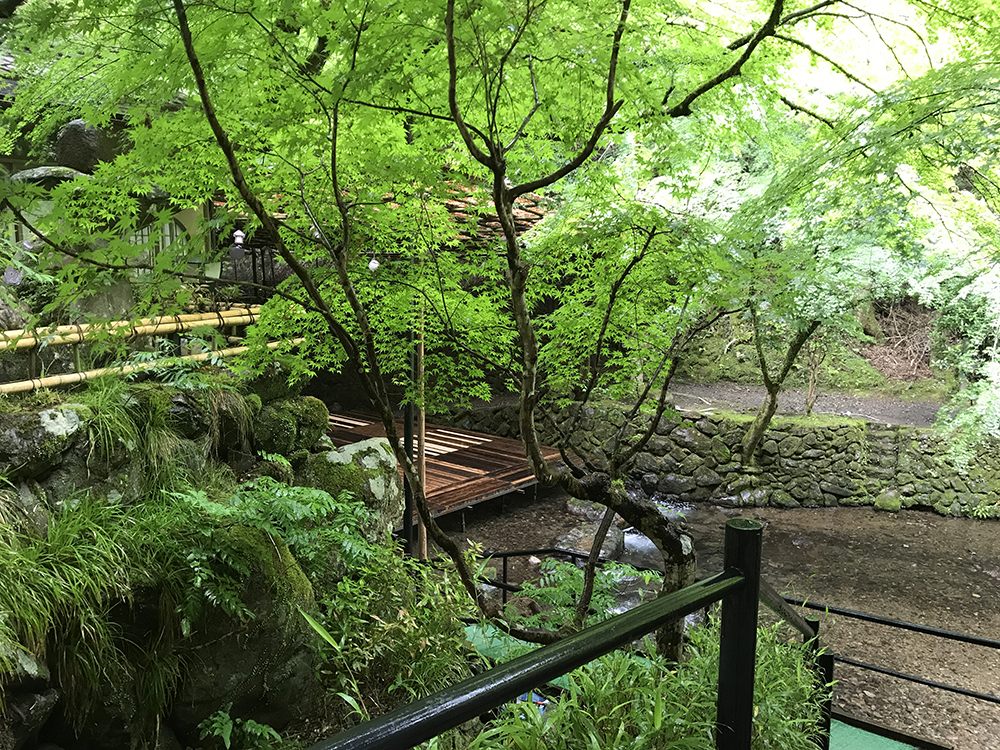 "That must be the much talked-about kawadoko riverside dining!"
From here onward, an atmosphere of elegance suddenly envelops everything. Truly remarkable, this area isn't called "the back parlor of Kyoto" for nothing.
While glancing at a number of shops with signs reading, "Re-opening from June," I continued even further upward and a vermillion torii gate came into view on my left.
I'd been walking for roughly 30 minutes, and I could feel it quite a bit in my legs, unaccustomed to exercise, but with my morning energy I felt that I could still climb a little further up.
At last, I'd arrived. It was Kifune-jinja Shrine.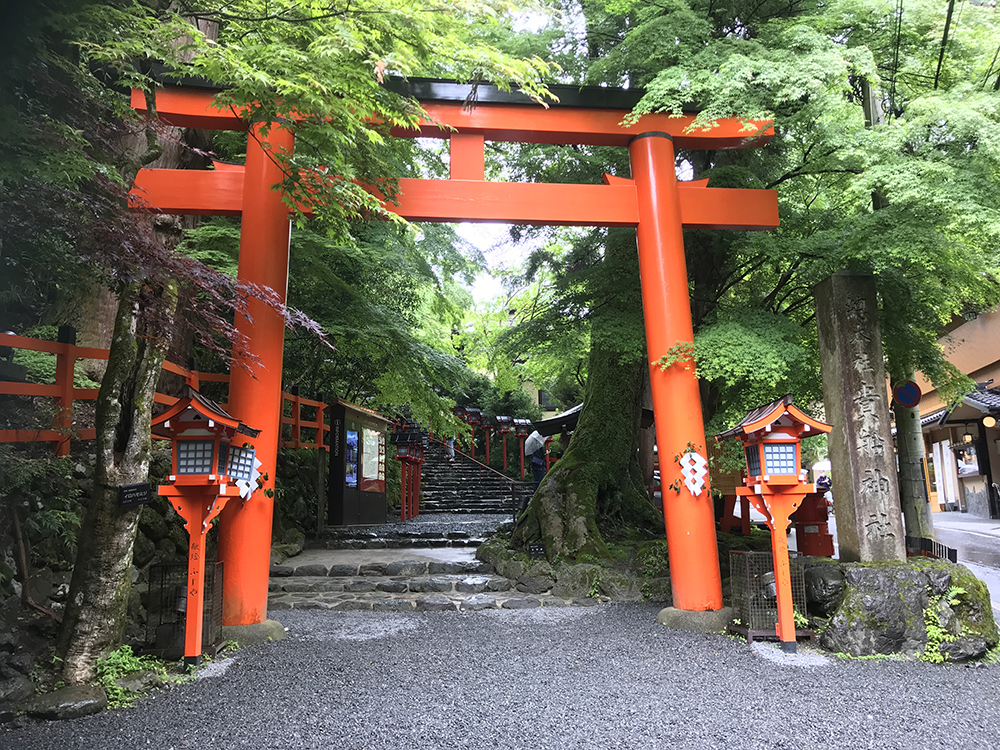 I tried to get a photo of the famous shrine approach straight away, but the group ahead of me was taking a commemorative photo.
As I wondered if I should wait a bit, I felt pulled toward the magnificence of a tree standing at the entrance.
All I could hear was the sound of water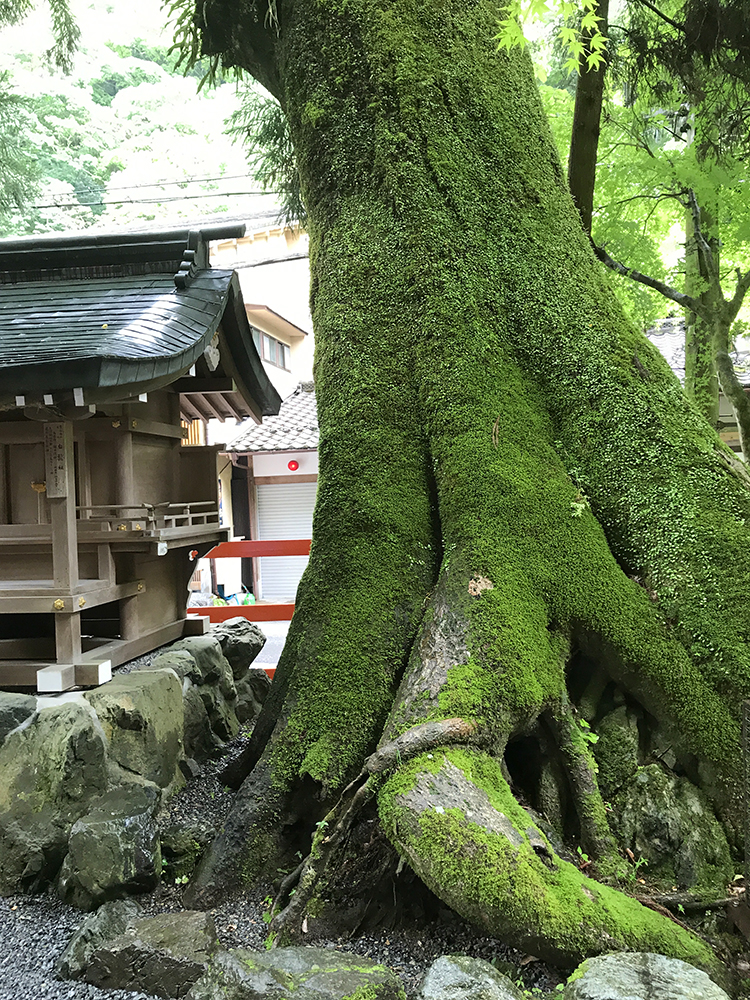 "It looks like it came out of Totoro" —lacking the proper vocabulary to evaluate trees, this was really how I felt
(My Neighbor Totoro: a Studio Ghibli anime film with imaginary creatures that live in a giant tree)."
After this, I saw countless enormous trees, but as I was continuously circling this area to get this tree in a photo, a kimono-clad staff member from a restaurant across the way came out and our eyes met.
This must have been fate. It was still a bit early, but I thought I might as well have lunch.
Just in case, I tried checking with her hesitantly, "Excuse me, is kawadoko dining available today . . .?" but she replied that rainy days didn't allow for it.
I'd been embarrassingly naive to think there would be some kind of covered kawadoko dining even on rainy days.
I felt deeply ashamed of myself for having become so accustomed to facilities catering to sightseers' convenience in every way.
But even so, I was able to enjoy the flowing Kibune River (and the kawadoko riverside platforms) from my seat on the second floor. It's doubtless that it's beautiful in sunny weather too, but wet with rain, the damp, new green leaves shone all the more brilliantly.
Because it was just after the state of emergency had been lifted and in the late morning hours, any sounds of voices or clattering tableware from the few groups of guests were far off, and I heard nothing but the sound of water.
Having enjoyed my meal, I just stayed sitting there for a while. I think I took in a year's worth of negative ions. (The Japanese believe that negative ions, which are abundant in nature and near moving water, have calming and healing properties.)
Then, I left the restaurant and finally started up the shrine approach.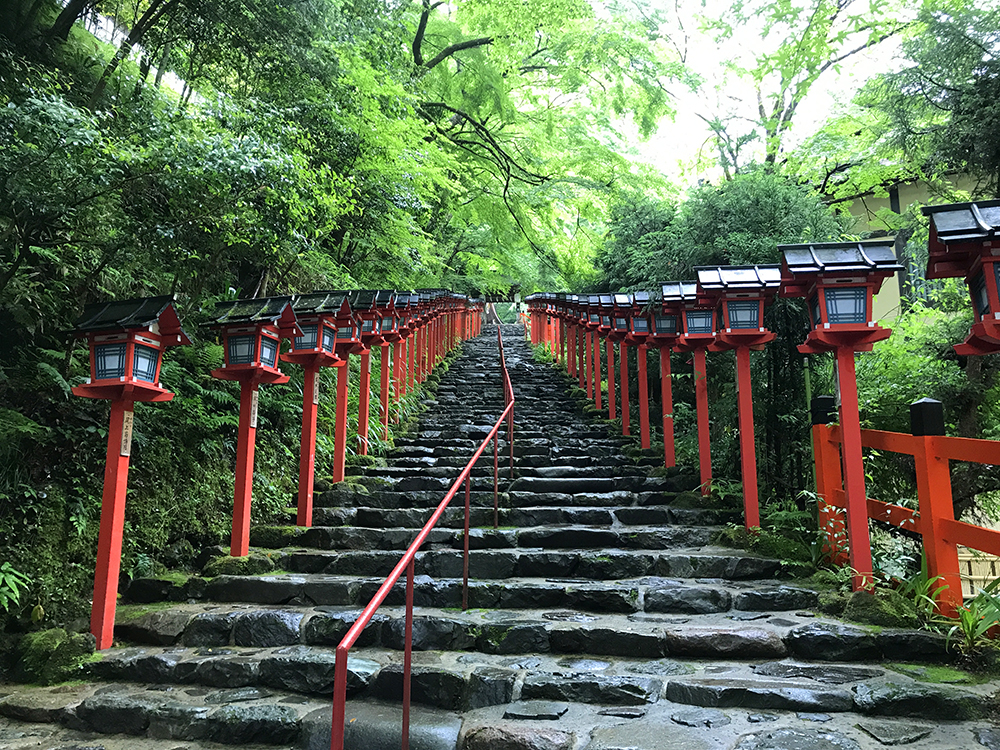 I managed to get a photo without any people in it.
After I climbed up the stone steps (rather dangerous when wet with rain), I cleansed my hands in the Shinto water trough provided before climbing up even more steps to visit the worship hall.
I dipped a unique style of omikuji fortune-telling paper in water (my result was "Good Luck"), and wrote on an ema votive tablet (there were also tablets with pictures of horses and seasonal ones shaped like green maple leaves, but as a fan of the classics, I chose a tablet with a drawing of the poet Izumi Shikibu on it).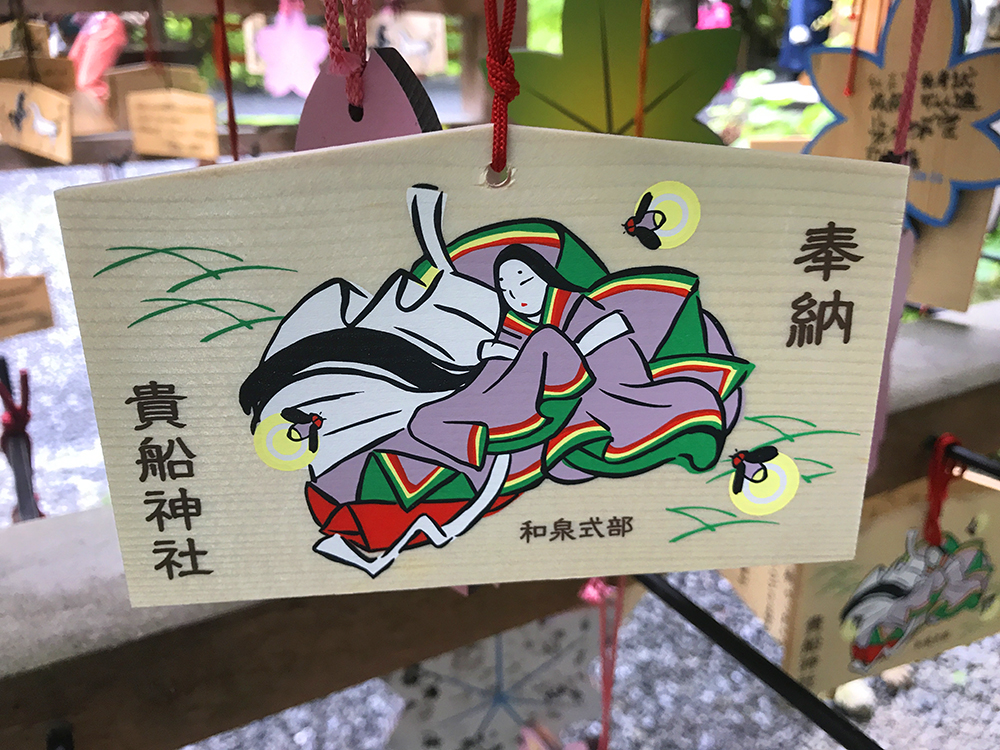 Seeing a number of the shrine's sacred katsura trees growing so close together like this, I thought, "I knew it, these are definitely trees where Totoro might show up."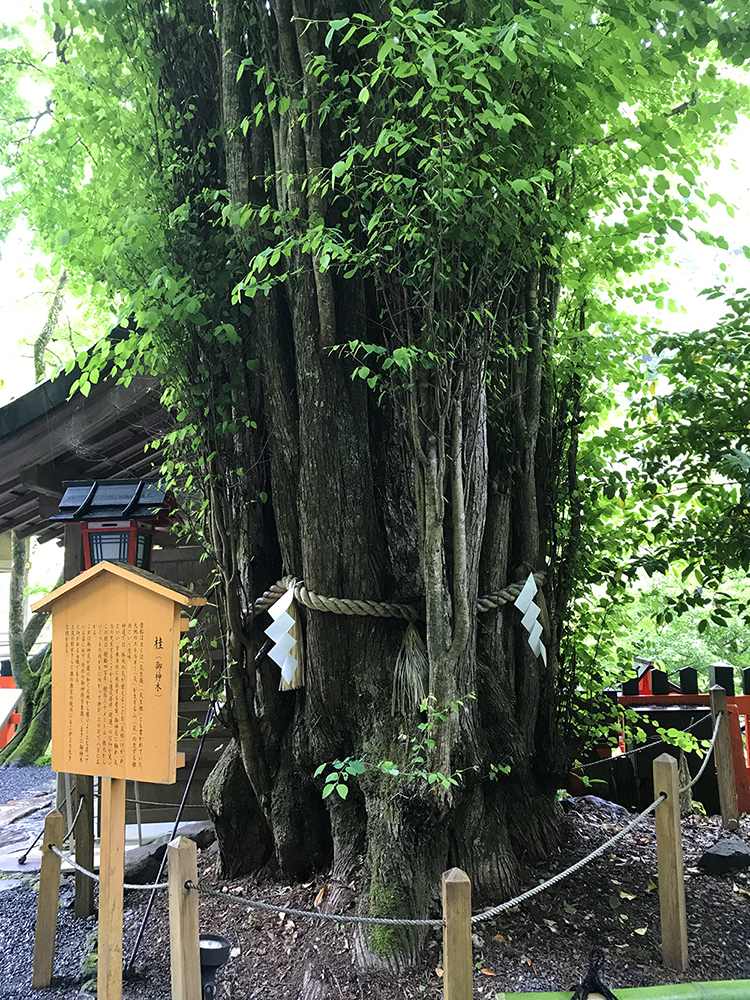 The moss-covered stones were wet from the light rain, making them glisten even more brilliantly.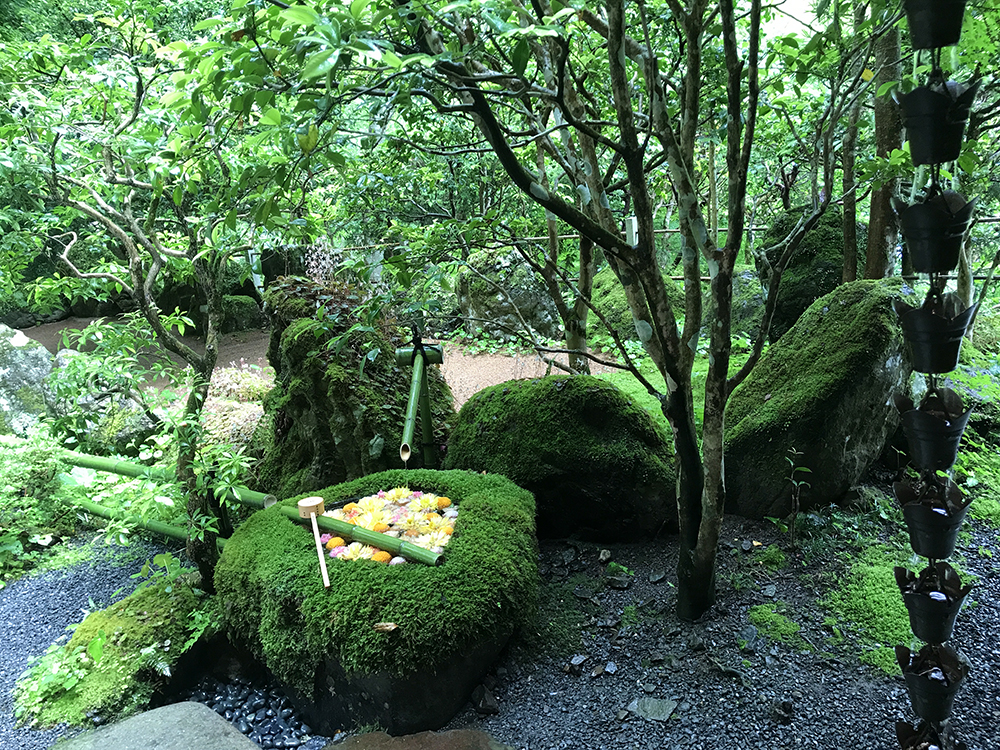 I received a tiny, circular water protective charm made from glass (I learned recently that you're not supposed to say you "bought" a protective charm), and just as I was thinking I'd head back down, a sign reading, "Okunomiya inner shrine ahead" came into view. Ah.
The original Kifune-jinja Shrine was further upstream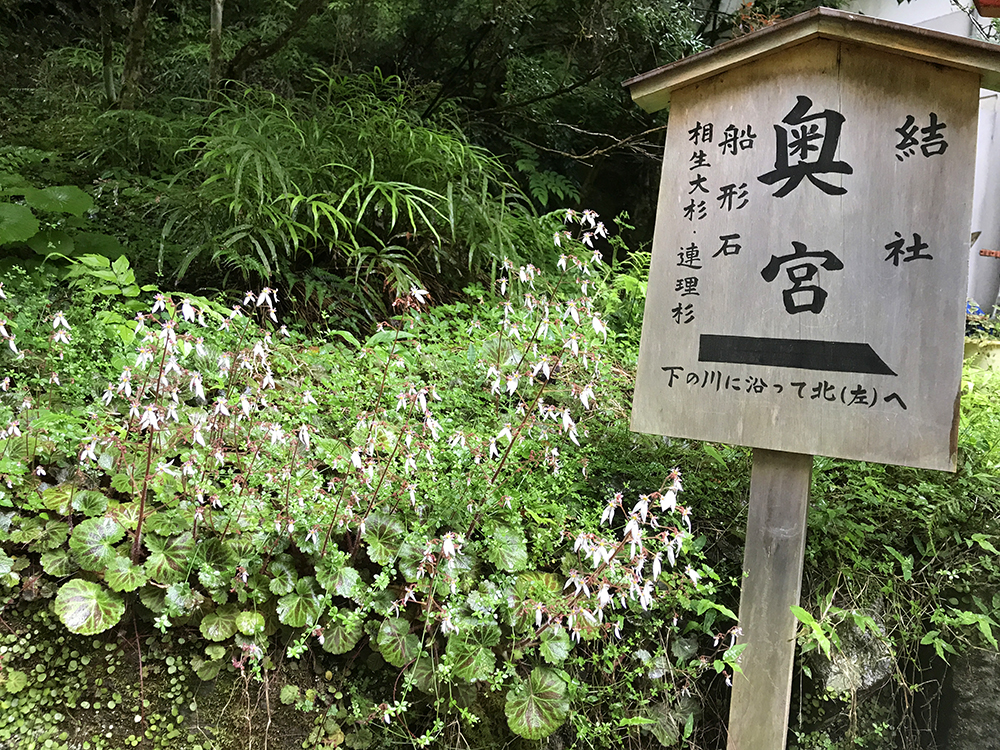 When I tried googling on my smartphone, it turned out that the original Kifune-jinja Shrine was further upstream, having been moved to its current location after sustaining flood damage in 1046.
Thinking I'd better try going there since I'd come all this way, I continued up a mountain path again. Along the way, I saw the Nakanomiya middle shrine, famous as a shrine for matchmaking, and an Izumi Shikibu poem monument as well.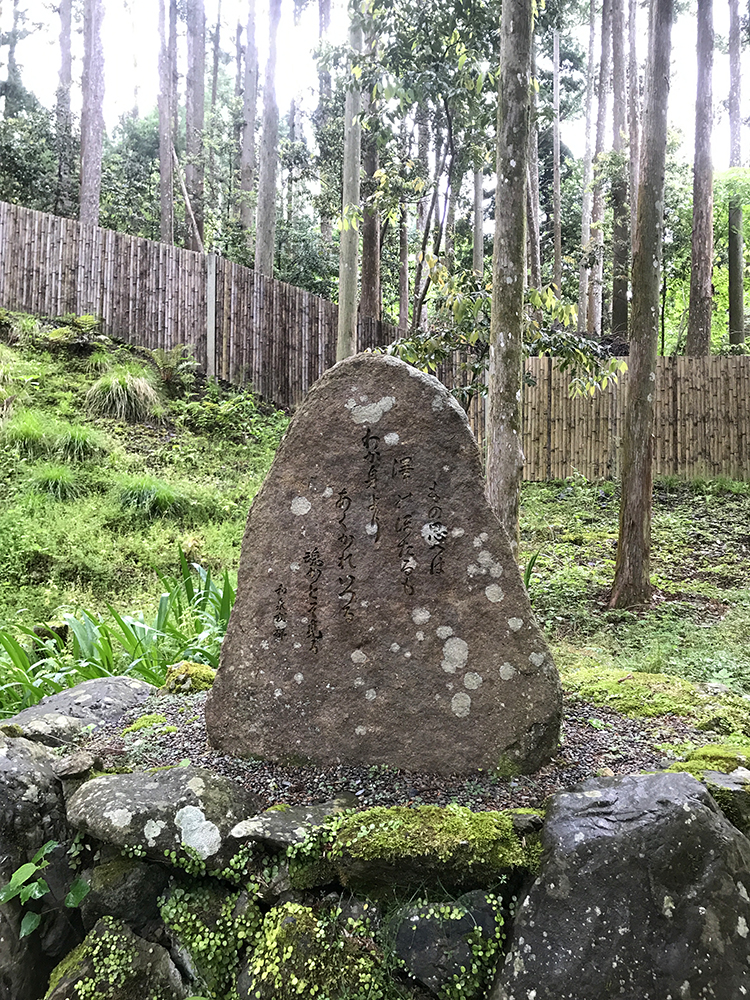 In the Okunomiya inner shrine area, I gazed at a forest of huge trees even more impressive than the earlier sacred trees had been (more Princess Mononoke - a Studio Ghibli film staged in a deep primeval forest - than Totoro), took in a deep breath of fresh air, and returned to the path I'd taken to get here.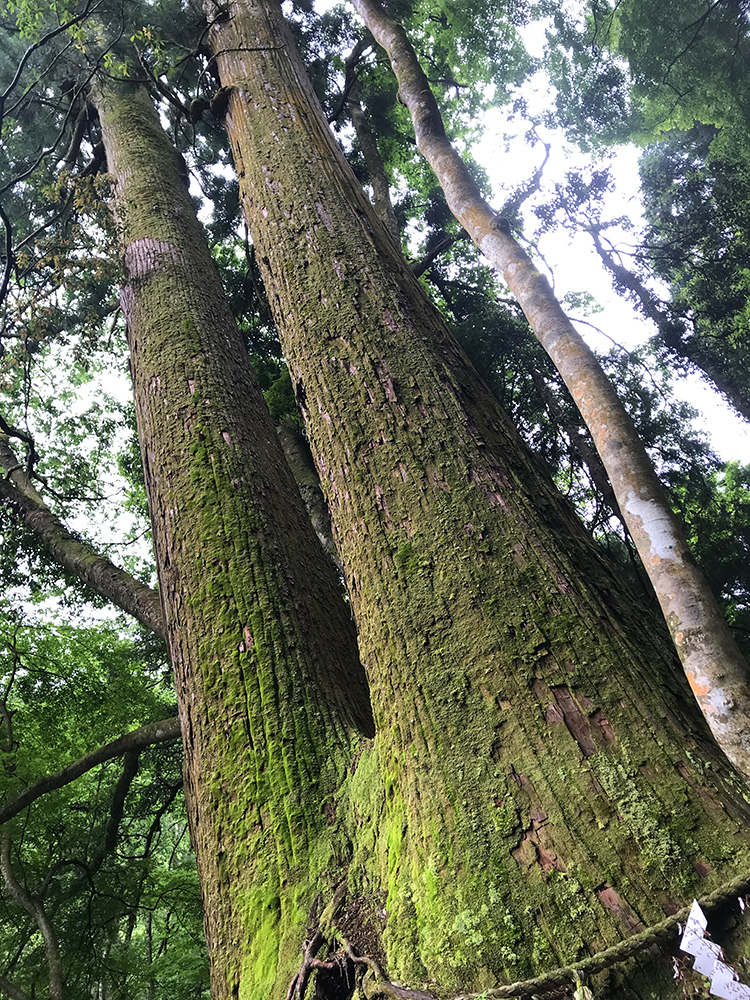 Getting there is easy, getting back is hard.
I should have checked the bus schedule for returning to Kibuneguchi Station before heading out. At that time, it would've been more than 40 minutes until the next bus (and there weren't any shops nearby where I could pass the time), so I walked back to the station with feet like lead.
I wanted to stop by Kurama-dera Temple if I was returning on foot anyway, but unfortunately it was closed. It seems that it has since re-opened, so I want to go back for it and kawadoko dining one day when it's not raining.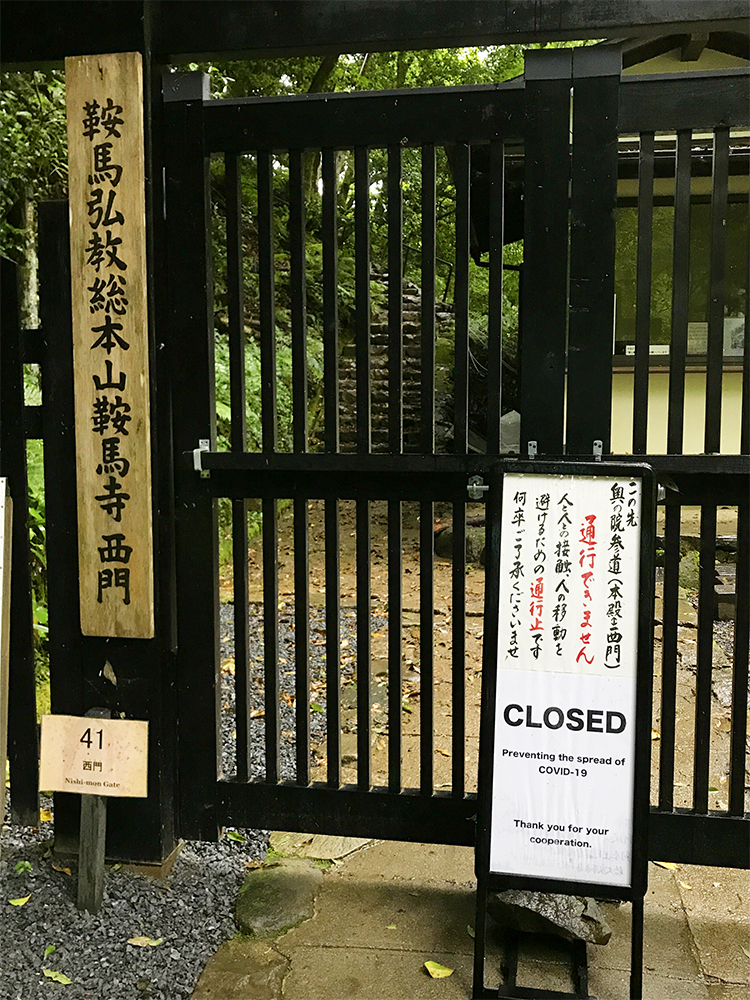 I feel that in this age where guidebooks and online content can be found all over, visiting places often end up as simply double checks of what we've already seen online, on TV or in books.
(Not that being impressed by confirming something with your own eyes and ears lacks merit, but) I want to keep walking like this and treasuring intangible experiences like those I'd experienced this time—falling speechless before trees that have lived for so many human lifetimes, and feeling a pang of regret while gazing over the kawadoko riverside platforms in the rain.
TEXT BY: Ayumi Hara, Former high school teacher turned editor
Read more article on Partner's site

Kyoto Love. Kyoto is an online magazine that has all you need to know to call yourself a Kyoto expert! Kyoto culture in both historical and modern contexts. Get to know Kyoto, get to love Kyoto.