Eastern Kyoto's Treasure Trove of Living Traditions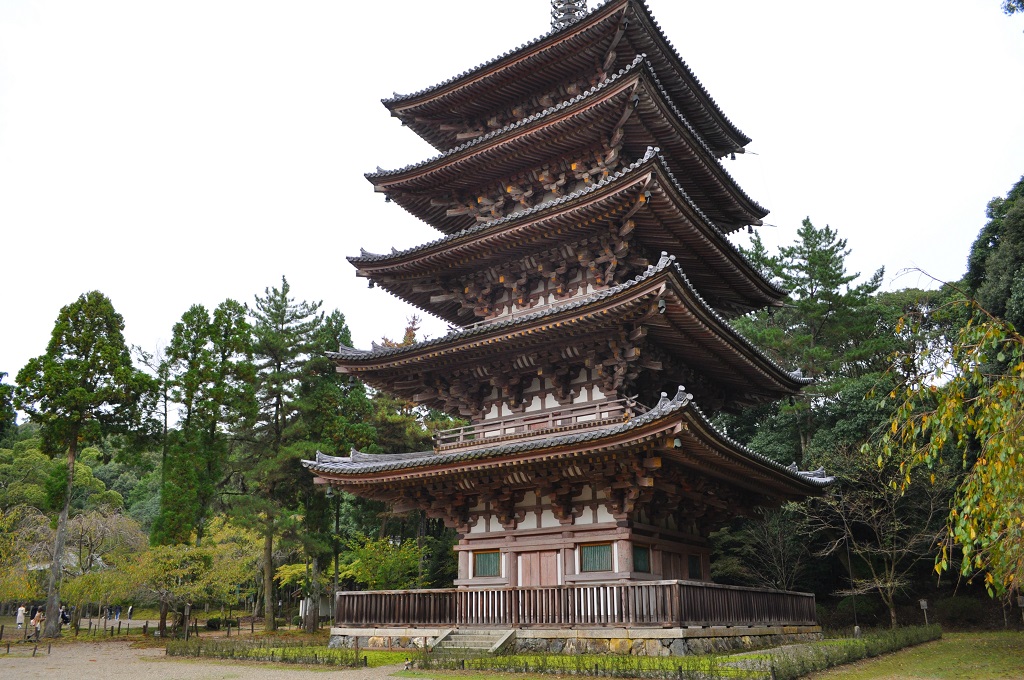 Eastern Kyoto's Treasure Trove of Living Traditions
Letters from Hidden Kyoto
By Abby Smith
Originally from California, I came to work in Japan in 2013. A lover of languages and shady spots along the Kamo Riverbank, I have been living in Kyoto since 2016. To this day, this thousand year-old city continues to surprise me--there's always something new to discover hiding in plain sight.
The southeastern Kyoto district of Yamashina hides a number of historical Kyoto treasures, large and small. My first visit this time is to the vast temple of Daigoji, a UNESCO World Heritage Site with a unique philosophy about the use of its 1,000 year-old monuments. Not far from Daigoji, I visit the kilns and galleries of Kiyomizu-yaki Danchi, an area famous for its beautiful Kiyomizu pottery, a living tradition passed through generations.
The Grandeur of a Different Age
Daigoji Temple
extends in three broad sections up the side of Mt. Daigo. Despite its splendor, size, and age (the temple was first founded in 874, and its five-storied pagoda is the oldest wooden building in Kyoto), the temple is an excellent place to stroll, away from the crowds.
A walk through Daigoji's lower levels takes me uphill through dappled sunlight and periods of sun and shadow, passing through several stately gates and groves of trees. Along the way deeper into the mountain, the path is dotted on either side with remarkable structures dating as far back as the 10th century.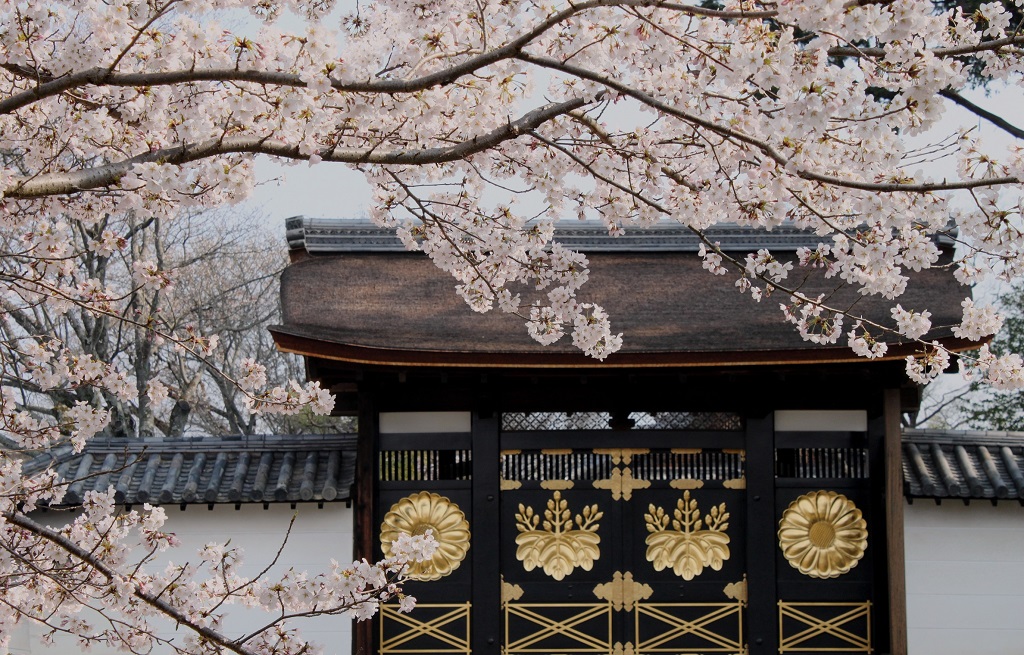 Still and sweeping, Daigoji Temple lights with energy during its annual events. The largest of these is the "Godairiki-san" festival, held every year on February 23rd, during which protective paper charms known as "Miei" are distributed to festival-goers, and the brave and brawny compete to lift an enormous piece of mochi for as long as they can. Daigoji was also where 16th century warlord, Toyotomi Hideyoshi held his famously lavish cherry blossom-viewing party. This famous party is reenacted annually in the springtime beneath great weeping cherries, complete with costumed actors portraying the various historical figures in attendance.
In autumn, the orange-red hues of Daigoji Temple's charming Benten-do Hall, too, are exquisite beside the bright red of the Japanese maples.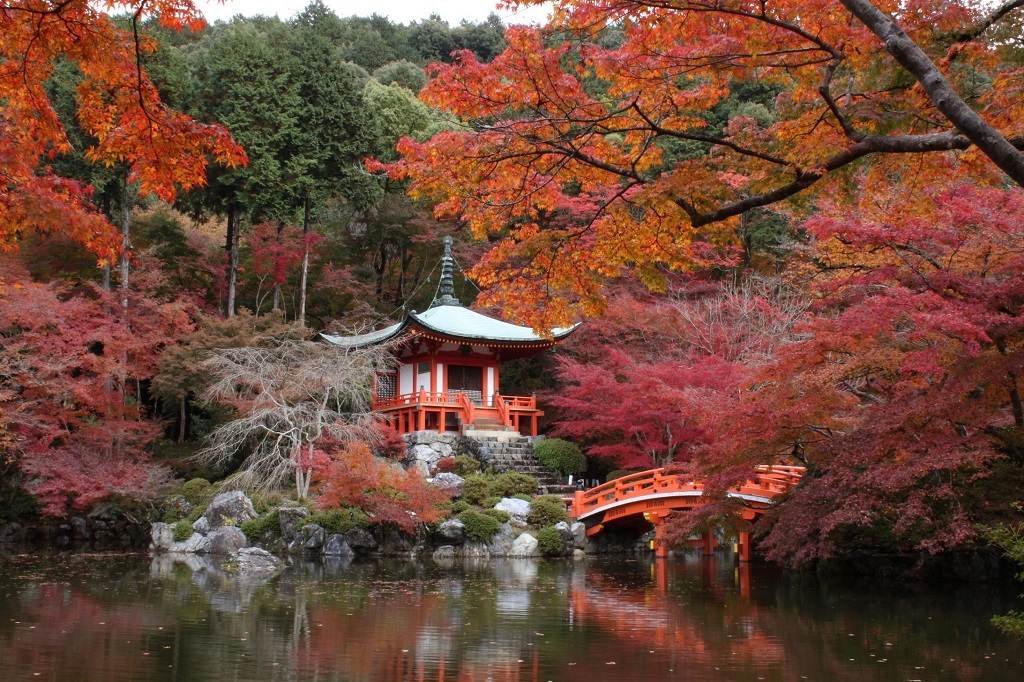 For Mr. Nakada, however, who works at the temple, Daigoji is at its most picturesque in the spring and early summer. "Personally, my favorite season is the bright, new green. I think it's really the best in Kyoto. You can best experience the true essence of the temple during the green seasons, I think."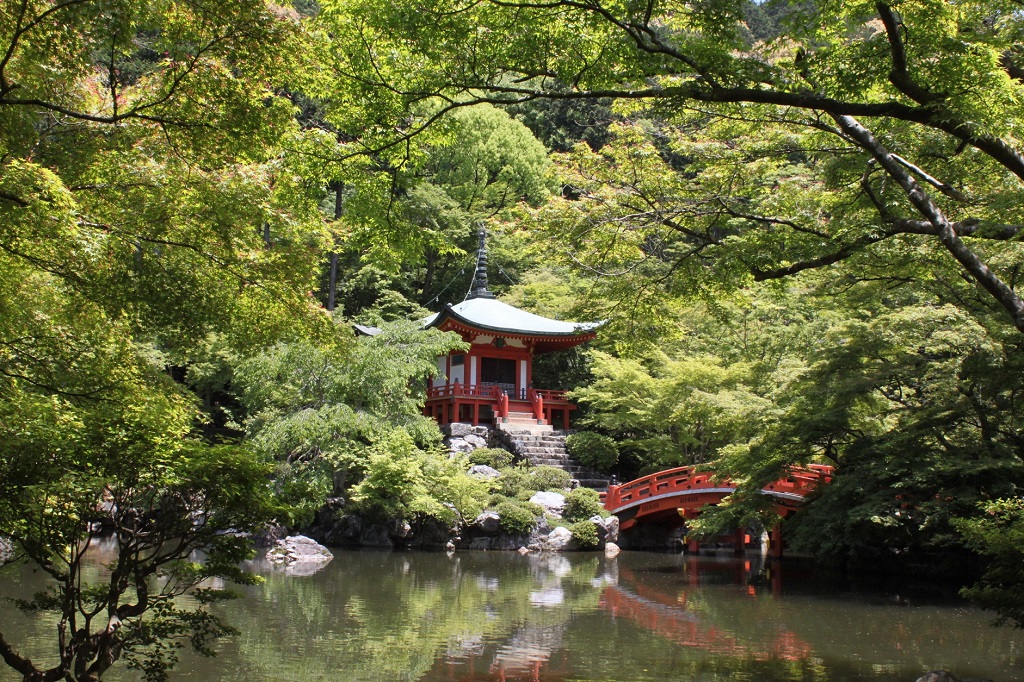 "The cherry blossoms and the colorful leaves here are beautiful, certainly. In fact, we consider them treasures. But it is important to consider why they are beautiful." Mr. Nakada gestures out towards the historical Sanboin garden before us, whose basic design was conceived by Toyotomi Hideyoshi himself. "This garden has remained unchanged for the past 400 years. We're in the middle of very real history. Of course," he says wryly, "We've installed electric lights and security cameras since then. But when you breathe the air in this environment, you're breathing the same air that people here breathed 1,000 years ago."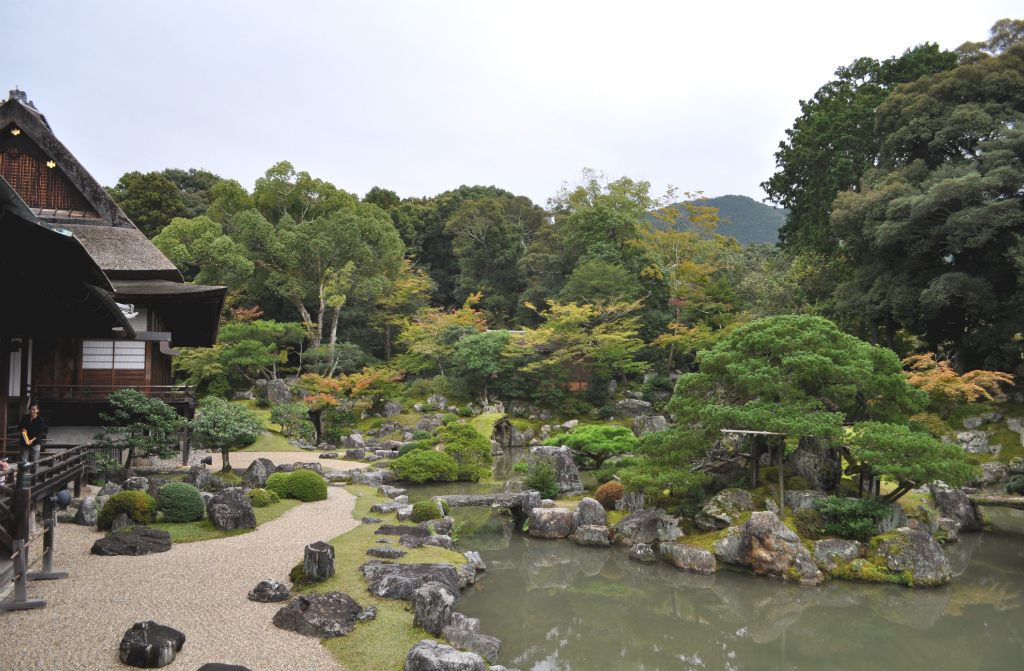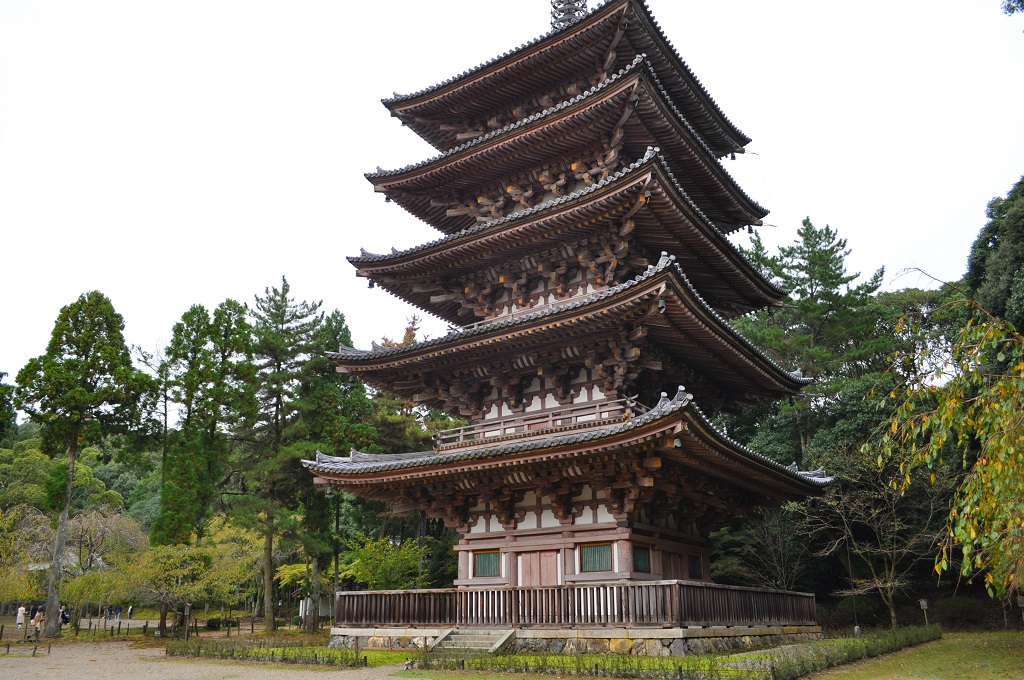 Daigoji Temple is practically riddled with officially-designated National Treasures, Important Cultural Properties, and the temple itself is of course a World Heritage Site. With such a wealth of treasures, Mr. Nakada tells me, it would be a shame to lock them away in a box. "One thing that's unique about this temple is that all of these treasures, each with their own long history, is still in use today."
In the spring of 2018, Daigoji Temple plans to release a completely free version of its mobile app, so that visitors can better explore the temple's treasures for themselves.
The Yamashina area is also home to another sort of historical treasure, though one of much smaller stature.
Nearly four hundred years ago, the popularity of tea ceremony amongst such ruling figures as Toyotomi Hideyoshi began to spread throughout the elite classes, and with it, a desire for ever more exquisite earthenware vessels. New methods were imported from neighboring China and Korea, and developed into the sophisticated styles of pottery known as Kiyomizu ware, or Kyoto ware.
A Great Array of Kyoto Techniques
In Yamashina,
Gallery Rakuchu-Rakugai
offers an elegant look at a range of the styles encompassed by the Kiyomizu pottery genre, with everything from ceramic artwork to delicate tableware on display. Mr. Kumagai is a wholesaler of Kiyomizu pottery, and also owns Gallery Rakuchu-Rakugai. He's kind enough to take me on a tour of the gallery, as to explain the history and many techniques of this craft.
That Kiyomizu pottery shares its name with one of Kyoto's most iconic temples is no coincidence: Gojo-zaka, the steep road leading up to Kiyomizu Temple may be lined with bustling cafés and souvenir shops today, but in the 16th century, these slopes were used to build graduated kilns. Beneath the temple, Kyoto's pottery industry flourished, producing works in a great variety of rich colors and designs. As the residential population grew, however, the Kiyomizu Pottery Complex (kiyomizu-yaki danchi) was forced to move its kilns south over the hill behind the temple, into Yamashina. The area is now a treasure trove you can reach on a short bus ride from central Kyoto.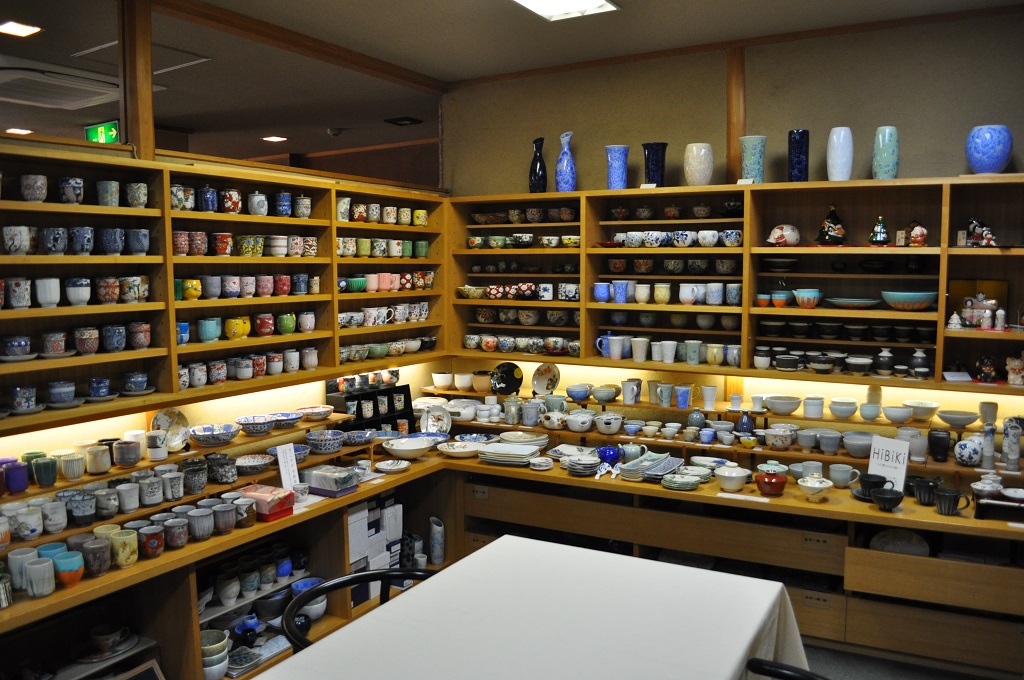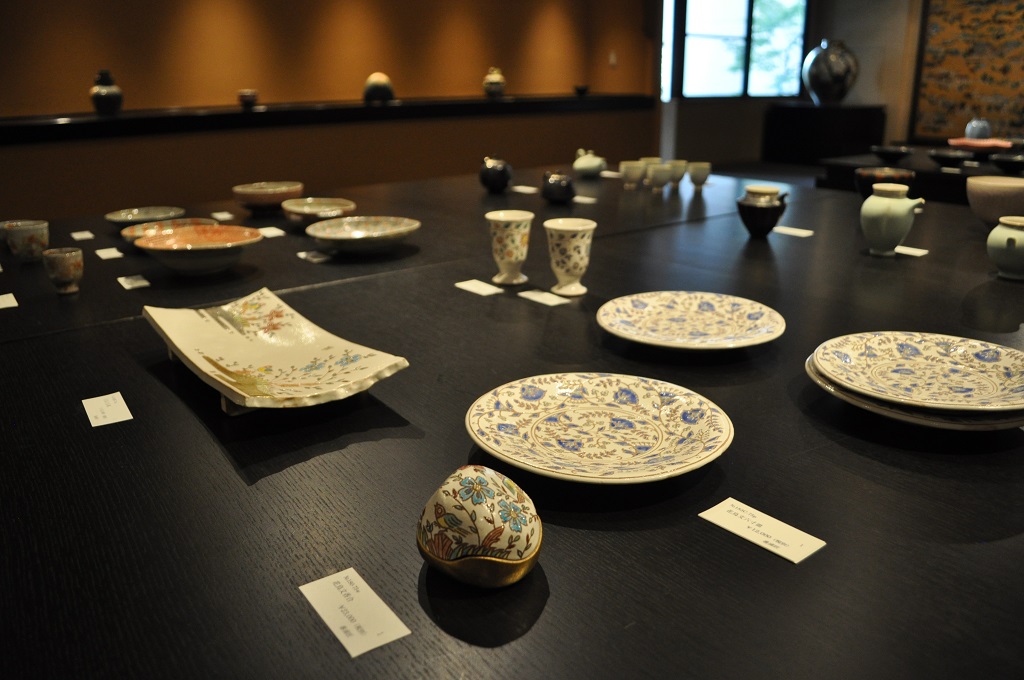 The works at Gallery Rakuchu-Rakugai include everything from bowls and cups with seasonal designs, to the tiniest, most delicate crane-shaped chopstick rest, to great plates with blossoming patterns of glaze–a reaction from the iron in the mixture, Mr. Kumagai explains. The second floor area features an incredible ceramic reproduction of a famous folding screen (a National Treasure, known as "rakuchu-rakugai") depicting a bird's eye view of the old capital of Kyoto through golden clouds. The ceramic version took seven years of work to complete. To maintain that its style remained the same, it was painted by a single female artisan, with the support of several other expert artisans.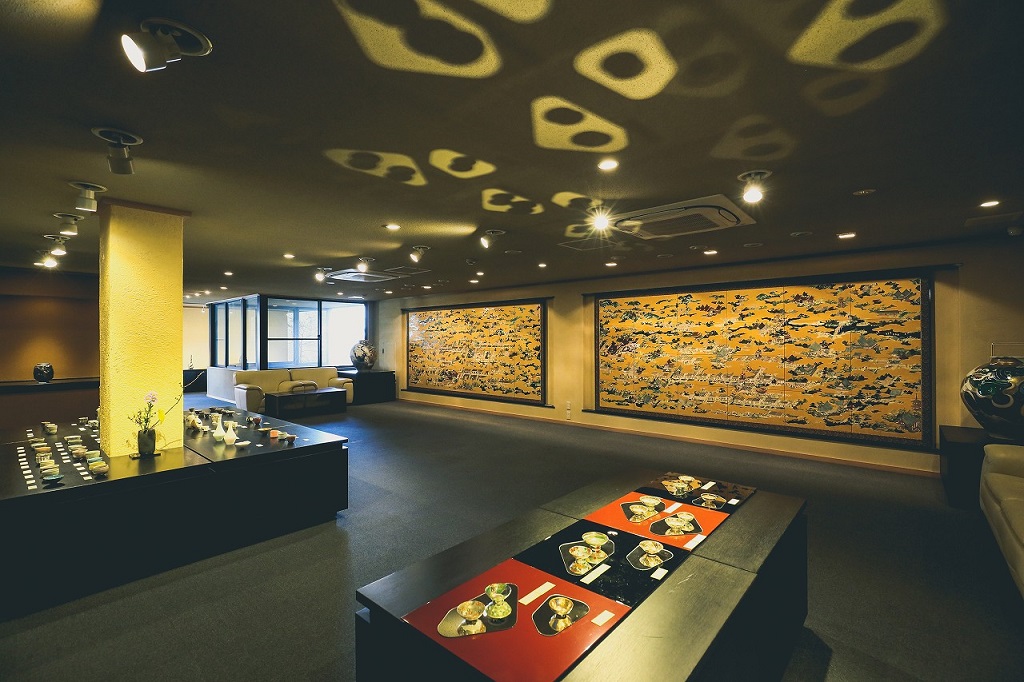 Over the course of 400 years, Kiyomizu pottery has developed countless techniques, and each of the kilns, and indeed, the artisans who work there, have their own specialties.
From Generation to Generation
At Unraku-gama, one such kiln and shop, visitors are able to take a look at a production process that has been going on here for 130 years.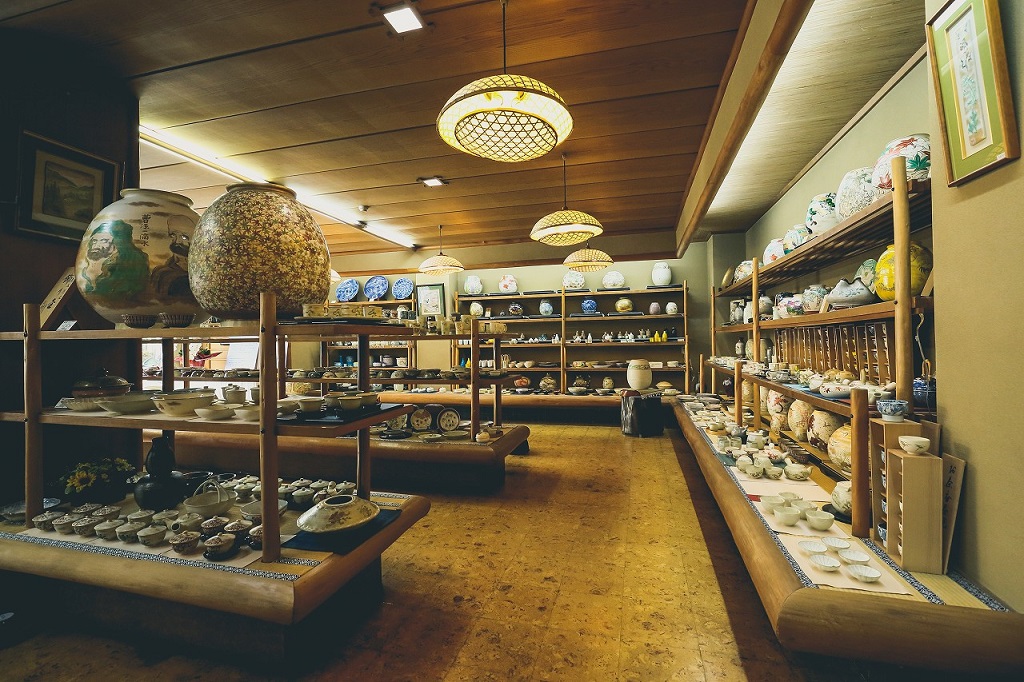 At Unraku-gama, it is the Saito family of artisans who have practiced traditional, as well as innovative techniques for generations. In 1963, they were pioneers in the introduction of an electric-powered kiln for high-temperature firing. While they continue to use a shiny, 400 year-old glaze, the Saitos have also engineered a new, harder matte glaze called aomatto to produce stronger pieces. The recipe, of course, is a family secret, and its unique sheen has become an Unraku-gama trademark.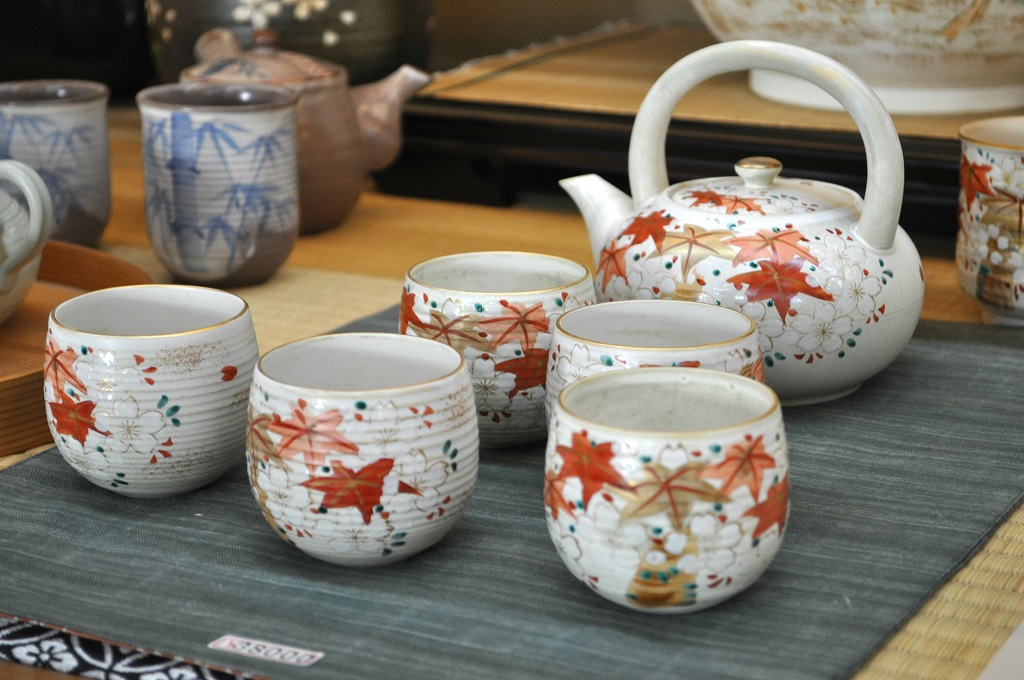 With a phone or email reservation in advance, however, purchasing customers can view the production process at the kiln. The touch of a skilled hand makes the process appear deceptively simple. It feels like I've only just sat down with Mr. Takeuchi, a potter with 30 years' experience, before he's molded a perfect teapot, complete with spout. Without measuring, his deft fingers press into the wet clay to form a lid. "Let's see how it fits." It's only a demonstration piece, but when he places the lid on his clay creation, it falls perfectly into place, and it's hard to keep myself from applauding.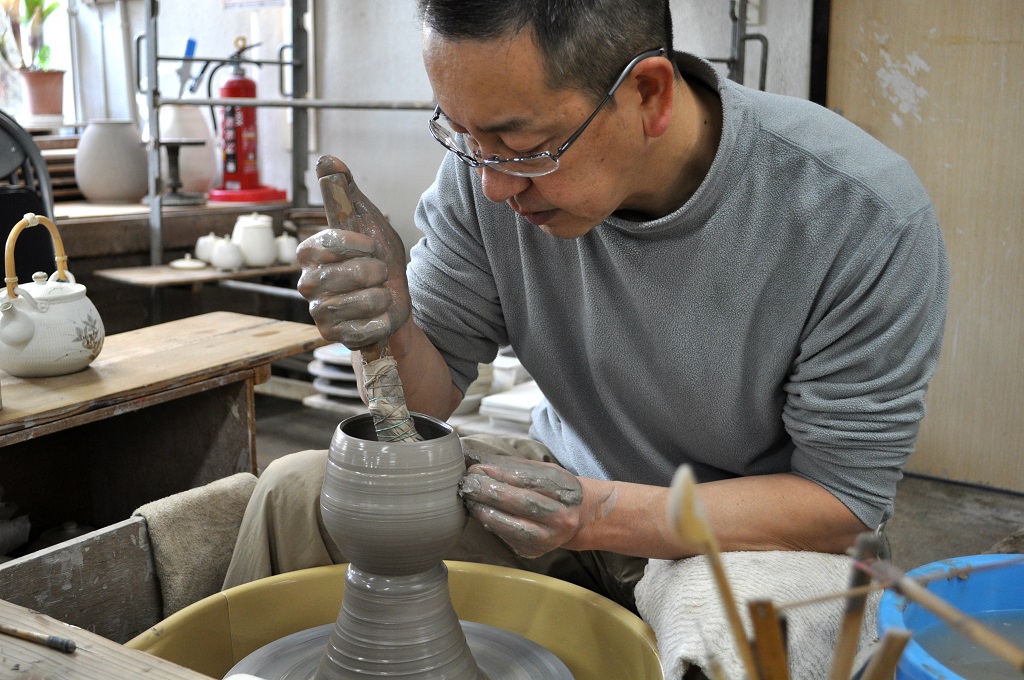 "One thing I'd like people to know is that we're not simply a souvenir shop," explains the latest generation of the Unraku-gama craft. "When people come to look at our pieces, I'd like them to be able to look not only at the price, but to look at the face of the workman, to look at the history. Then they'll really be able to understand its value. This work is not only old, but an authentic piece of history."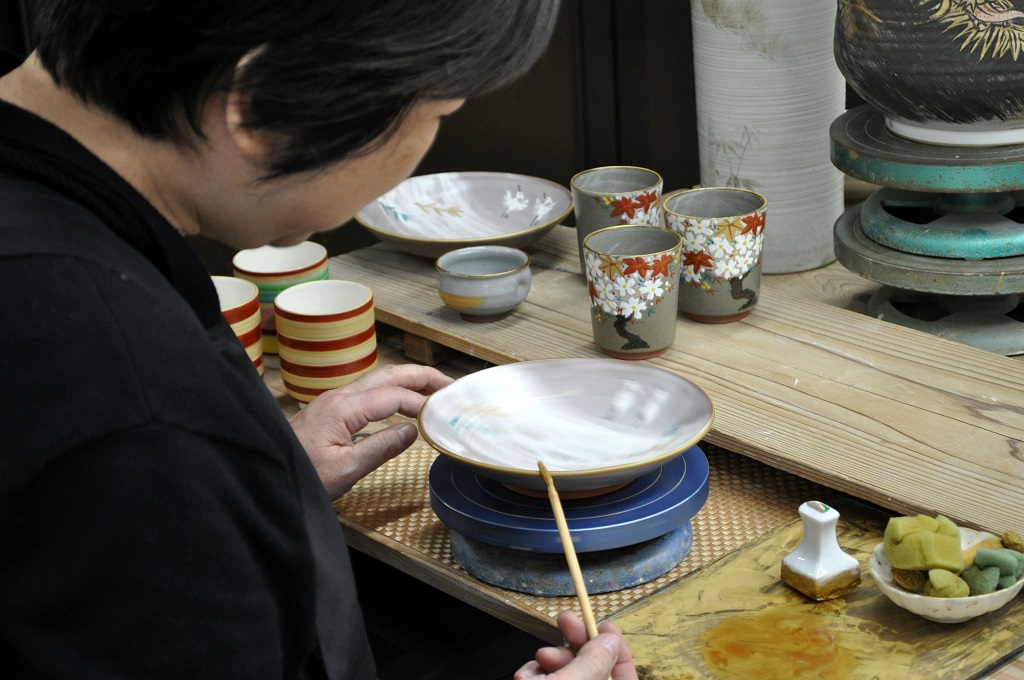 Visitors to Yamashina in late October will also be pleased to discover its annual ceramics festival with food, and over 100 tents with hand-crafted pieces.
The City of Kyoto has undergone many transformations over the years, but the Yamashina area is a prime example of living traditions, that retain the touch of people's hands to this day.
See more about the locations in this article