Monthly and seasonal markets in autumn 2023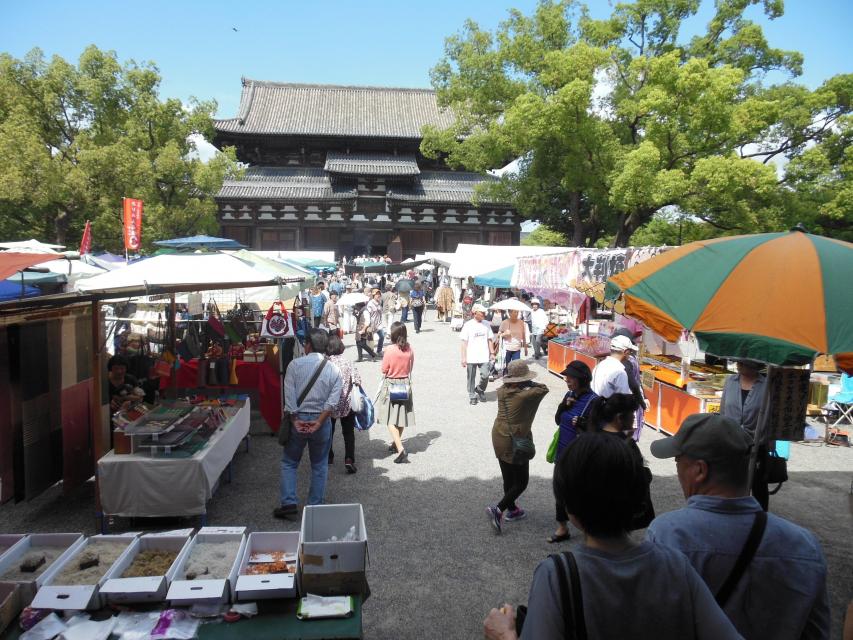 Monthly and seasonal markets in autumn 2023
Kyoto has many outdoor markets that are regularly held at places including shrines, temples and parks.
Each market has a different variety of goods on sale, including antiques, secondhand goods and clothing, handmade crafts and foods. These may be great places to find special items with local flavor, things that are no longer in stores or are hand made by the seller.
In Kyoto, you will typically find these along the approach and in temples or shrines. You may also have fun in interacting with the owner of each market stall.
The list of autumn markets in Kyoto
Market
Place
Dates
URL
Heian Rakuichi Handicraft Market
Okazaki Park
Sep 30, Oct 17-18
10:00am-4:00pm
Heian Rakuichi Handicraft Market

Heian Antique Market
Okazaki Park
Sep 6, Oct.6, Oct 26
10:00am-4:00pm
Heian Antique Market

Le Marché
Institut français du Kansai
Sep 10, Oct 15, Nov 19, Dec 9-10, 2023
10:00am-4:00pm
*Opening time will depend on events
Le Marché


*Japanese and French Only

Re : Kyoto exhibition2023
Okazaki Park
Sep 23, Oct 14, Nov 18, 2023
9:00am- 4:00pm
Re : Kyoto exhibition2023

KYOTO KIYOMIZU CERAMIC POTTERY MARKET
Kiyomizu-yaki Danchi in Kyoto's Yamashina area
Oct 20-22, 2023
10:00am-5:00pm
KYOTO KIYOMIZU CERAMIC
POTTERY MARKET
*Japanese Only
Kyoto Art Craft Market
The Museum of Kyoto Annex Bldg.
Oct 7-9, 2023
11:00am-5:30pm
Kyoto Art Craft Market
*Japanese Only
Sakyo Wonder Land
Okazaki Park, Shimogamo Jinja Shrine
Oct 29, 2023
10:00am-4:00pm
Sakyo Wonder Land
*Japanese Only
Kyoto Antique Fair
Kyoto Pulse Plaza
Oct 27-29, 2023
10:00am-5:00pm
(Lastday, until 4:00pm)
Kyoto Antique Fair
Monodukuri park Marche
Umekoji Park
Oct 29, 2023
10:00am-4:00pm
Monodukuri park Marche
*Japanese Only
Used Book Fair in Autumn
Chion-ji Temple
Nov 1-5, 2023
10:00am-5:00pm(Lastday, until 4:00pm)
Used Book Fair in Autumn
*Japanese Only
Monodukuri Garden(Handicraft Market)
Kyoto Botanical Garden
Nov 19, 2023
9:00am-4:00pm
Monodukuri Garden(Handicraft Market)
*Japanese Only
Imamiya-ichi,handicraft market
Imamiya Jinja Shrine
1st of each month (except May)
10:00am-3:00pm
Imamiya-ichi,handicraft market
※Japanese Only
Inaba Yakushi Handicraft market
Byodoji Temple(Inaba Yakushi)
8th of each Month
9:00am-4:00pm
Inaba Yakushi Handicraft market
*Japanese Only
Kobo-san, Temple's Flea Market
Toji Temple
21st of each Month
8:30am-5:30pm
Kobo-san, Temple's Flea Market
※Japanese Only
Toji Temple's Antique and Handicraft market
Toji Temple
1st Sun of each month
7:00am-4:30pm
Toji Temple's Antique and Handicraft market
*Japanese Only
Tenjin-san, Shrine's Flea Market
Kitano Tenmangu Shrine
25th of each Month
7:00am-4:00pm
Tenjin-san, Shrine's Flea Market

Hyakumanben Handicraft Market
Chionji Temple
15th of each Month
8:00am-4:00pm
Hyakumanben Handicraft Market
*Japanese Only
Kamigamo Handicraft Market
Kamigamo Jinja Shrine
4th Sun of each month
9:00am-4:00pm
Kamigamo Handicraft Market

List of Flea Markets in Kyoto