Universal Sightseeing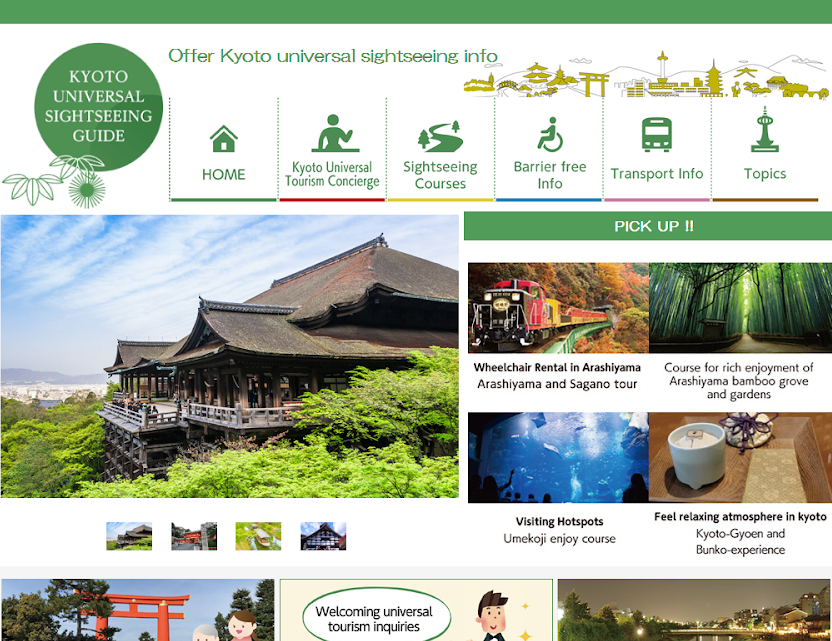 Universal Sightseeing
At Kyoto City, we are working hard to move forward with the "Kyoto Universal Tourism Promotion Project" as part of our environment improvement plan allowing anyone and everyone to enjoy sightseeing in Kyoto. Under this plan, we are making efforts for private facilities to become barrier-free for people of all abilities and enhance the quality of Kyoto as a tourist city.
Kyoto Universal Sightseeing Guide
This is a website dedicated to information on Kyoto's Universal Sightseeing Experience.
You will find information on barrier-free facilities at tourist destinations, restrooms, and restaurants, and even model courses and where to rent wheelchairs.
Kyoto Universal Sightseeing Guide Website (Language: English)
The City of Kyoto has appointed the Universal Tourism Concierge who you can consult free of charge for any of your Kyoto travel needs. Inquiries can be made about in-city barrier-free sightseeing info, entrance discount info for people with disabilities (escorts), time needed to do tours, plus much more info, advice and cautions.
Kyoto Universal Tourism Concierge Website (Language: English)
Support at Kyoto Tourist Information Centers
At the Kyoto Tourist Information Center(Kyo Navi): we have wheelchairs available for use (free of charge). We ask for your understanding as reservations for wheelchairs are not available.
Length of Wheelchair Rentals:
Kyoto Tourist Information Center (Kyo Nabi): 1 Day
Other Information on Universal Tourism
So that our Muslim visitors can spend an easy time in Kyoto, we have collected information on where to find prayer spaces and restaurants that are Halal-certified.
You can find a collection of information on vegetarian and vegan restaurants within Kyoto.
Related Articles