The Charms and Unique Hospitality of A Traditional Ryokan with 200 Years of History: Hiiragiya Ryokan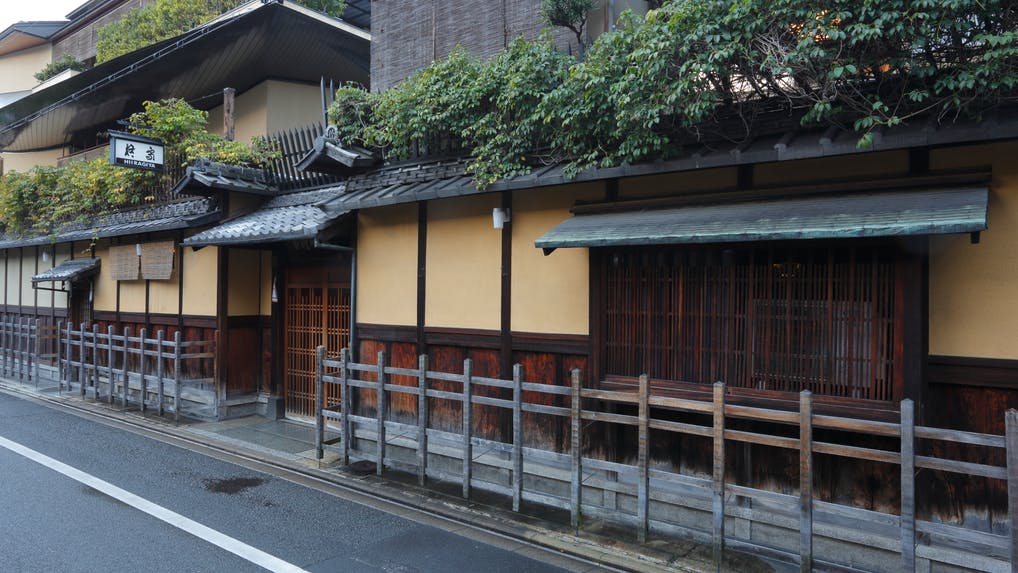 The Charms and Unique Hospitality of A Traditional Ryokan with 200 Years of History: Hiiragiya Ryokan

Socio de contenido
We are travel web magazine run by Ikkyu.com known for its "Let's make luxury ourselves.". Our editorial staff carefully selected this wonderful travel information.
Socio de contenido

We are travel web magazine run by Ikkyu.com known for its "Let's make luxury ourselves.". Our editorial staff carefully selected this wonderful travel information.
Kyoto's Fuyacho-dori Street is located at the very heart of the city's sprawling, grid-like streets. Take the single road leading here from a lively shopping district, and you'll feel the atmosphere grow noticeably calmer thanks to the ancient machiya merchant houses and old, traditional Japanese kominka houses lining the street.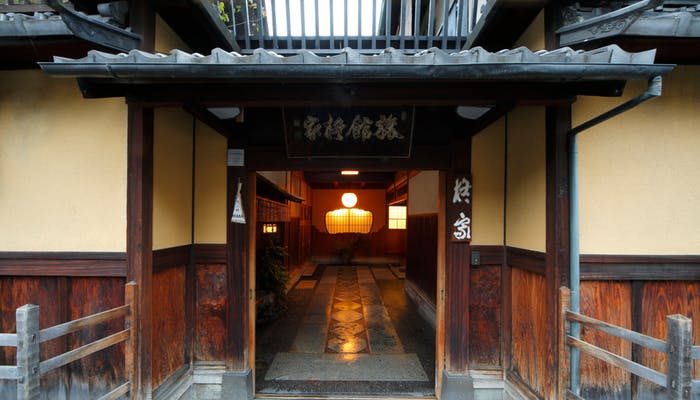 This is where you can find Hiiragiya Ryokan, one of Kyoto's most famous traditional ryokan inns. The moment you step onto the property, you'll be embraced by a calm atmosphere encouraging you to stop here, rest and rejuvenate.
Beloved, timeless hospitality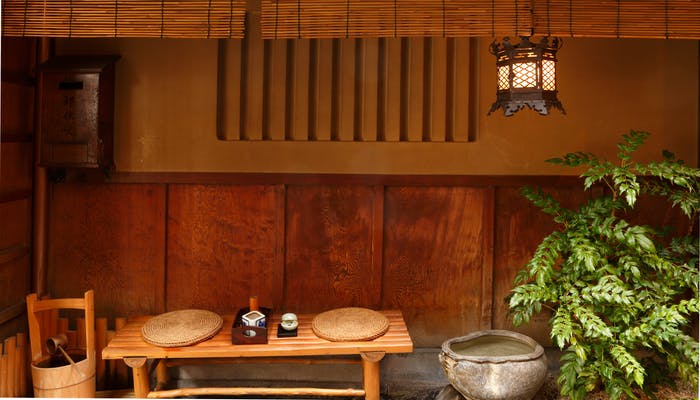 This inn originated in 1818 as a transport company dealing in marine products that also offered travelers a place to stay overnight. Its name comes from Hiraki-jinja Shrine on the grounds of Shimogamo-jinja Shrine (also known as Kamo-mioya-jinja Shrine), where past generations worshipped.
And included among the people who have continued visiting over the 200-year history of this ryokan, are famous names such as well-known historical figures from the final days of the Tokugawa shogunate as well as prominent writers and artists.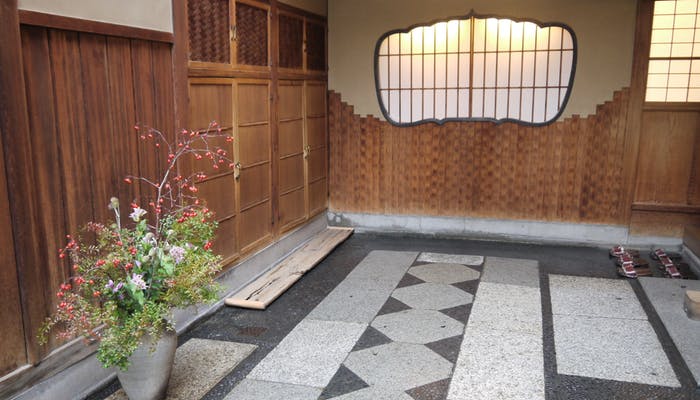 The wide expanse of stone pavement really stands out as you pass through the lattice doors at the entrance. Rickshaws once entered the property here directly from the street.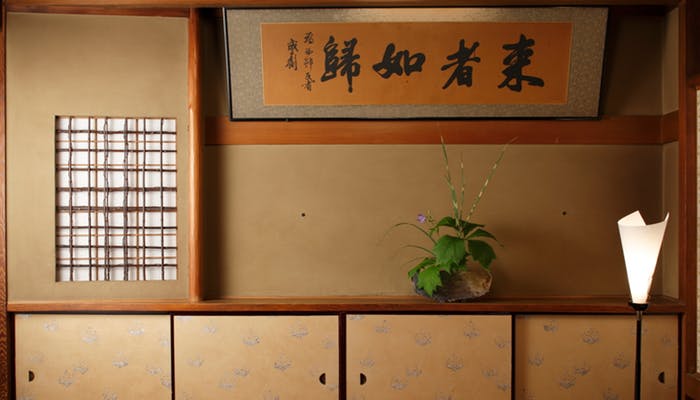 This ryokan's hospitality centers on the idea that each guest is returning home as they enter the inn. Walk up to the lobby and you'll find a framed scroll with a message welcoming you "home" written by Shigeno Seisai (also known by the name Shigeno Yasutsugu), a renowned scholar of the Chinese classics from the late Edo period.
The atmosphere of the inn is welcoming, encouraging you to relax and make yourself at home.
Made by melding tradition and convenience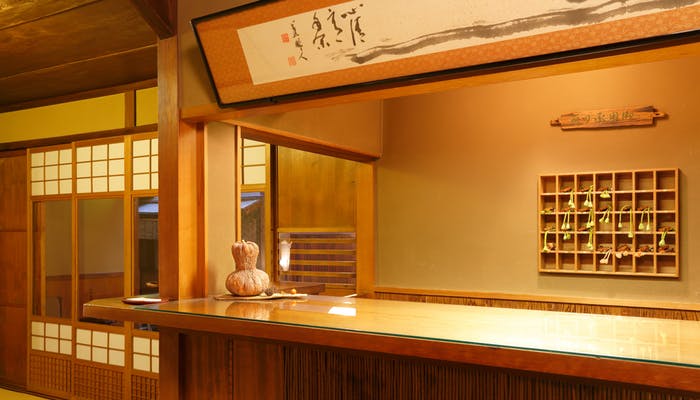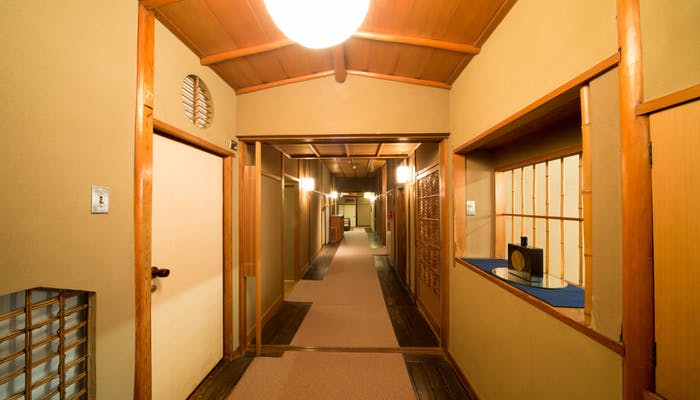 Hiiragiya includes both the historical older building and a new building constructed in 2006.
The old building is a sukiya-zukuri style (teahouse style) building from the end of the Edo period. The interior offers a rich accumulation of history. Impressively elegant craftsmanship featuring fine details epitomizing the Kyoto style are everywhere you look. One of these is the ceiling shaped like the bottom of a boat with a high center.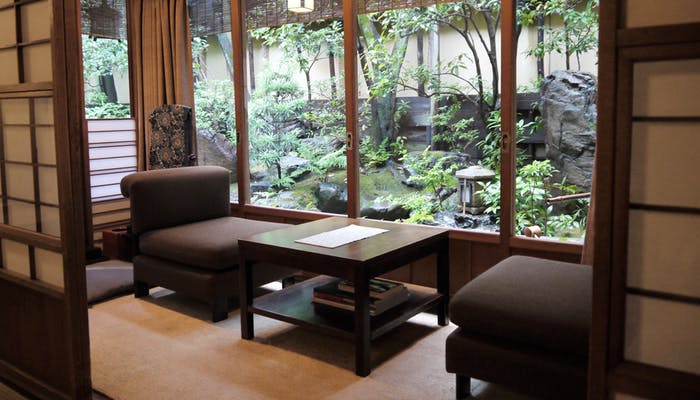 Guests can feel close to nature in the first-floor rooms with expansive garden views.
It's said that Nobel Prize-winning author Yasunari Kawabata wrote here while gazing across this same sprawling view of nature.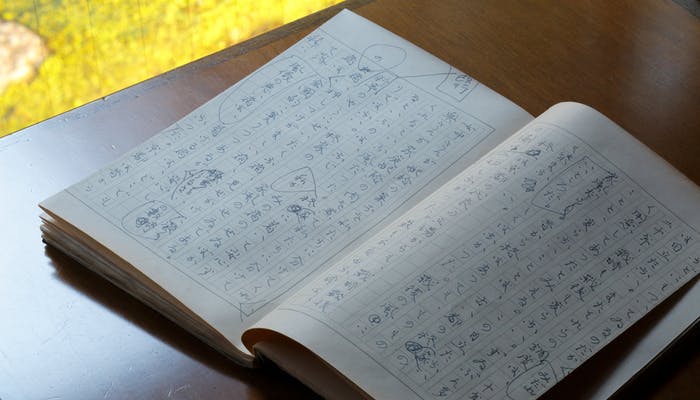 He even wrote about Hiiragiya itself, saying "I have made a habit of writing in my room at various inns, but there is no inn that I remember so much as Hiiragiya." We can also understand from these words that he was a frequent guest here.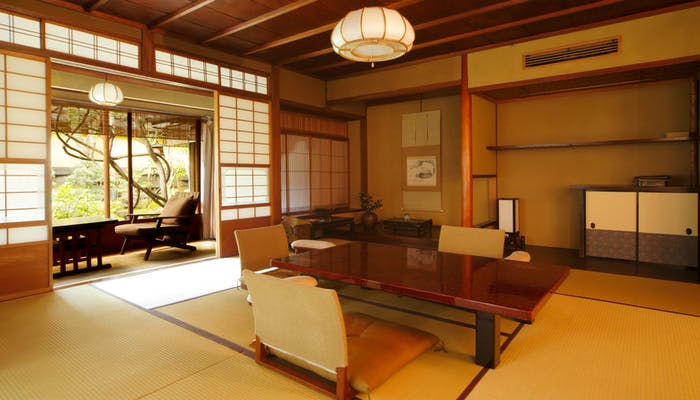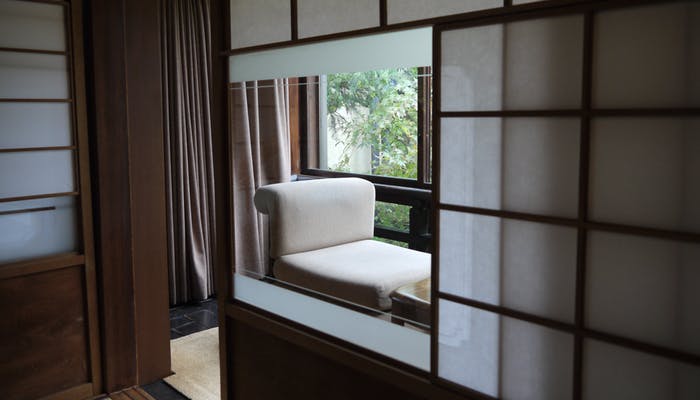 Among all the spacious rooms available, one second-floor corner room is particularly special. This room is packed full of knowledge continuously passed down from bygone days about how people lived their lives.
At just a glimpse, guests will notice various uniquely Japanese features like the cool bamboo screen door in summer, or the special half-glass screen for viewing winter snow without leaving the room.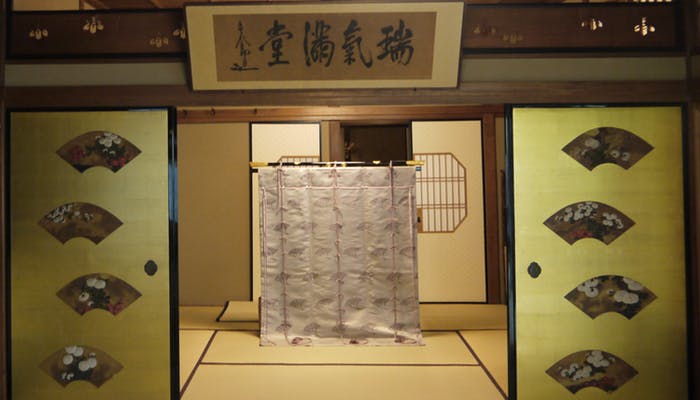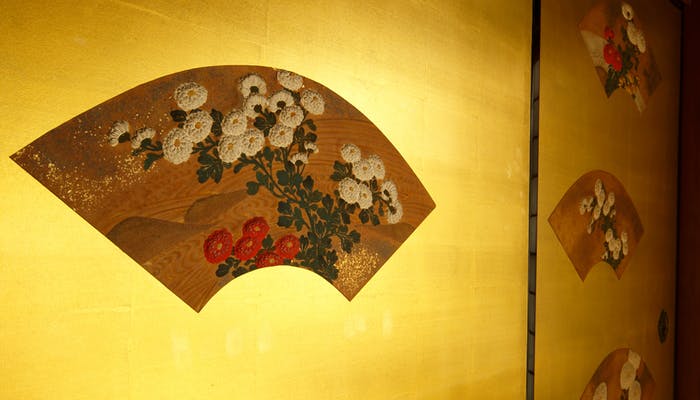 The magnificent sliding screen paintings in this room deserve special mention. These sliding screens painted in the Edo period feature three-dimensional paintings that use white pigments made from ground seashells and the like. The paintings have undergone repeated restoration work, and those techniques have brought these treasured objects into the present.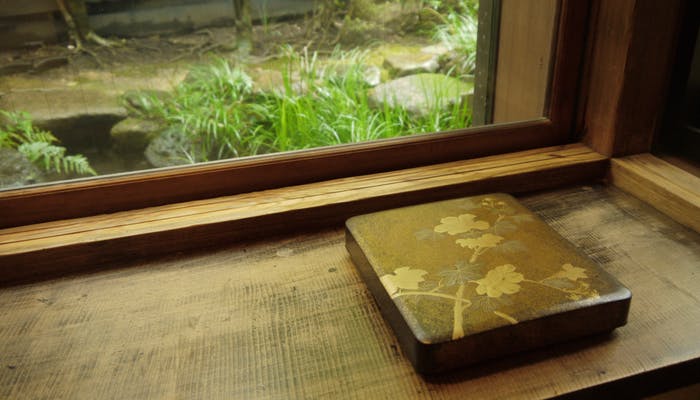 On the desk in the study, there is a case with brushes and an inkstone inside. If you try sitting there and writing one brushstroke, you'll find yourself feeling relaxed and at ease.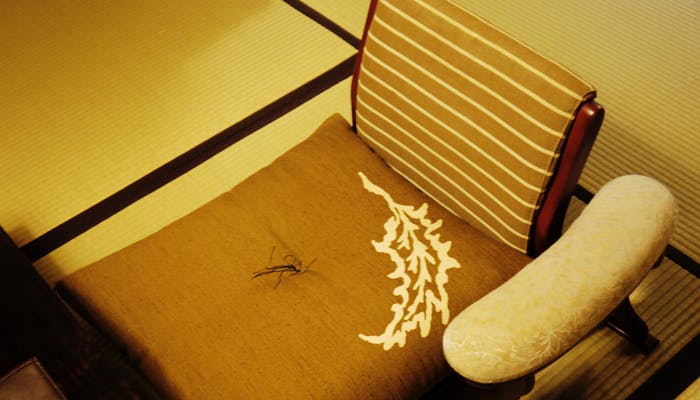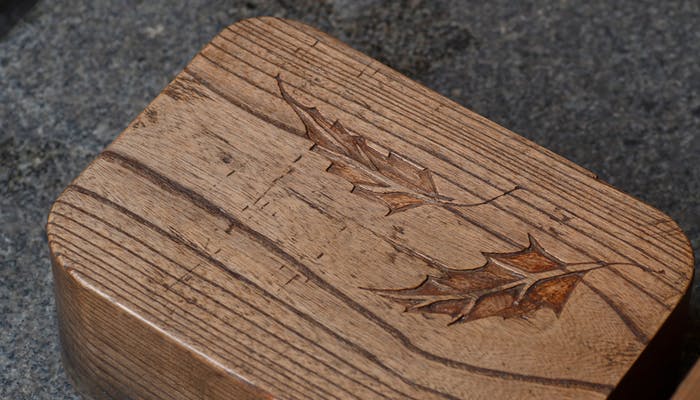 Everything in Hiiragiya—the carpet, the seat cushions, the step in the entryway for guests to stand on while removing their shoes—is decorated with a holly (hiiragi) motif.
Looking for these as you stroll around the hotel is another delight.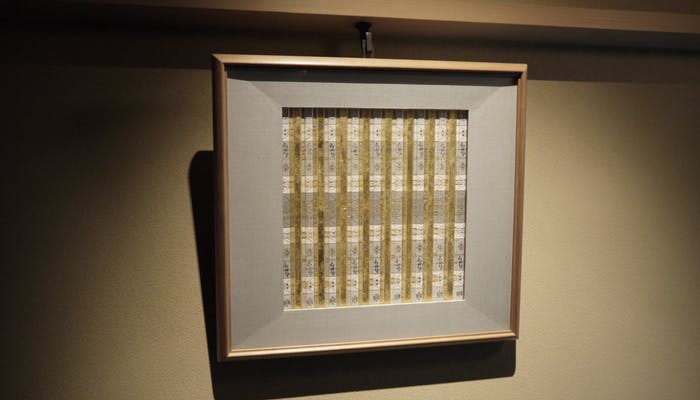 While the old building features the subtle, warm glow of wood, the new building is distinctive for its bright atmosphere.
The hanging scrolls and calligraphy in the rooms and hallways, an homage to the connection between various artists and this inn, are unique pieces that can only be found here.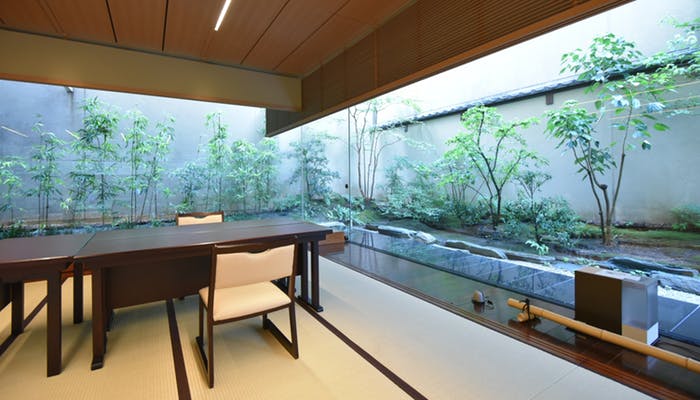 The large hall where guests dine and drink tea has a comfortable atmosphere with sunlight streaming through the trees and into the wide windows.
It is also decorated according to the season, such as with New Year's decorations in January and hina dolls in March for the Hinamatsuri doll festival.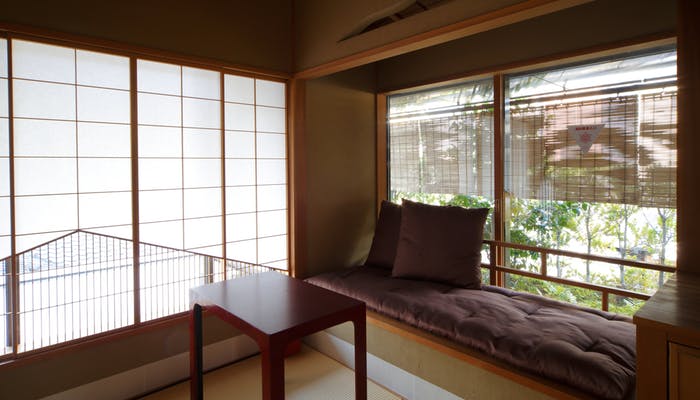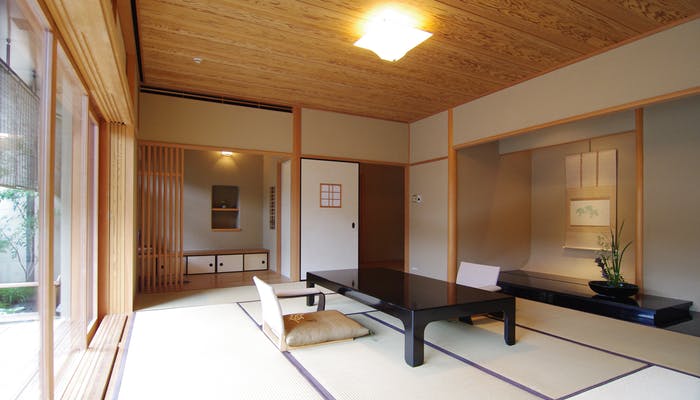 There are seven rooms offering modern facilities and comfort including beds instead of Japanese futon mattresses.
Everything in these bright rooms, such as the courtyard garden and flower bowl, has a distinctive Japanese touch.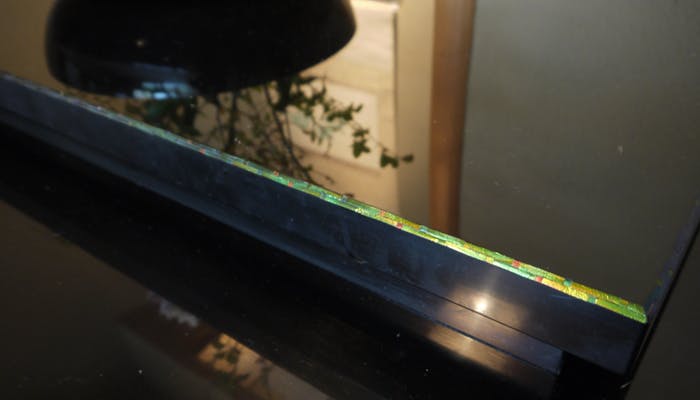 The deluxe room in the new wing is filled with traditional design.
The edges of the lacquered decorative alcove (tokonoma) feature jewel beetle wings, for a delightful contrast that guests will appreciate.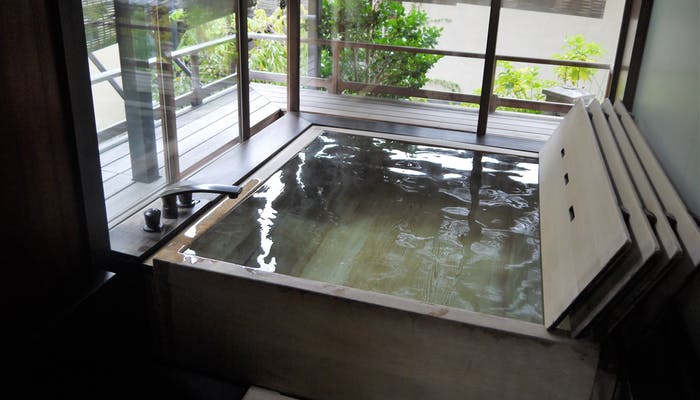 The inn has a spring on its premises and there is a cypress bath where guests can enjoy bathing. These are not hot spring waters, but the bath's rich aroma gently soothes the body.
Whether you choose the old building with its historical architecture and traditional decorations from bygone days or the modern conveniences of the new building, guests will enjoy a stay featuring the inn's proven track record of hospitality beloved by successive generations of prominent figures. Come by for a visit and pick a room in just the style you want.
Enjoy Kyoto's seasons with elaborately prepared Kyoto-style kaiseki cuisine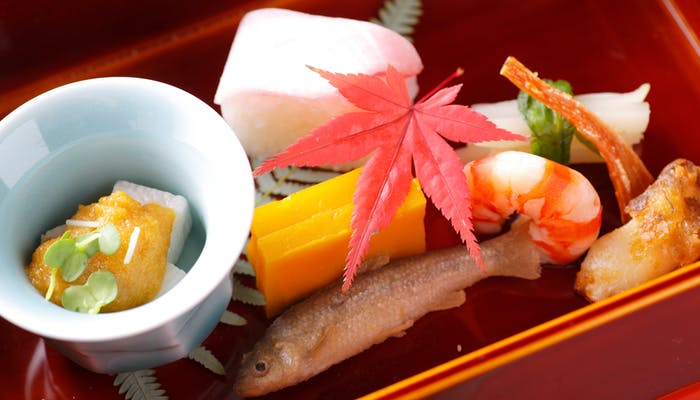 The streets of Kyoto are lined with long-standing, traditional Japanese restaurants. But even with so many options, hungry visitors never stop making their way to Hiiragiya.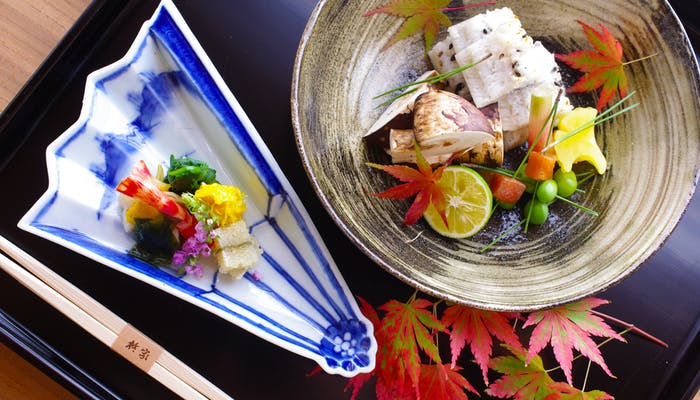 The Kyo-kaiseki (Kyoto's traditional, sophisticated cuisine) at Hiiragiya combines ingredients from all over Japan with fresh Kyoto-grown vegetables. The various dishes made using choice ingredients are renowned for being flavorful and nutritious.
The colorful ceramic dishes including Kiyomizu ware also include items with a long history. There are even dishes that might be considered antiques.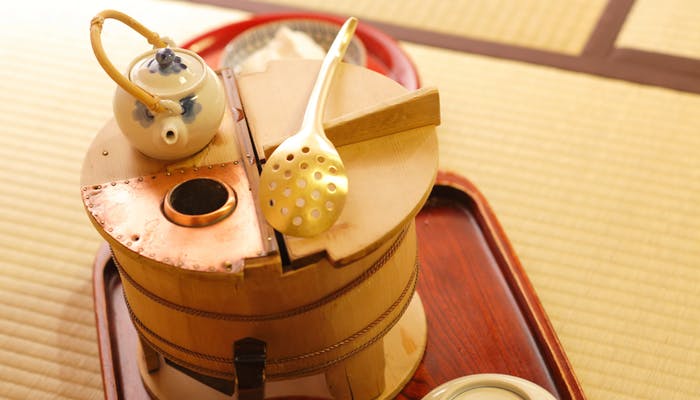 For breakfast, this inn offers their signature yudofu (boiled tofu). The serving dish used for this yudofu was crafted by living national treasure Kiyotsugu Nakagawa.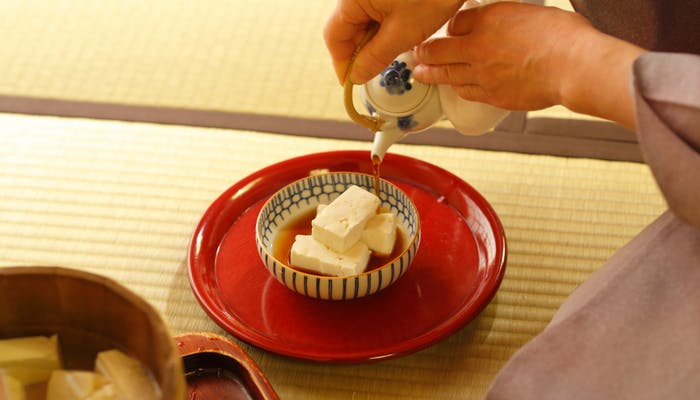 Hirano Tofu is a shop on Fuyamachi-dori Street. The tofu here has been a favorite of various well-known figures—first beloved by artist Rosanjin Kitaoji, and later by bureaucrat and businessman Jiro Shirasu.
Passed down over generations, the aroma and taste of this high-quality tofu will fill your mouth, gently waking your body in the early morning.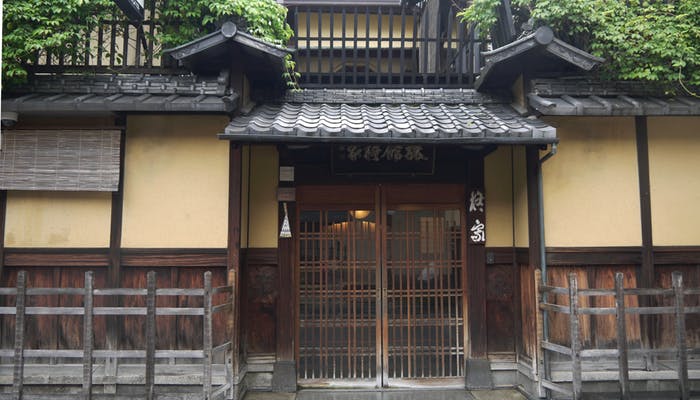 Hiiragiya Ryokan, with its valuable historical building, is deeply rooted in the idea of learning from the past and connecting to the future. This explains the heart of its hospitality passed down over 200 years that welcomes guests to "come back home" on their next visit.
Direcciones

Nakahakusancho Agaru Aneyakoji Sasayacho, Nakagyo-ku, Kyoto City, Kyoto Prefecture 604-8094

Tel

+81-75-221-1136

Sitio web
Leer más artículos en el sitio del socio

We are travel web magazine run by Ikkyu.com known for its "Let's make luxury ourselves.". Our editorial staff carefully selected this wonderful travel information.