The Best Photo Spots in Kyoto You've Never Heard Of
The Best Photo Spots in Kyoto You've Never Heard Of
Whether you're a collector of every lens and camera accessory you can find, or a casual smartphone-shooter, you're going to want to visit Kyoto with your camera. This extremely photogenic city is filled with locations to point your lens and capture beautiful shots, from the glowing golden sides of
Kinkaku-ji Temple
, to the dramatic thousand red torii gates of
Fushimi Inari-Taisha Shrine
, to the magical green of the Sagano Bamboo Grove in Arashiyama.
But some of the most incredible locations—dare we say Instagrammable?—aren't very well known…
Check out these hidden Kyoto photo spots, below!
Kifune-jinja Shrine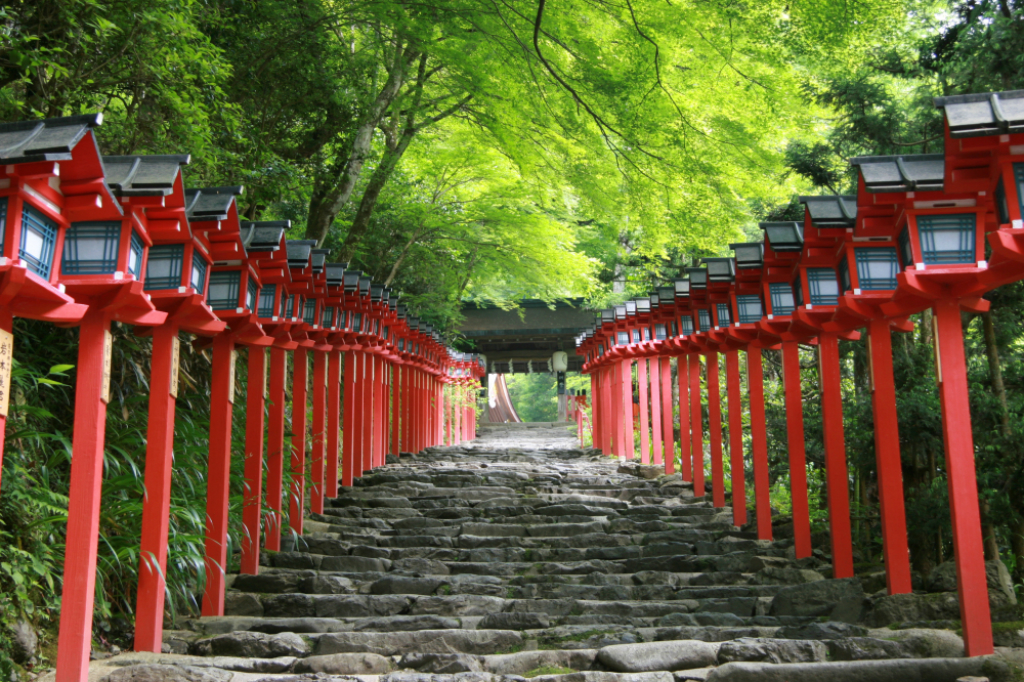 Japan's oldest historical text dates back to the 700s. The history of Japan has been recorded since the age of myths, and it is in one of these myths that a description of the God of River Headwaters, who rules over the water supply, appears. This god is also the god enshrined here at Kifune-jinja Shrine.
When you visit Kifune-jinja Shrine, you'll be able to sense this ancient God of Headwaters for yourself. Forget the tumult of the city in the quiet here, with the comforting sound of the river that babbles along just beside you, and enjoy the relaxing sensation of the cool air coming off the river. Kifune-jinja Shrine has long been visited by people praying for good fortune and prosperity, marriage, and for their wishes to come true. The shrine is revered by the Imperial Household, and is familiar to many people in Japan. Kifune-jinja Shrine looks beautiful in the fresh green of spring that grows deeper day by day, and the area is popular in the summertime for its kawa-doko riverside dining. The shrine is also popular for its flaming autumn leaves, and the dramatic contrast of its red lanterns capped with white snow in the winter. If you're looking to get deep into Kyoto, come visit Kifune-jinja Shrine.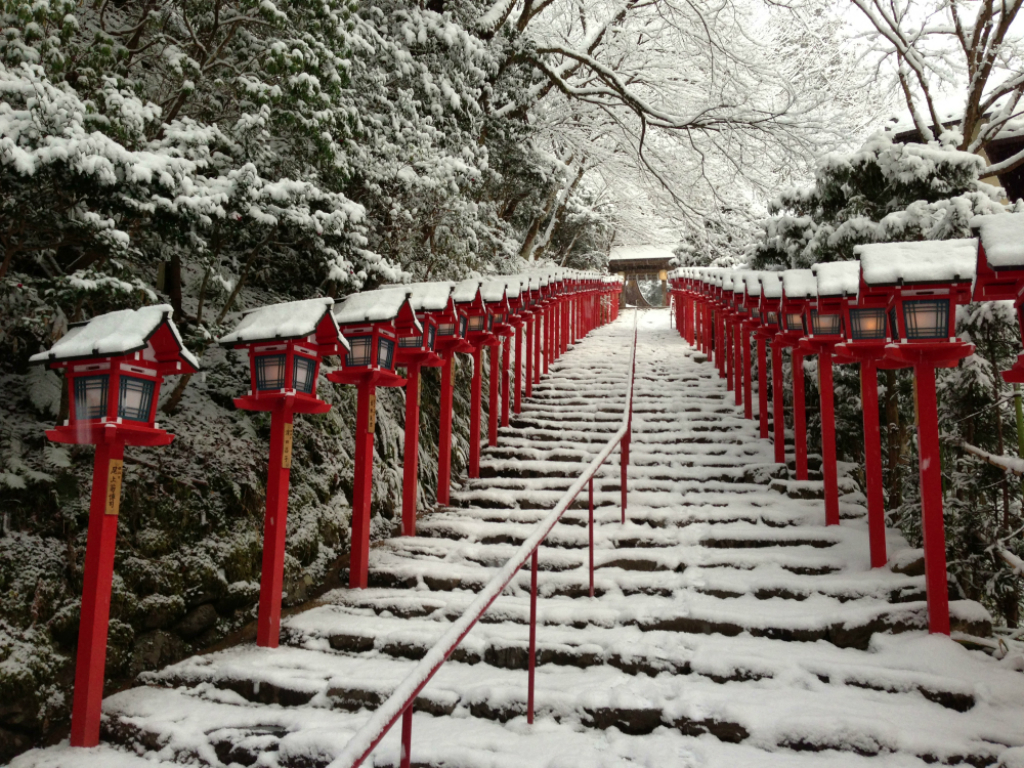 Hours: Shrine Charms are available from 9:00 – 17:00 (Year-round)
Price: Free to enter shrine grounds
Konkai Komyo-ji Temple and the "Afro" Buddha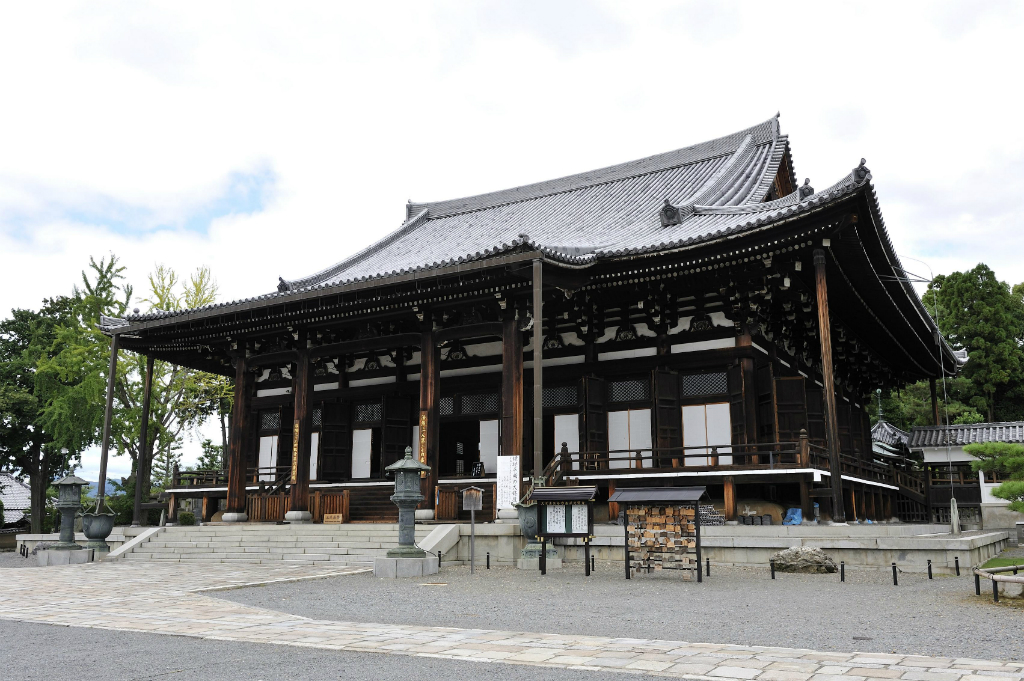 For a turn into the quirky, head to Konkai Komyo-ji Temple, not far from the famous Philosopher's Walk (Tetsugaku-no-michi Street), and just a ten minute walk from Kyoto City Bus' Okazaki-michi bus stop. The temple itself features an impressive, two-story gate, and within, the Mie-do Hall enshrines a wooden, seated statue of Honen, the founder of the Jodo sect of Buddhism. The temple's beautiful gardens with sandscapes represent the life of Honen and others related to the temple's founding. In autumn, the maple trees that ring the temple ponds reflect brilliantly in the waters.
Hidden within the temple grounds, you'll find this unusual statue of Amidha Buddha. This may not be what you think of when you picture a statue of the Buddha with its traditional hairstyle of tight coils: this one has a head of curly hair so large that it almost looks like an afro! It is said that this Amidha figure spent such an extraordinarily long time dedicating himself to his ascetic training, praying for the fate of mankind, that his hair grew longer, and wilder, until it had piled up high on his head. There are only 16 figures like this across Japan. See if you can catch a shot of this unusual stone Amidha Buddha with its wild hair.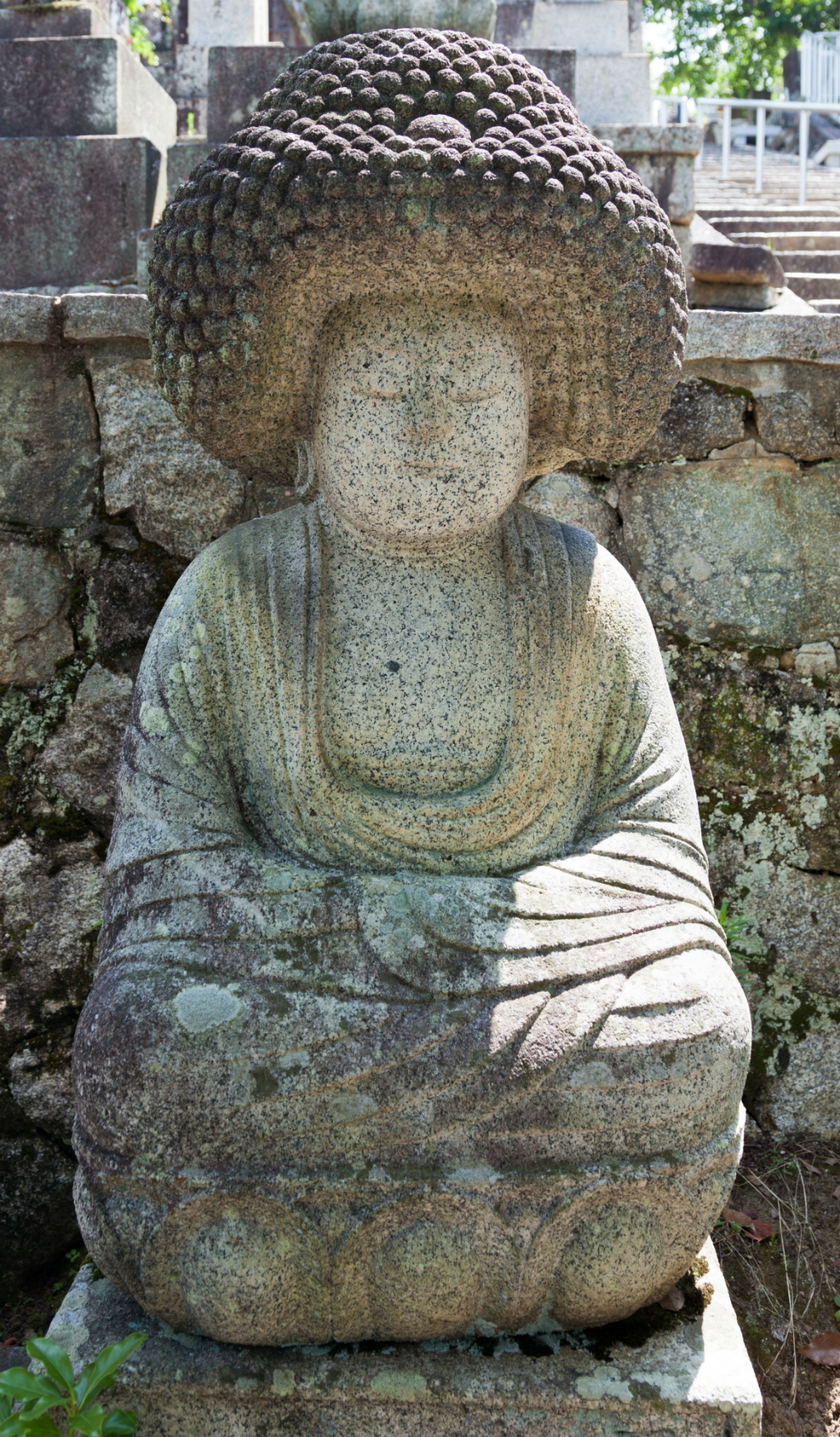 Hours: 9:00 - 16:00
Price: Free entry to Main Hall; fee required for garden during special openings
Hosen-in Temple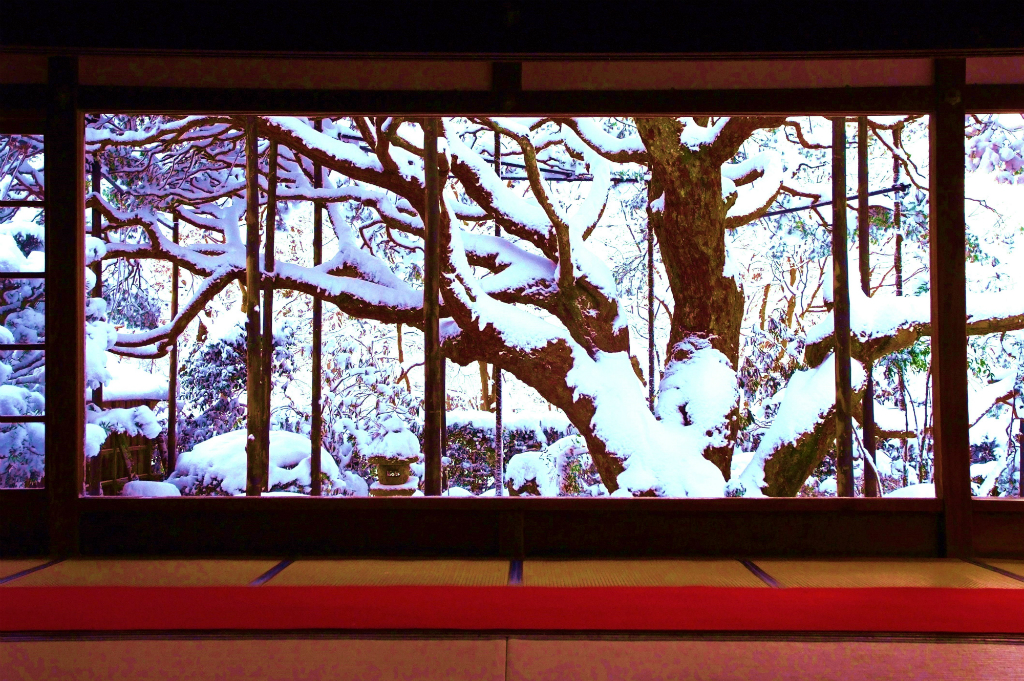 Hosen-in Temple
is most famous for its gardens, whose centerpiece is a 700 year-old five-needle pine tree, its branches held up by supports. When framed by the beams of the temple, the garden appears almost like a beautiful painting. The temple also holds light-up events during spring and autumn, which can also result in some dramatic photos. After you snap a few, take a seat in the temple and enjoy the relaxing mood of the garden.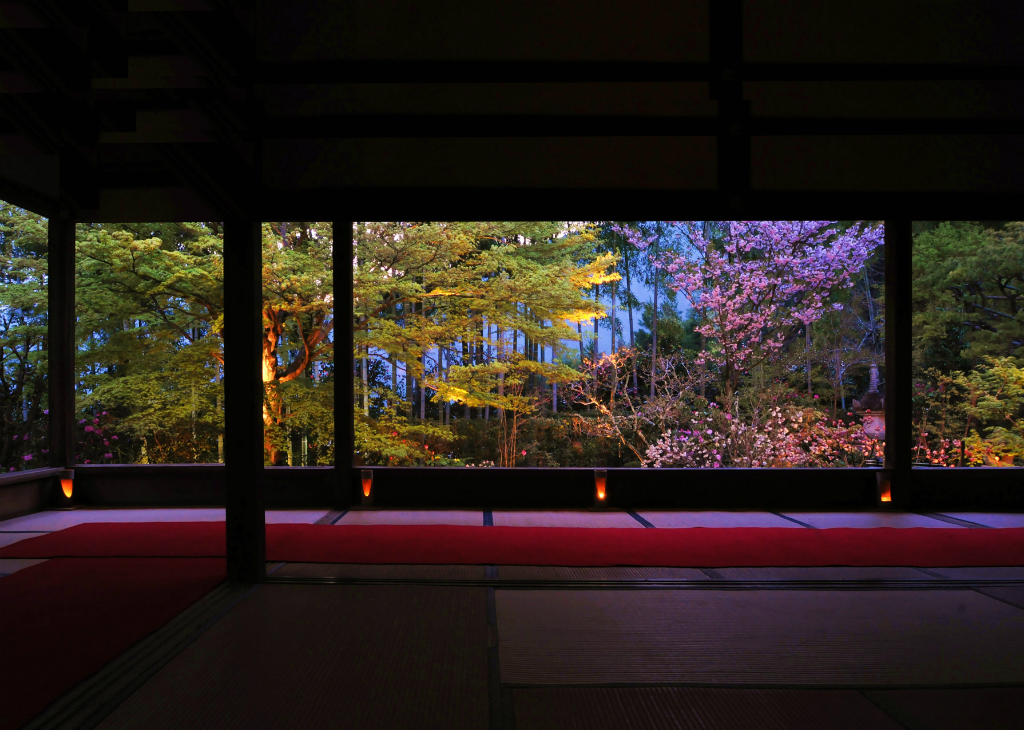 Hours: 9:00 - 17:00 Reception closes at 16:30
Price: Adults 800 yen, Junior and High School Students 700 yen, Elementary School Students 600 yen *Includes matcha tea and a sweet
Rakusai Bamboo Park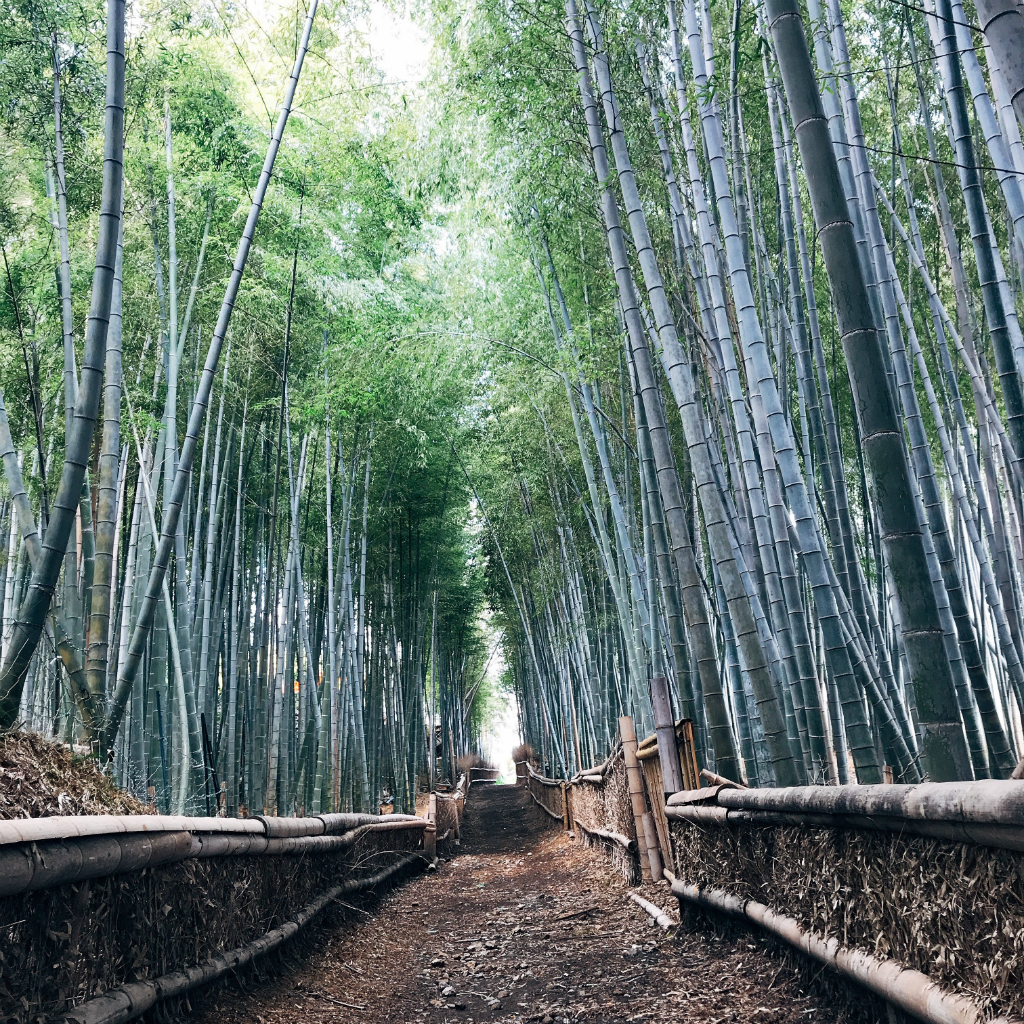 You've heard of Kyoto's famous bamboo forest in Arashiyama, but did you know there's another bamboo forest in a less well-known part of the city? Have this one all to yourself in your photos by heading to Oharano-jinja Shrine in
Rakusai
, the southwestern part of Kyoto City, where you'll find the Rakusai Bamboo Park. While you're there, there are plenty of other beautiful, natural locations nearby, like
Yoshimine-dera Temple
.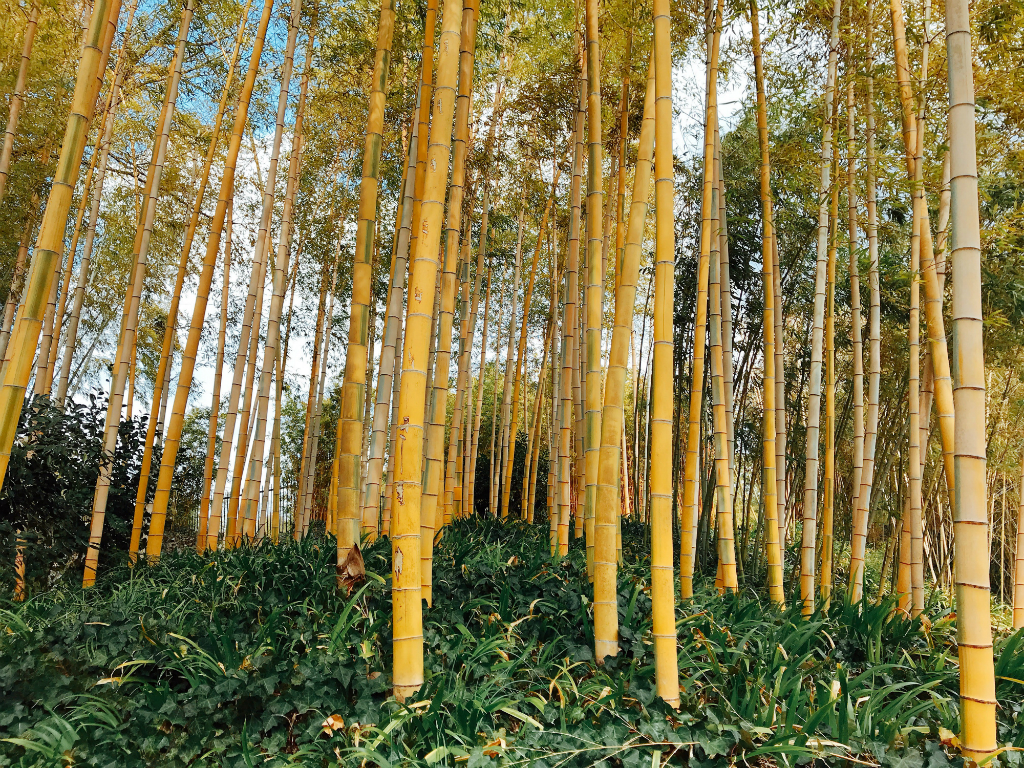 Hours: 9:00 – 17:00 (Enter before 16:00)
Price: Free
Kyutei Omuro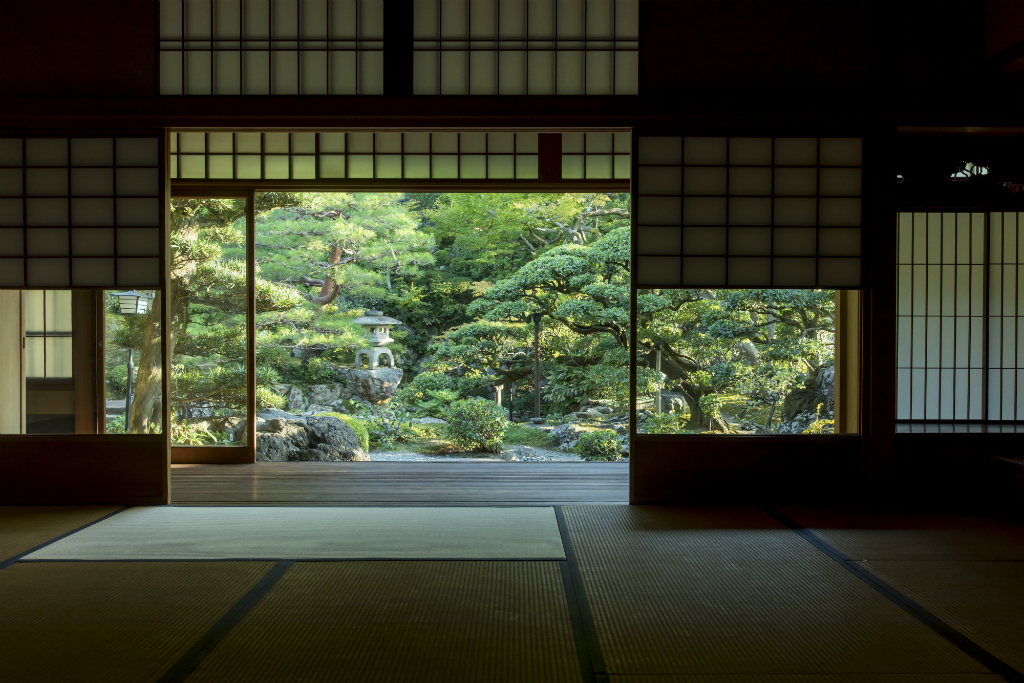 Kyutei Omuro is an old residence and registered Tangible Cultural Property. The building is an interesting glimpse at a historical home, and although it isn't temple, Kyutei Omuro features a beautiful garden that can be observed from within the tatami rooms of the home. The reflection of the garden in a table inside the building also makes for some beautiful and unusual photos!
Kyutei Omuro is usually available to rent for events, and is opened to the general public during special events. Because its opening periods are limited, be sure not to miss it during its best seasons!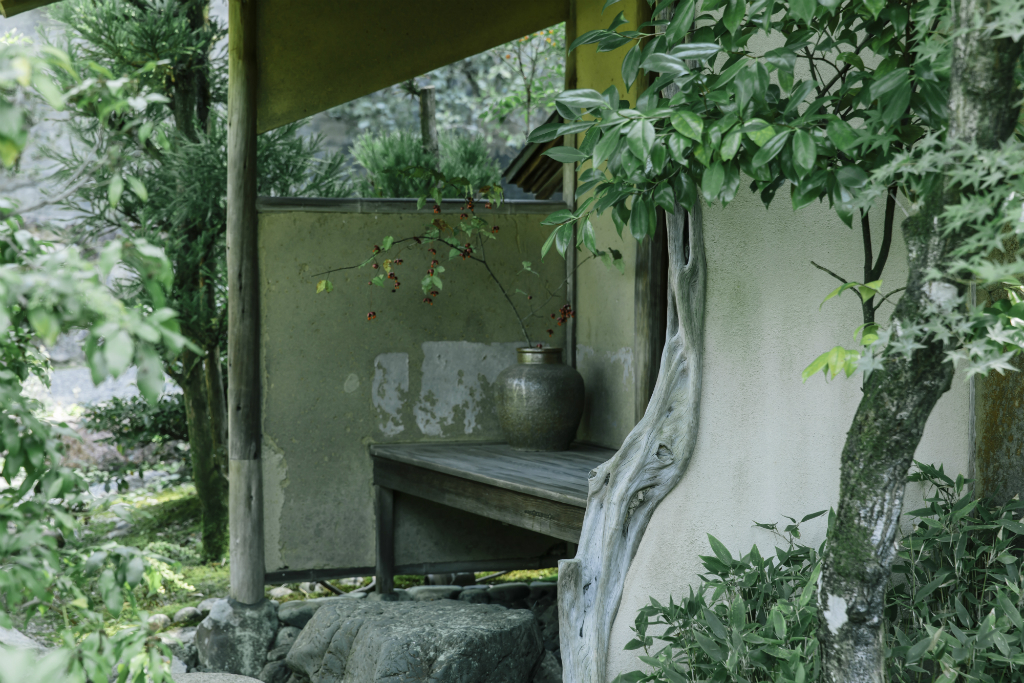 Hours: 9:00 - 17:00
   *Opening hours will differ during events.
Event Information:
   "The Perfume of Deep Green: Kyutei Omuro General Opening"
   Event Dates: May 11 (Sat) – June 9 (Sun), 2019
  *Kyutei Omuro will be open during all days in this period
   Event Hours: 10:00 – 16:00 (Final entrance at 16:00)
   Entry Fee: 800 yen
   Note: Photography is allowed
Price: Rental prices depend on time (hour, day) and number of rooms, etc.
Ruriko-in Temple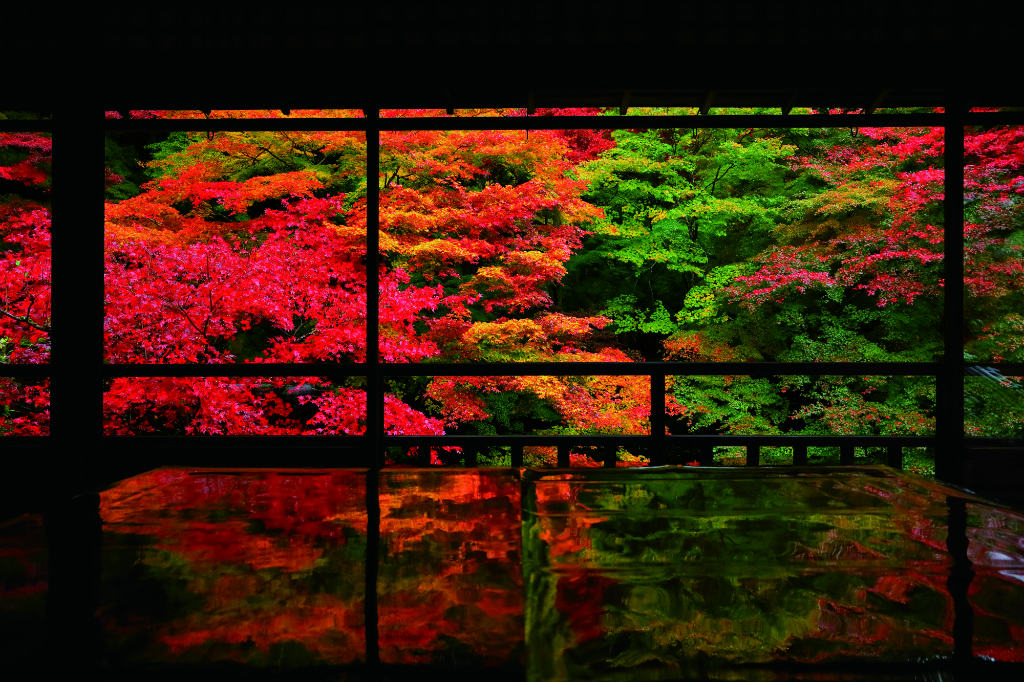 Ruriko-in Temple is one of Kyoto's most breathtaking locations, and a place you'd be sorry to visit without a camera. The temple building itself is lovely and calming, but its garden vistas truly steal the show, reflected as if in water on the temple's polished floorboards and a tabletop. You can enjoy them in an open tatami room, or snap a shot as they're framed through a round, traditional window.
Despite its beauty, this temple is open only twice a year (you may want to prepare a half day or so when you make your visit—people line up to catch a glimpse of this beautiful location when they can!): for the bright green of new spring leaves, and again for the fiery colors of autumn.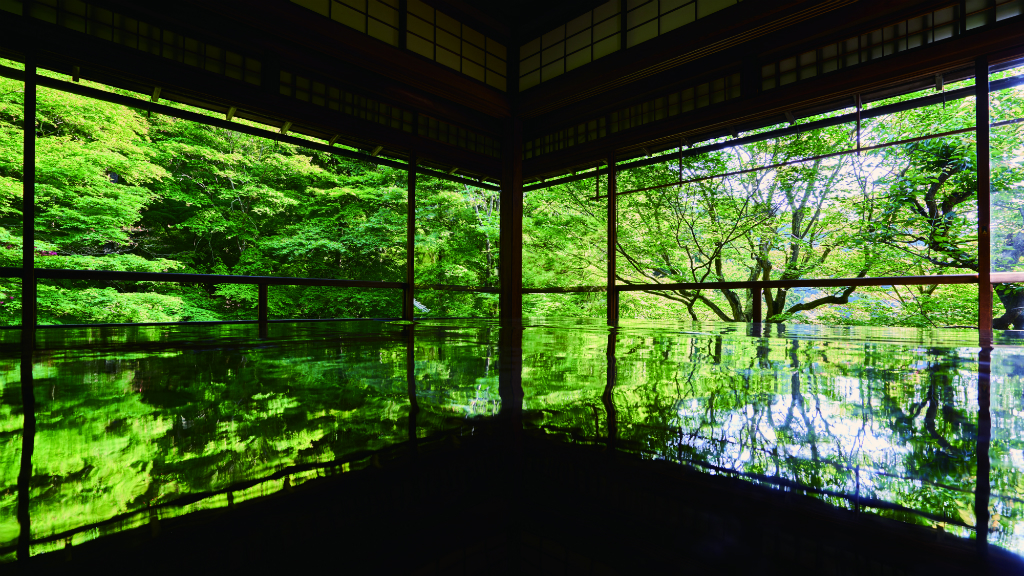 Opening Times: Twice a year (spring and autumn)
Price: Adults 2,000 yen, University Students 1,000 yen
Aside from these locations, you can only look around you to find inspiration for some gorgeous Kyoto photography! The jewel-like, colorful sugar candies, traditional
wagashi
/"Kyo-gashi," and other sweets sold as
omiyage, or souvenirs
, make for a great subject. You may even be surprised to find how photographable the brightly colored
tsukemono
(pickled vegetables, which are a popular choice for omiyage amongst locals) are!
We look forward to seeing some of the beautiful photos you'll take in Kyoto!