Emergency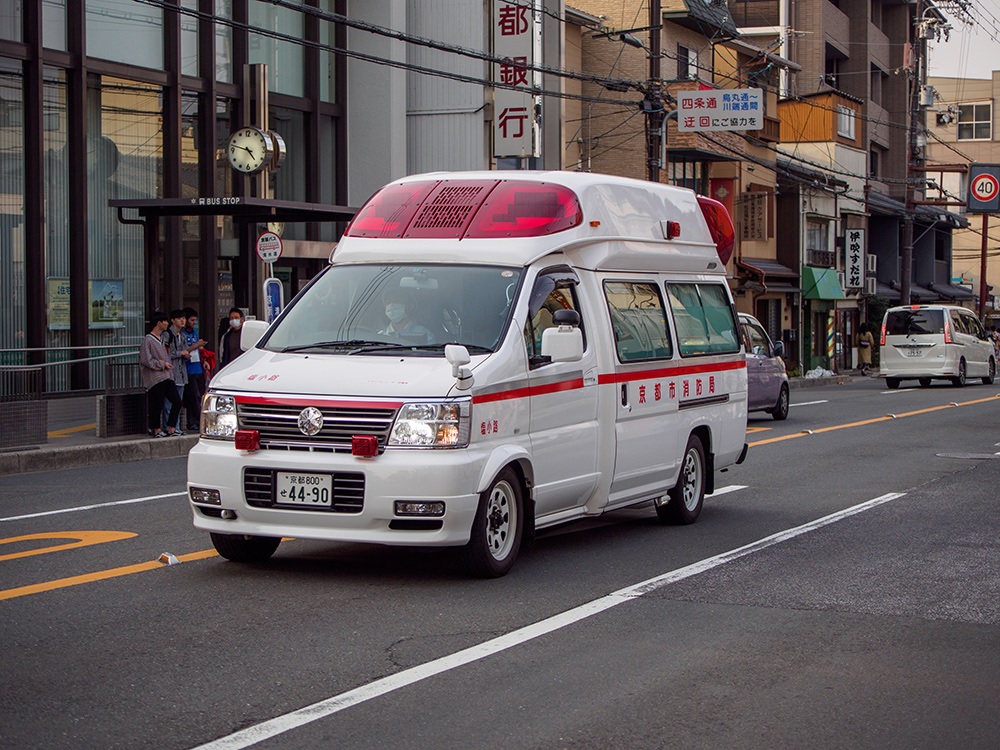 Emergency
Police Offices
In trouble? –If you have gotten into an accident, your belongings were lost or stolen, or you are lost and need help.
Police Box ("Koban") System
Koban are the manned police boxes located in almost every Japanese neighborhood. They are usually marked with signs in English and red lights. If you need to ask directions, report lost or stolen items, or report a crime, a Koban is the place to go. In the vicinity of tourist destinations, Koban are likely to be staffed by English-speaking officers. If no English-speaking officer is on hand, the officer in the Koban can make use of a telephone interpreting service. Not all Koban are staffed 24-hours a day. The police can be reached at any time by calling 110 or the local numbers listed below.
Addresses of Kyoto Prefectural Headquarters, Police Stations and Other Police Offices
Disease
If you think that you may have been infected by COVID-19 and wish to go to a hospital, please refer to the Medical Services.

Kyoto Novel Coronavirus Medical Consultation Center
Phone: 075-414-5487
(open 24 hours a day, 365 days a year; this consultation center is for Kyoto Prefecture as well as Kyoto City)
Languages: Consultation in English, Korean, Portuguese, Spanish, and Vietnamese is available from 10 AM to 8 PM, Thai from 9 AM to 6 PM.

※If you are having trouble during holidays or night, please call the Kyoto Novel Coronavirus Medical Consultation Center.

COVID-19 Information
https://kyoto.travel/en/info/safety/covid-19.html

119(emergency number)
119 is the direct-dial free phone number for non-criminal emergencies
In the event of a medical emergency, call the fire department at the emergency number "119". In Japan, calls for emergency medical services are patched through from the 119-dispatch center in the fire department. Kyoto City offers a simultaneous telephone interpretation service in five languages (English, Chinese, Korean, Spanish and Portuguese) to assist foreign visitors who call 119 in the case of an emergency.
【How to use the 119-emergency number】
1. Dial 119 on any phone.
*The call is free of charge from public and mobile phones. In Kyoto city, you can make an emergency call in English, Chinese, Korean, Spanish, or Portuguese by dialing the emergency number(119) .
If you don't speak Japanese, tell the operator either "fire" or "emergency" in any of these languages. Hang on until the operator connects you to an appropriate interpreter.

2. Clearly describe what has happened.

3. Tell the location and, if possible, the address of the place where the emergency has occurred or is occurring.


Medical Services
In the event that you become ill while traveling in Kyoto, medical supplies may be purchased at one of the many local pharmacies. There are many hospitals in Kyoto, ranging from small clinics to large institutions. Credit cards are rarely accepted at Japanese hospitals and pharmacies. If you are insured for medical care, obtain a list of acceptable overseas hospitals from your insurer. In many cases, your hospital bills will be covered by the insurance.
Emergency Hospital

https://kyoto.travel/en/info/safety/hospital.html
Hospitals with English-Speaking Doctors
You can find information on hospitals with English-speaking doctors or volunteer interpreters by visiting the Kyoto City International Foundation website
Hospital with Foreign Language Spoken Doctors (Kyoto City)
Dentists with Foreign Language Spoken Doctors (Kyoto City)
About heatstroke
A heatstroke can occur when the body fails to adapt to hot and humid external conditions. Its symptoms include vertigo, muscle stiffness, heavy sweating, headaches, nausea, and altered mental states. In Japan, heatstrokes occur from around June when the weather begins to get hot. About eight hundred people in Kyoto city alone were carried to hospitals in 2020 because of heatstroke.
Travelers visiting many places in Kyoto on a tight schedule in the summer are at risk of suffering heatstroke due to exhaustion in hot weather. Please prevent heatstroke in the summer by taking your time, avoiding being under the sun a lot, and frequent rehydration.
1. Avoid the heat and high humidity
Adjust room temperature by using an air conditioner, etc.
Take it easy on hot days and hours.
Wear breathable clothes
Be especially careful on days when the temperature suddenly rises.
2. Rehydrate frequently
Rehydrate before you feel thirsty.
Make sure to take enough sodium when you sweat a lot.
3. Take a rest
Take frequent breaks and avoid hard activities.
4. Manage your physical condition
Check the weather forecast and heatstroke index.
Eat balanced meals, sleep well, and exercise moderately.
Japan is one of the few countries where tap water is safe to drink.
There are over 800 taps and water dispensers available to the public as free water supply stations in Kyoto City. Bring your own bottle to protect the environment and enjoy Kyoto's tap water.
See the map of water supply stations from the link below:
We can all help to reduce the number of heatstroke cases to zero.(Japan Weather Association)