Yuzen Textile Dyeing Artist, Sachi Manabe: A New Potential of Yuzen Drawn in Bright Colors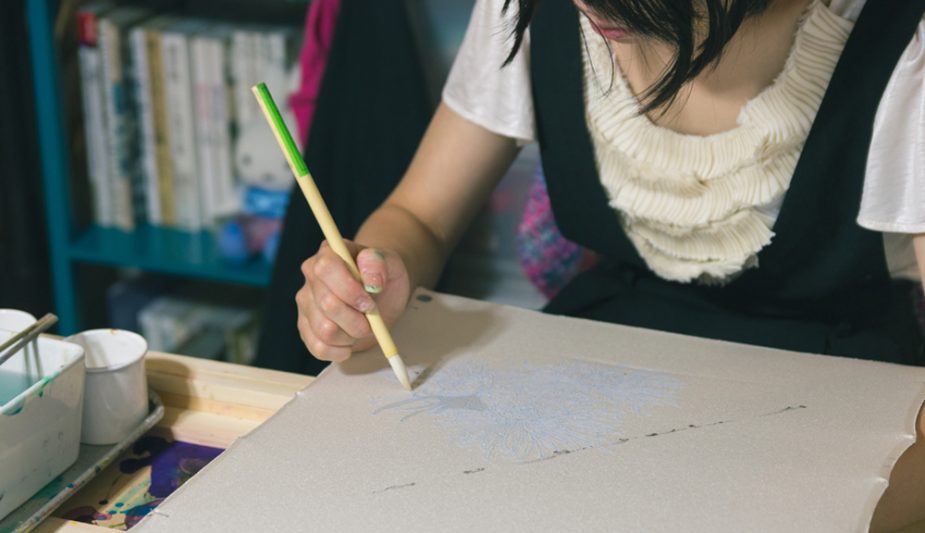 Yuzen Textile Dyeing Artist, Sachi Manabe: A New Potential of Yuzen Drawn in Bright Colors

Content Partner
KYOTO CRAFTS MAGAZINE was established with the aim of observing, reporting, and archiving the current and future aspects of lifestyle, culture, and industry of the locally rooted crafts and the people involved with them.
Content Partner

KYOTO CRAFTS MAGAZINE was established with the aim of observing, reporting, and archiving the current and future aspects of lifestyle, culture, and industry of the locally rooted crafts and the people involved with them.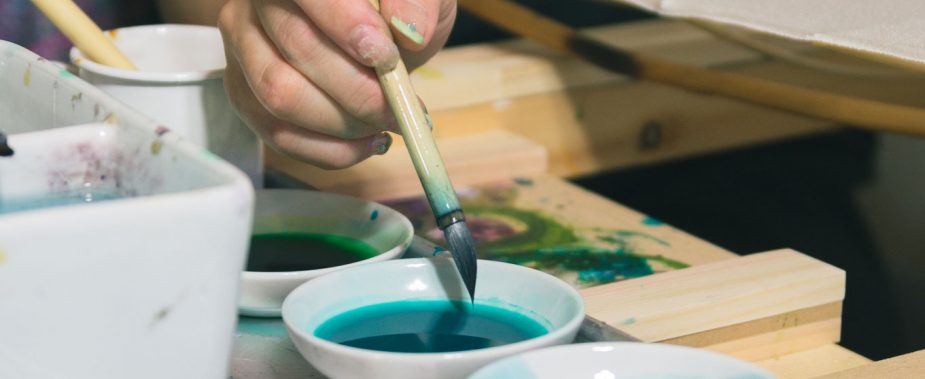 Sachi Manabe is a tegaki-Yuzen (a traditional fabric dyeing technique, using resist dyeing and freehand painting, typically known for silk kimono fabric of elaborate patterns) artist based in the Nishijin area of Kyoto. She was drawn into the world of Yuzen when she was a university student and has since created fascinating works with her brilliant palette. A new potential of the traditional craftwork is visualized in the works of Sachi with her unique sense of color unhampered by preconceptions.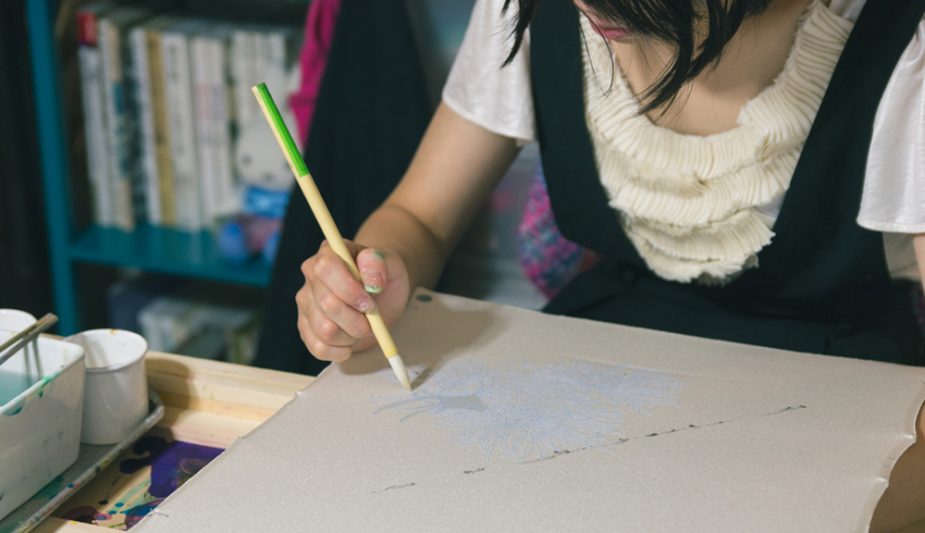 Sachi Manabe / tegaki-Yuzen artist

Sachi Manabe was born in Aichi Prefecture, Japan, in 1984. She attended the Kyoto City Dyeing Research Center Hand-Drawn Yuzen Training Program in 2003. In 2007 she started her apprenticeship under Yuzen artist Kihachiro Yoshida and also began to create her original works. She has energetically participated in exhibitions at temples and galleries as well as group exhibitions. In 2011 she received the Japan New Craftwork Best New Talent Encouragement Award. She aspires to produce Yuzen works as a form of fusion between multifunctional (viewable, wearable & decorate-able) visual art and fashion.

----- Please tell us what made you aspire to become a Yuzen artist.
I wasn't born into a family whose livelihood is in traditional craftwork, and I'm not even from Kyoto. I was born and raised in Nagoya and moved to Kyoto when I started going to university here. I have always liked drawing since I was a child. I became interested in the traditional culture of Japan through my mother, who went to art school and did research on Noh, and also through a relative who is a Noh performer. When I was a high school student, I loved studying history so much that I even visited Kyoto alone to tour the historical sites. Therefore, it was natural for me to choose to go to a university in Kyoto. I entered Ritsumeikan University and majored in History, and then I became interested in Yuzen during my college days.
----- I see, so you were in contact with traditional culture from a very early stage in life.
Yes, I think that played a significant role. Also, traditional culture became increasingly familiar to me by living in Kyoto. For example, I was only intent on the actual production of kimono, and not about wearing it. In fact, out of all the arts related to kimono, my interest had been limited to Yuzen. However, I realized that I need to hone my knowledge of related fields in order to excel as an artist. For that reason, I studied tea ceremony and the techniques to get dressed in kimono.
----- Now you have set up your own career as an independent artist. How did that come about?
As I studied at university, I also enrolled myself in another school to study drawing. It was then that I met my master-teacher (Yuzen artist, Kihachiro Yoshida) through an acquaintance. I was enchanted by his beautiful, refined works and apprenticed with him for three years after I graduated from university.
I think this really depends on the teacher, but in the case of my teacher, he lets his pupils actively participate in real production. In that free and encouraging environment, I started making my first kimono after about a year and a half had passed. I remember working on it ecstatically because everything was new and exciting to me.
There was some break after I completed my apprenticeship until I was invited to join a kimono collection exhibition "UNPLUGGED" at Nishigamo Shoden-ji Temple in 2009. It was my first time to work on one kimono all on my own. That was when I was 25. The piece was titled
Yoru-ni-saku-hana
"The flower blooming at night."
My objective was to design a kimono that can be the star of a party like an evening dress. The piece featured a giant butterfly that stands out even from a distance and was paired with a satiny black jyuban (undergarment kimono). When I was apprenticing, I made works that agreed with my teacher's taste, but now that I was independent, I had the urge to do the complete opposite. I indulged in using an abundance of patterns and colors of my personal taste, including the abundant usage of black which I had been discouraged from.
There were many challenges, and I learned many invaluable lessons from that experience. From there on, I have taken part in many group exhibitions and competitions, as well as non-craftwork projects.
----- What's the biggest appeal of Yuzen to you, Sachi?
The way the dye colors come out perfectly on silk fabric. Generally speaking, the color development by print or pigment tends to come out slightly bluish compared to the original source, but in Yuzen the colors come out unchanged. There are many procedures in Yuzen dyeing. Of course, I do the under drawing of the designs, and the actual coloring. I sometimes even dye the base color of the entire fabric by a wide brush. I also have to coat all the patterns by wax before I color the area around it.
The amount of fabric for one kimono is a lot (about 36-38cm by 12m or longer), so when it's displayed as a whole there's a visual impact like looking at a massive painting. My agenda is to make works with both artistic designs and enjoyable concepts: Fun to look at, fun to wear & fun to display.

----- The way you use your bright colors is spellbinding. Where do you get inspirations for your designs, themselves pieces of art, that accentuate those dazzling colors?
Perhaps there is a strong influence of the color schemes in Western culture, as in films and fashion. There was a time when I was enthralled with films as a student. I was completely absorbed in works by directors like Michel Gondry or Pedro Almodóvar, or films like American Beauty or Pleasantville.
On the other hand, I haven't had much contact with Nihonga (Japanese painting). I think that's why my works don't look too traditional or Japanese-looking, which is also why they have an appeal to some people as being "new". My favorite colors are hues of cobalt blue and emerald green. I try to combine them with their opposite colors so they complement each other. I also like to create works that are embedded with narrativity. My work in 2012, Šahrzā took its motif from the tale of One Thousand and One Nights. The story flows symmetrically along the center seam on the back of the kimono. For last year's IMAGINE ONE WORLD – KIMONO project I made a furisode kimono ("the full-length-sleeve kimono": the traditional formal attire of unmarried women which have long sleeves draping down to below knee-level) imagining the United Kingdom. The British cultural motifs such as the Union Jack or English gardens are incorporated into the design. It was my first time to make a furisode, so that was challenging in itself. I force myself to take up a new challenge at least once a year.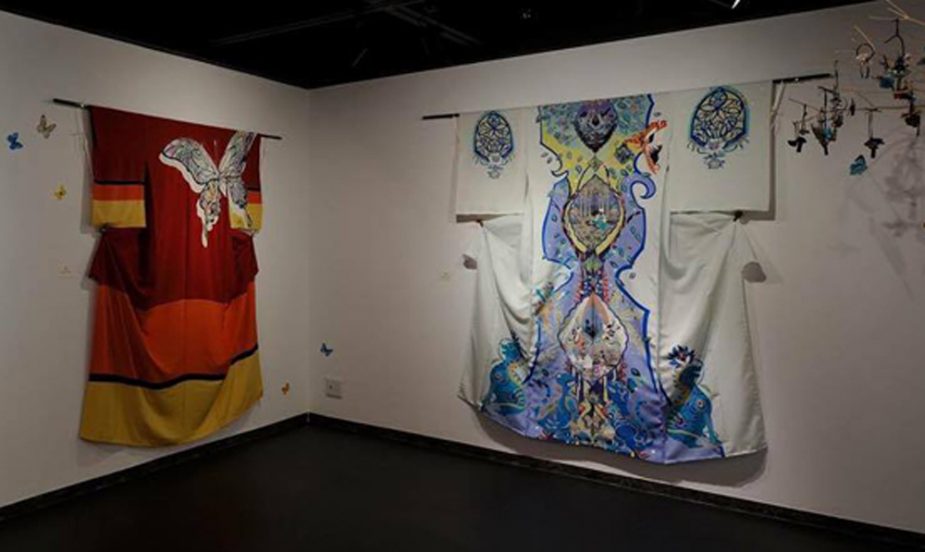 ----- "Taking up a new challenge once a year"? That's a high target!
It's because I'm actually a very lazy person! (laughter) That's why I need to push myself to move forward. In 2010, I made a men's kimono for the first time, which became my personal turning point. I visualized the story of how the Indian chintz pattern was brought to Japan and then was recomposed here, by designing a caravan of animals in chintz pattern crossing over the sea to Japan.
The fabric I used was a type of silk gauze for summer called "ro." It has many fine holes in the textile structure to make it breathable, which actually makes it difficult for the color to permeate. But, I dared to make it an ultra colorful piece. When I finally finished it, I thought,"I did it!", it was a real feeling of accomplishment.
----- What would you like to try next? Do you have any goals you're heading towards now?
This year I am going to try making a "jin-baori" (a kimono vest worn by warriors over their armor). I just made a miniature model of the design. It was an offer from an acquaintance of mine who is active on the stage. I plan to create a design that would have a striking appearance on stage with motifs like the moon, flowers, or skulls.
Also, as part of the activities of Kyoto Artisan's Studio (Kyoto Shokunin Kobo) I belong to, I am making goods using fabric that I dyed myself, like card cases or accessories like earrings.
Because I'm not from a family of established artisans, I feel that I am able to experiment with different approaches. I hope to develop my own new style of Yuzen.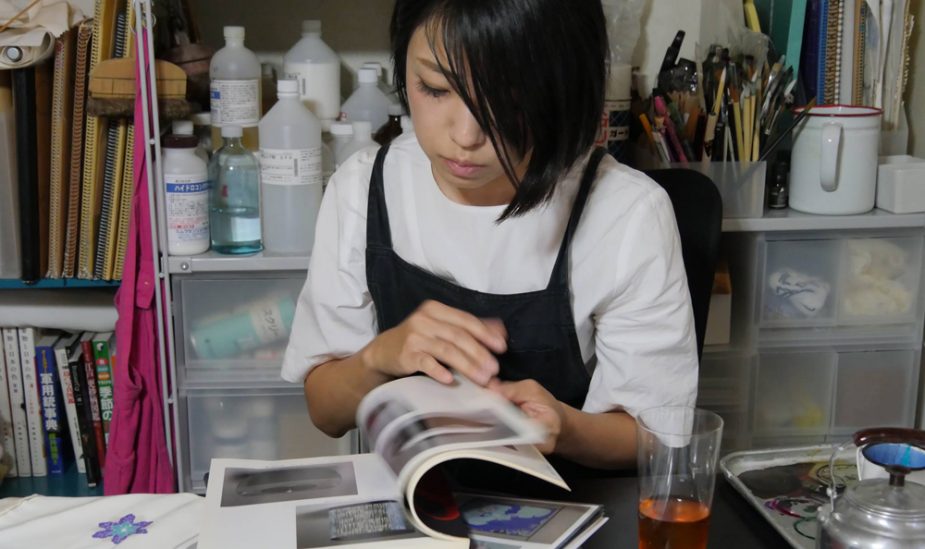 INTERVIEW
TEXT BY CHIKAKO ICHINOI
PHOTOGRAPHS BY KOICHI HONDA, SHINGO YAMASAKI
16.11.01 TUE 23:21
Read more article on Partner's site

KYOTO CRAFTS MAGAZINE was established with the aim of observing, reporting, and archiving the current and future aspects of lifestyle, culture, and industry of the locally rooted crafts and the people involved with them.