The "new normal" of hotel buffets—a true delight! [All Day Dining "RAQOU" at The Westin Miyako Kyoto]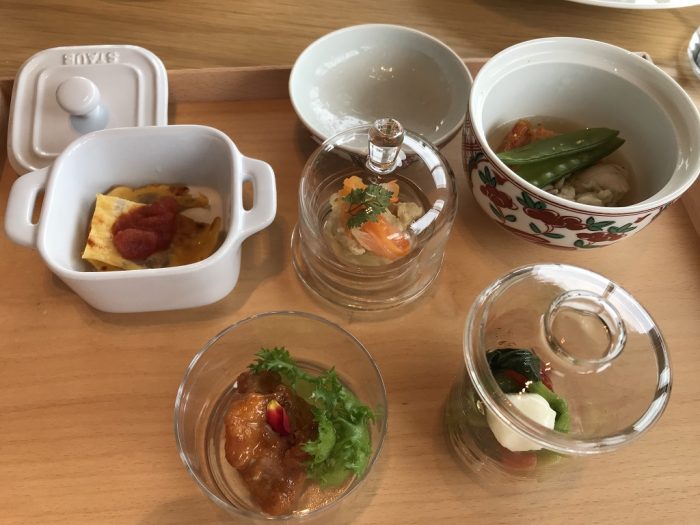 The "new normal" of hotel buffets—a true delight! [All Day Dining "RAQOU" at The Westin Miyako Kyoto]

推薦網站
DIGISTYLE KYOTO is an online magazine Kyoto-lover writers deliver exciting information on Kyoto, with a twist!
推薦網站

DIGISTYLE KYOTO is an online magazine Kyoto-lover writers deliver exciting information on Kyoto, with a twist!
Hello, I'm Itakura from Digistyle Kyoto.
It looks like it's going to be a while yet before life returns to how it was. . . .

Wanting to create a buzz by sharing the charms of Kyoto,and thinking it's about time we did something to lift everyone's spirits, our female staff members decided to spice things up with a little luxury!
"At a time like this, a hotel lunch is just the thing!" I thought and The Westin Miyako Kyoto sprang to mind.
The hotel underwent major renovations the year before last and the guest rooms, restaurants and bar reopened in November last year, so I was curious to check it out.
When I had a peek at the website, I found this:
▼ All Day Dining "RAQOU"
https://global.miyakohotels.ne.jp/westinkyoto/dining/all-day-dining-raqou/


Reopened on June 20, the buffet now:
・ has all food served by hotel staff instead of the conventional self-service style; and
・ offers a new buffet style that is enjoyable yet safe and sound.
Curious about this "new buffet style," I decided to see it for myself with a girls' lunch with two of my colleagues!
We're off! On the shuttle bus from Kyoto Station. Feeling like tourists in our own city, we headed towards Keage, energized by this mini adventure!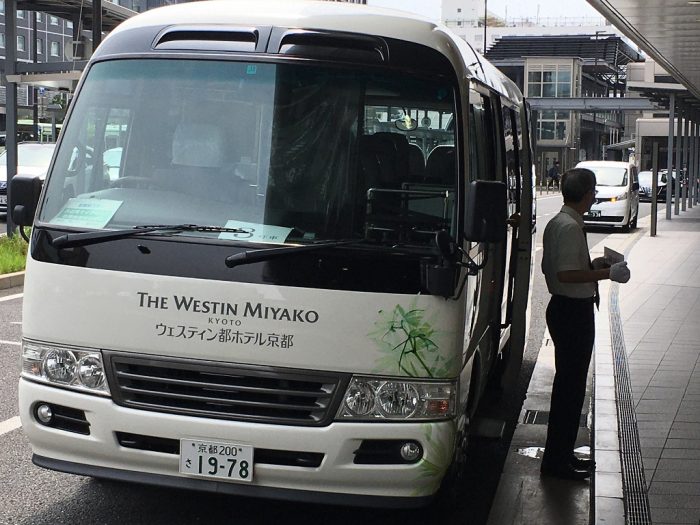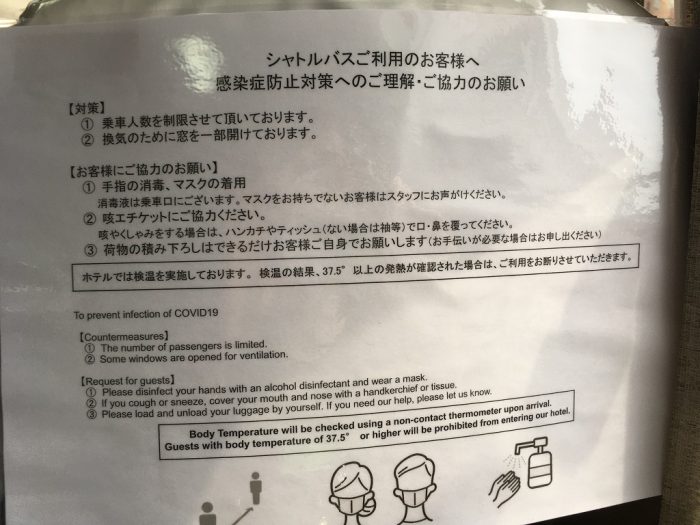 Proper measures are in place to prevent infection and make the bus trip safe. There is alcohol disinfectant for your hands as you get on the bus and seating is appropriately spaced.

As we arrived and stepped into the lobby, we found that it is brighter and much more open than before!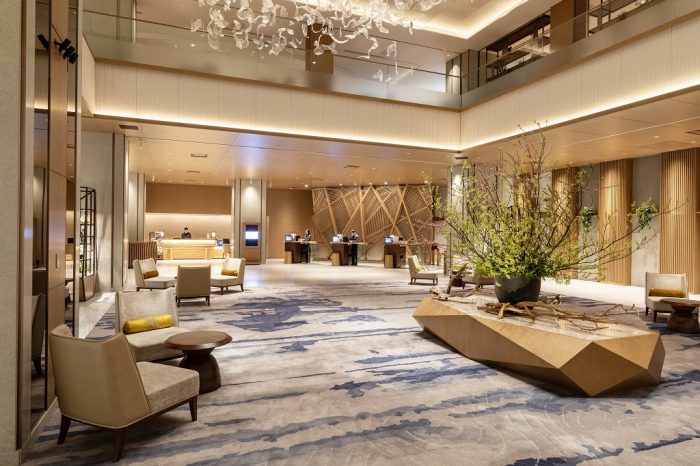 It's so spacious and luxurious.
And it would make a great place to just meet up.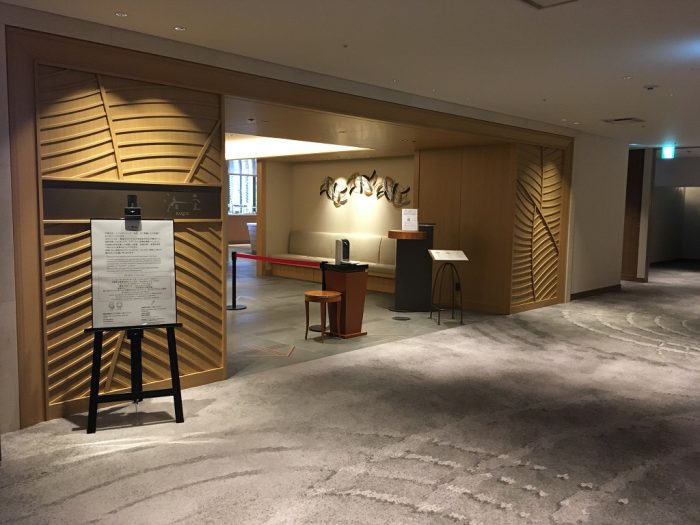 We then made our way to the
All Day Dining "RAQOU"
entrance.
After our temperatures were taken with a contact-free thermometer, we disinfected our hands and went inside.

Chatting excitedly about how the buffet restaurant used to be at the center of the second floor, we all let out an involuntary "Wow!" as we entered.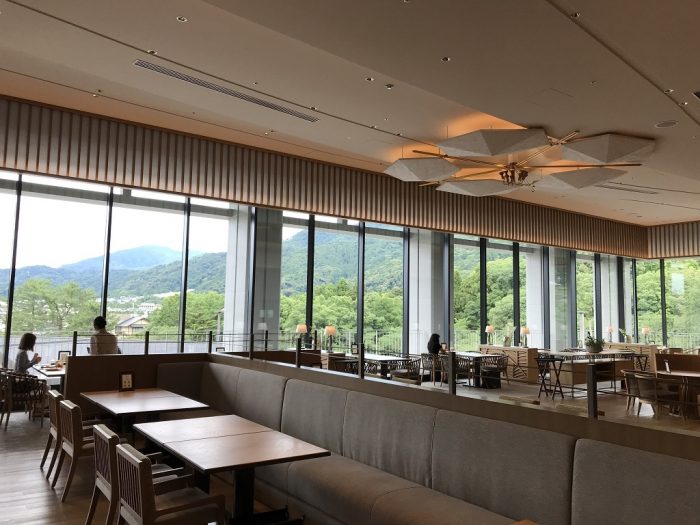 The space is pleasant and bright with high ceilings. And look at the ceiling-to-floor windows on the north side with their panoramic view of the Kyoto streets and Higashiyama mountains! This is a view you don't want to miss!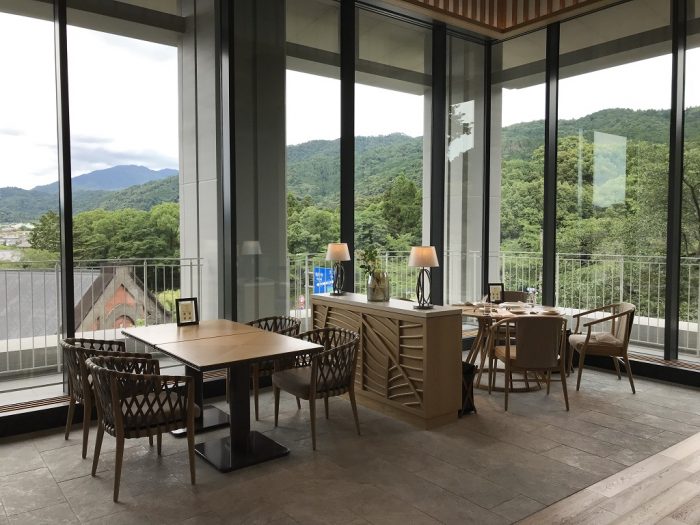 You can look down over the Keage Incline from these windows. This really is prime seating for seeing the cherry blossoms and autumnal leaves when they're out.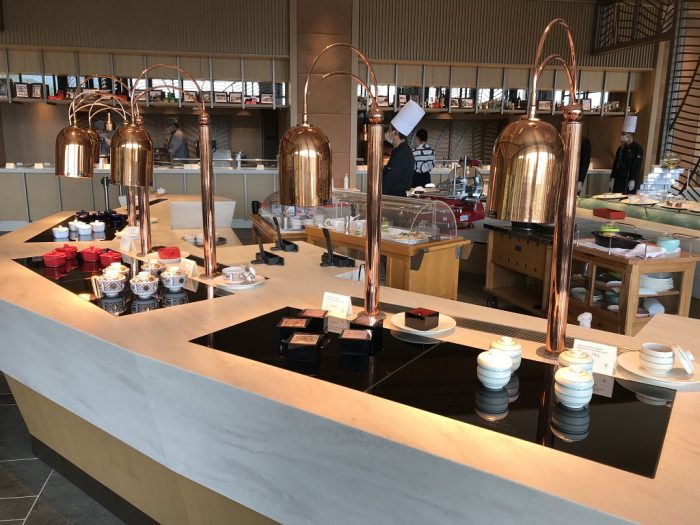 And now, the long-awaited food. Each item is beautifully presented and served in individual dishes.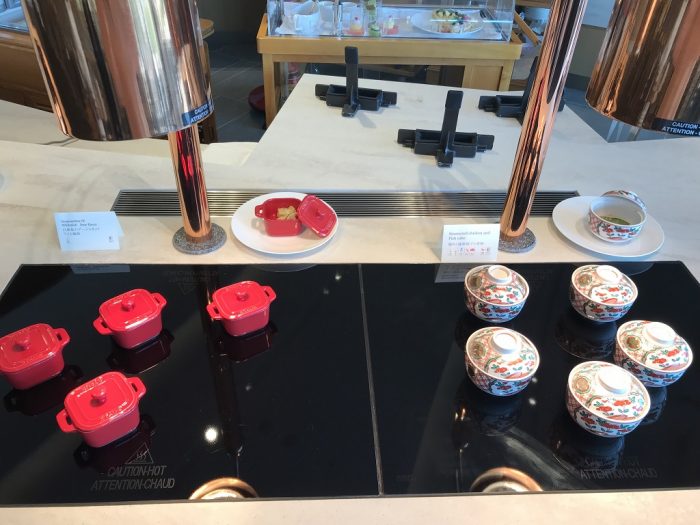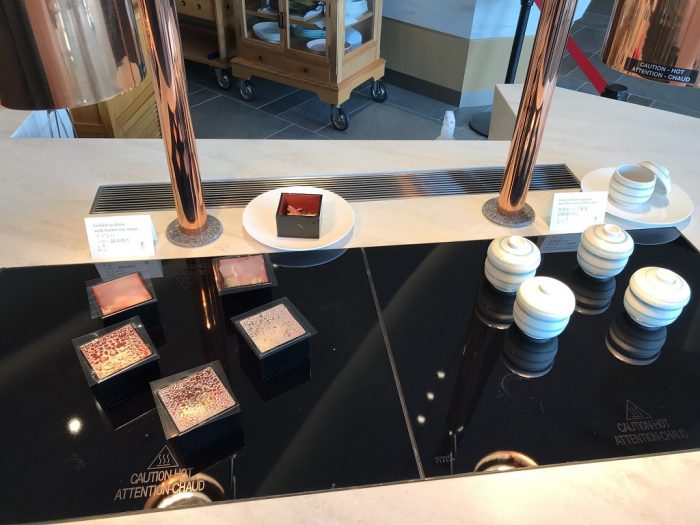 Almost all the food is served in covered dishes to put diners at ease. The placement of samples showing what each dish contains is a thoughtful touch. Not to mention the heated plates that keep the food nice and warm.

This style means the food is centrally managed and served by the staff only, so it is not handled by other diners, making the dining experience even safer.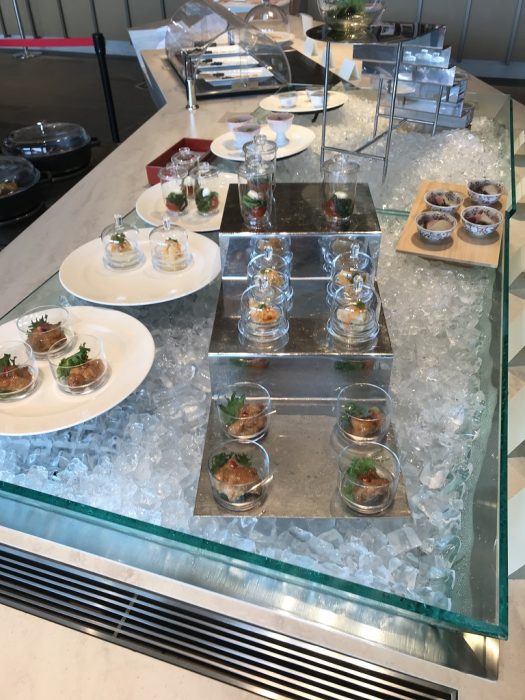 These are the cold appetizers, carefully arranged on ice. The food all looks so good that it's hard to decide what to try and the lovely, delicate glass dishes add to the sensation!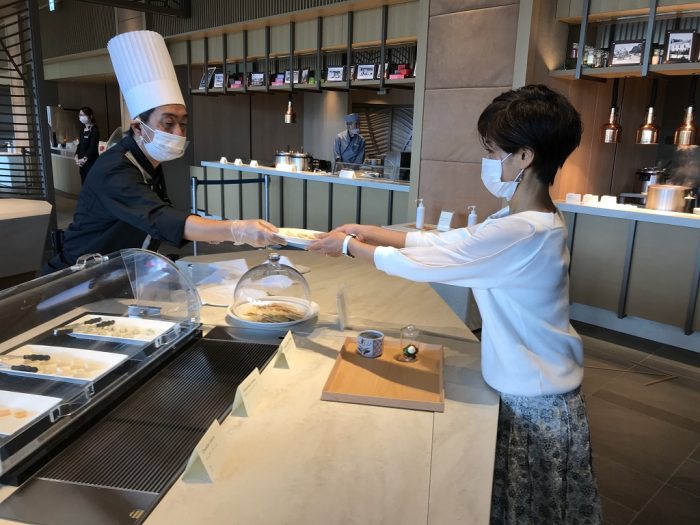 There is also a corner with a variety of cheese on display, which you can have as an appetizer or to nibble on after your meal. It makes you want to have a glass of wine.
Still undecided, I started off with some appetizers and soup and returned to our table.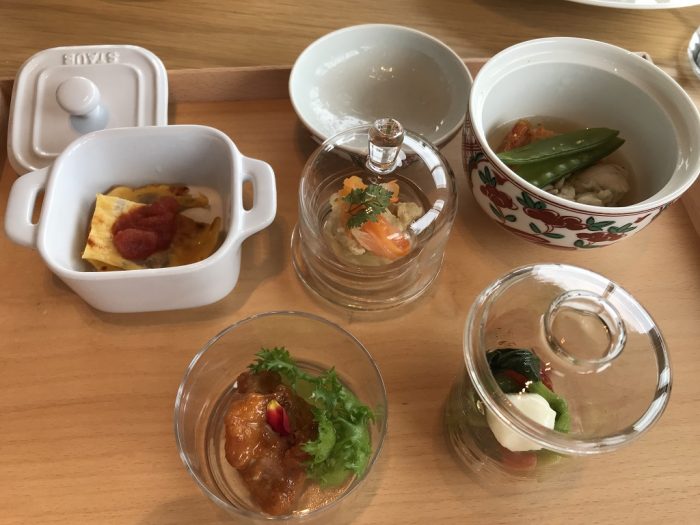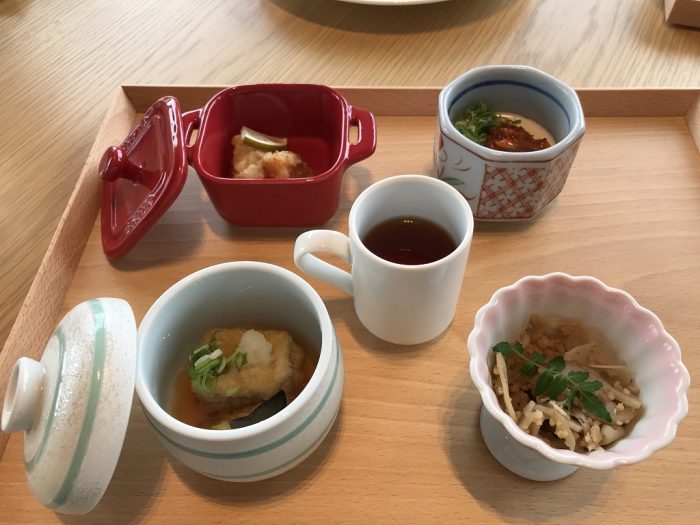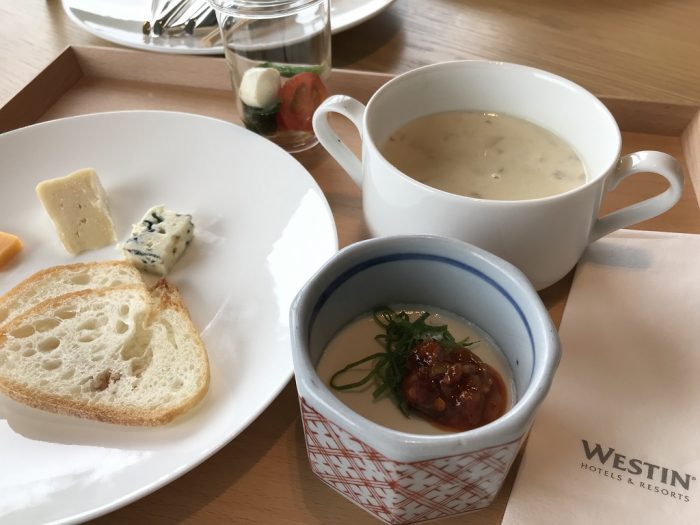 This was our first round and each of our trays was completely different.
The real fun of a buffet is joyfully critiquing our chosen dishes while enjoying each taste.

Another new element was the fun of arranging all the dishes on our own trays.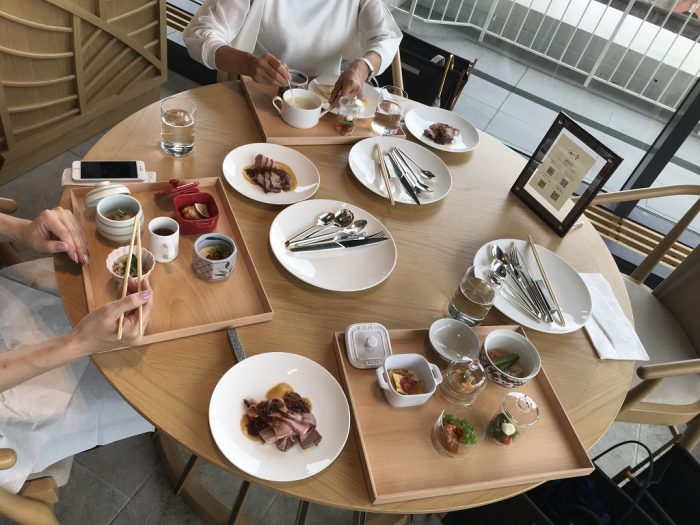 We also had roast beef served at our table at just the right time. Everyone usually lines up at a buffet for the roast beef, so this was a nice surprise!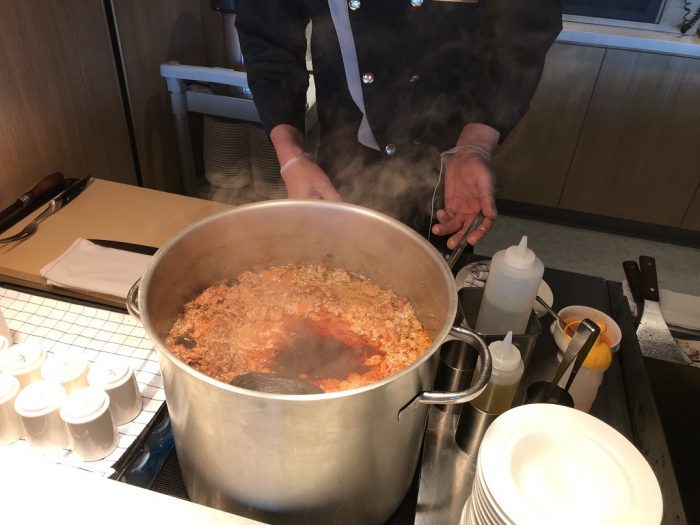 The live cooking as well as the vast array of quality Japanese and Western items make even just walking around fun. This divine consommé is made according to the hotel's original recipe. It was specially created for the hotel's 130th anniversary buffet in July.

The light bubbling of the soup sparks the appetite and curiosity!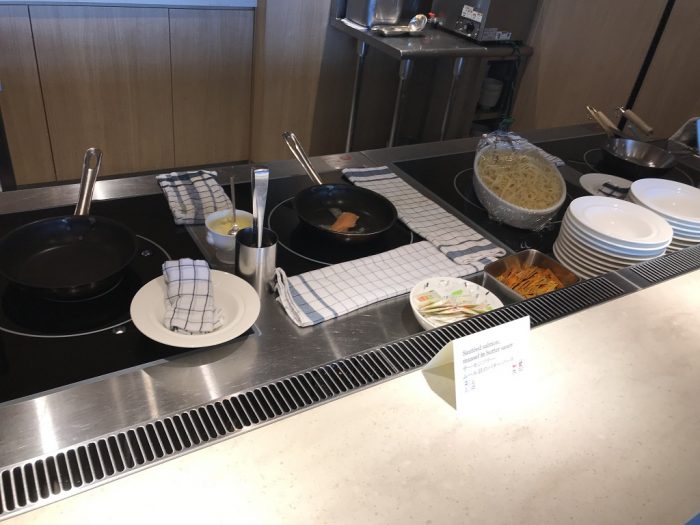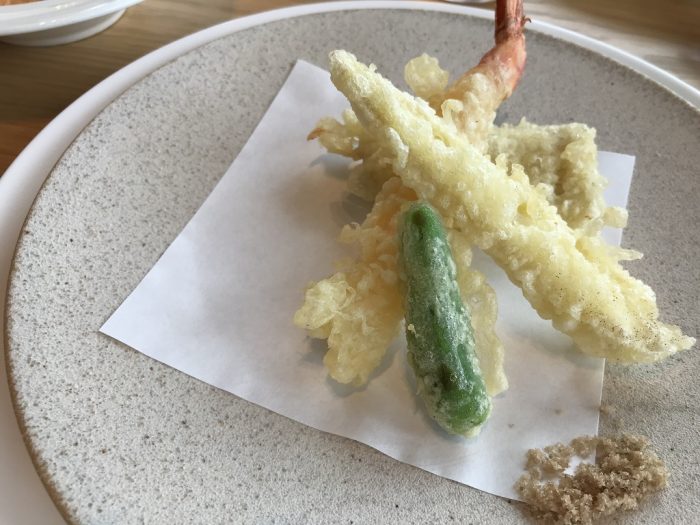 And there was tempura too! You choose your ingredients and have them deep-fried to perfection right there in front of you.

Deliciously soft and crispy! It was simple, yet impressive.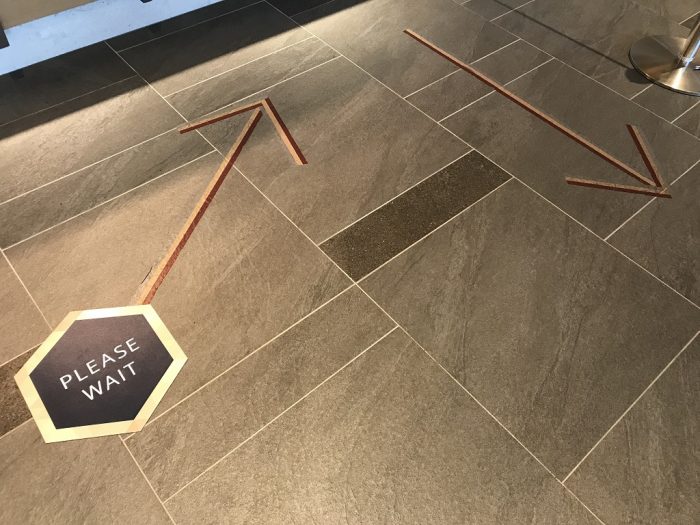 The floor has social distancing markers.
Even these were stylish.

And then there were the chefs at each counter who were absolutely lovely and very friendly.
I chatted with one and asked how consommé is made (I had no idea that it is clarified with egg whites!), and another smiled at me and asked if I'd like to try the tempura when he saw me standing there, not sure where to go.
I could sense their genuine joy at the buffet reopening and being able to welcome diners again.

And we, too, were truly delighted at being able to chat to the staff like this.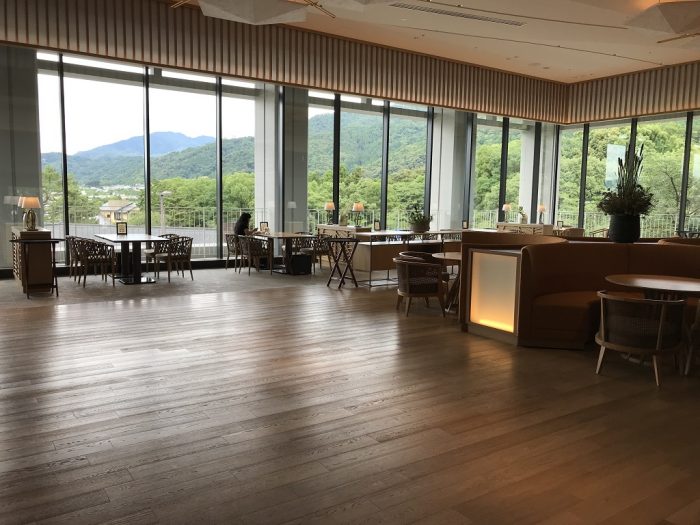 The tables are mainly arranged by the windows, responsibly avoiding the three Cs of closed spaces, crowds and close contact.
Incidentally, the area used to be a banquet hall with walls instead of the big windows it has now. I wonder if this renewal and magnificent view has made it Kyoto's most luxurious buffet restaurant?
We also had salad, fruit, fish and meat mains, and dessert. Then, unable to resist, we did the unexpected and had seconds of curry, mackerel sushi and mini servings of eel on rice . . . continually bucking meal conventions! We really made the most of this buffet!
All in a little over two hours. It was a time of pure bliss where we could feel both a happy high and quiet calm amid the security of knowing infection control measures were in place.
And, to top it all off, a final treat!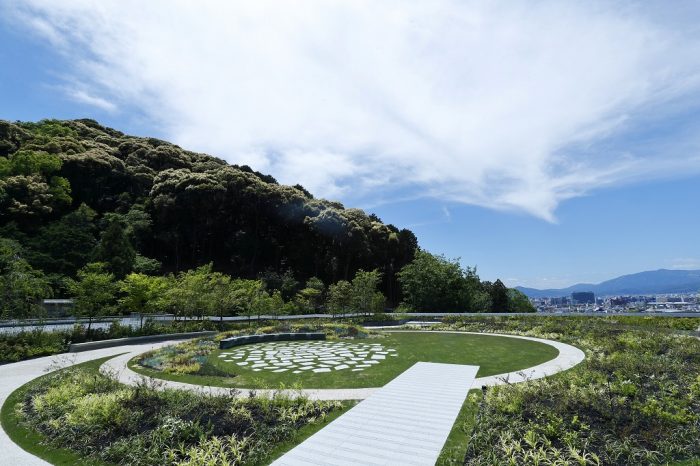 This is the brand-new rooftop garden on the seventh floor. Who would expect such a place, a garden so open and so close to the lush, green mountains, at a hotel in Kyoto City?!

(Apparently, you don't have to be an overnight guest to visit the garden. Feeling refreshed after yet another long break, it was time to head back.)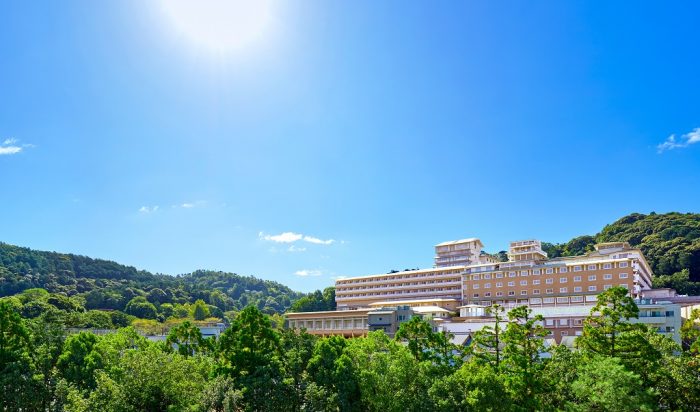 The Westin Miyako Kyoto boasts a superb location nestled in the mountains of Higashiyama.

It is also within walking distance of many sights, including Nanzen-ji Temple and Heian-jingu Shrine.

It would make a great base for people from Kyoto and the surrounding areas to rediscover Kyoto!
*The dishes introduced in the photos and article were part of the hotel's 130th anniversary buffet lunch menu in July 2020.
[Lunch buffet]
Weekdays: 11:30–14:30
Adults: 4,133 yen (5,000 yen)
Children (ages 6–12): 2,645 yen (3,200 yen)
Preschoolers: Free of charge
Saturdays, Sundays and public holidays: 11:30–15:00
Adults: 5,372 yen (6,500 yen)
Children (ages 6–12): 3,223 yen (3,900 yen)
Preschoolers: Free of charge

[Dinner buffet]
Fridays and the day before public holidays: 17:00–21:00
Adults: 5,785 yen (7,000 yen)
Children (ages 6–12): 3,637 yen (4,400 yen)
Preschoolers: Free of charge
Saturdays, Sundays and public holidays: 17:00–21:30
Adults: 7,025 yen (8,500 yen)
Children (ages 6–12): 4,380 yen (5,300 yen)
Preschoolers: Free of charge
*Prices in parentheses include tax and service charges.
*For every paying adult, one elementary school-aged child (ages 6–12) dines free.
*At the moment, the dinner buffet is only available on Fridays, Saturdays, Sundays, public holidays, and the day before public holidays.
From Monday to Thursday, a set menu or à la carte menu is offered.

Name:
The Westin Miyako Kyoto ALL DAY DINING "RAQOU"
Address: 1 Awataguchi Kacho-cho,Higashiyama-ku,Kyoto 605-0052
Telephone: +81-75-771-7111
Hours: 6:30~22:30
Buffet
Breakfast buffet: 6:30~10:00
Lunch buffet: 11:30~14:30
Dinner buffet: 17:00~21:00
A la carte
10:00~22:30
Access: 2-min. walk from subway Tozai line Keage Station
閱讀更多連結網站

DIGISTYLE KYOTO is an online magazine Kyoto-lover writers deliver exciting information on Kyoto, with a twist!