The Booking Website for Kyoto Jidai Matsuri Festival 2019 is Open!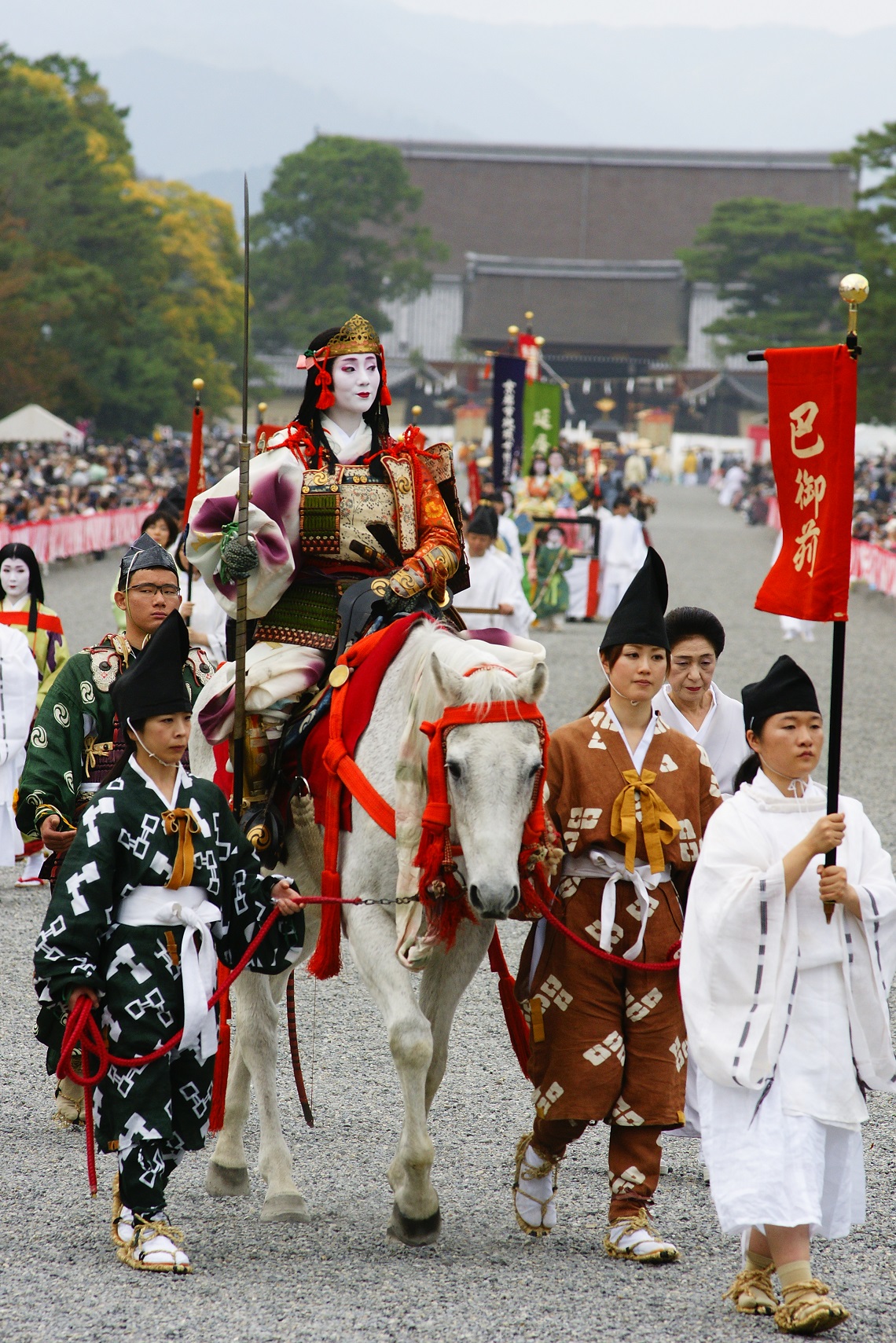 The Booking Website for Kyoto Jidai Matsuri Festival 2019 is Open!
The Jidai Matsuri Festival will be held on October 26th in 2019.
Jidai Matsuri Festival is one of the three Kyoto's most important festivals held in autumn. The procession starts with soldiers from the Bakumatsu period(the end of the Edo period), proceeding along Kyoto's main street playing flutes. They will be followed by the participants wearing costumes from each historical period: the Edo period, Azuchi Momoyama, Yoshino, Muromachi, Kamakura, Fujiwara, and through to the Enryaku period. It will be a colorful, exotic costume party dedicated to the Old Capital's 1,100-year history from the 8th to 19th centuries.
The 2-km procession which consists of about 2,000 people (including 70 horses, 2 oxen, horse cart and sacred carriages) departs from the Imperial Palace and slowly makes its way through the streets of Kyoto over the course of about 2 hours. The fantastic range of authentic historical costumes worn by the participants are sure to delight audiences.
◆ Procession Route Map ◆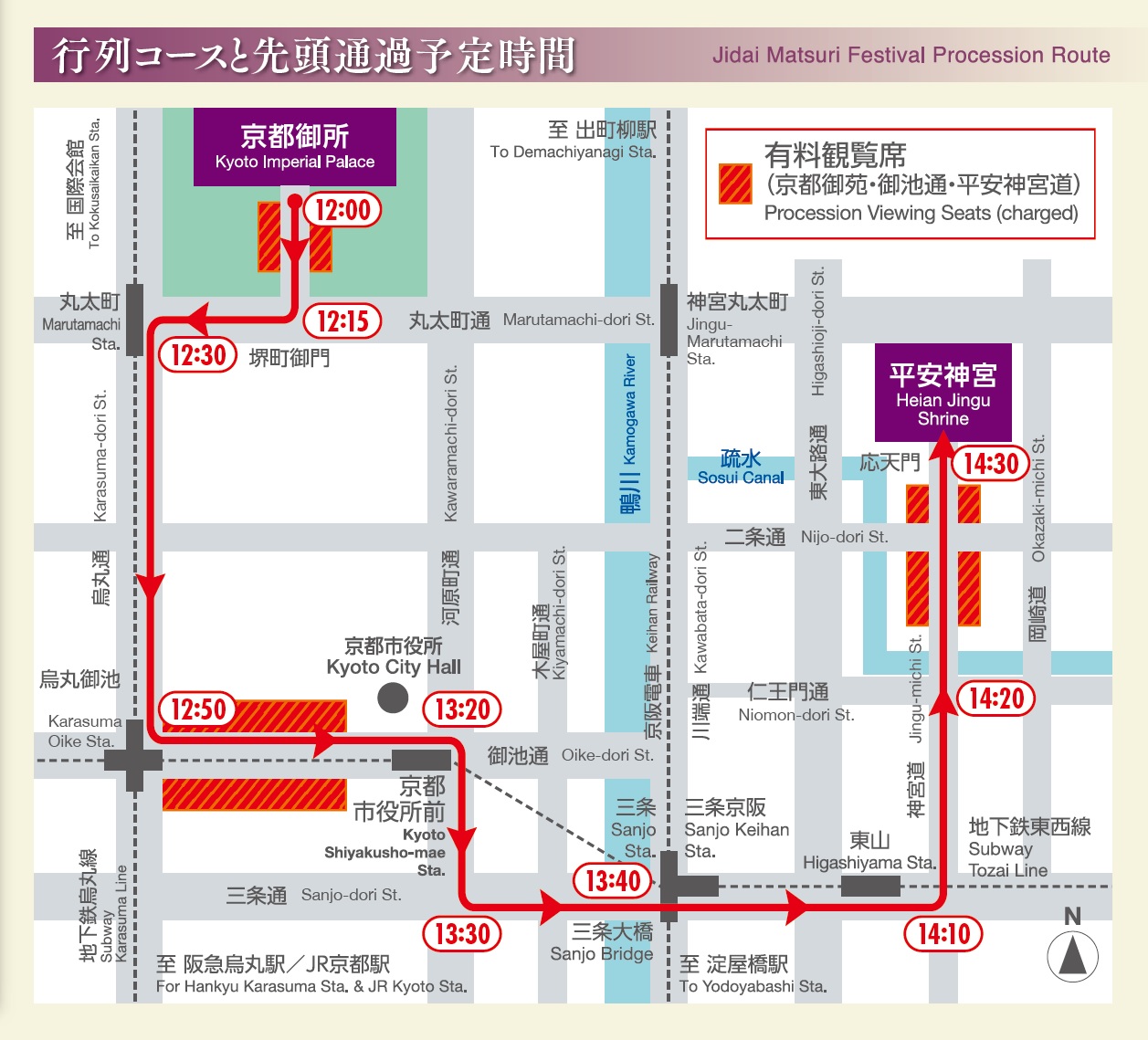 ◆ Procession Viewing Seat Tickets ◆
For a comfortable experience, reservations for Jidai Matsuri Festival viewing seats with live English commentary are available on the internet (
Voyagin
).
Procession Viewing Seat Tickets with English Guidance: 4,100 yen (tax incl.)
Tickets are also available at visitor information centers and information center above.
Kyoto Tourist Information Center "Kyo Navi"
(8:30 to 19:00, daily)
2F JR Kyoto station
Kawaramachi Sanjo Tourist Information Center
(10:00 to 18:00, daily)
1F Kyoto Asahi Kaikan Bldg., 427 Ebisu-cho, Kawaramachi Sanjo-agaru, Nakagyo-ku, Kyoto
Kansai tourist Information Center Kyoto by JTB
(10:00 to 18:00)
3F Kyoto Tower Bldg., (In front of JR Kyoto Station)
*Ticket prices may vary depending on where you purchase.
<NOTICE>
If it rains on Oct 26th, the festival will be rescheduled to the next day. Please be aware when the festival is postponded, tickets is still valid on Oct 27th.
*Tickets are not refundable.
Information regarding whether the Jidai Matsuri Festival 2019 will be held will be available on official Facebook page "Visit Kyoto" on 7:00 a.m. on Saturday, Oct. 26th.
⋅ Please make use of the public transport to come to the Jidai Matsuri Festival.
⋅ To exit from Kyoto Gyoen National Garden, walk to Karasuma Street (the west side) to avoid a crowd at Sakaimachi gate (the south side) after the procession.
⋅ Please follow the police instructions to prevent accidents.