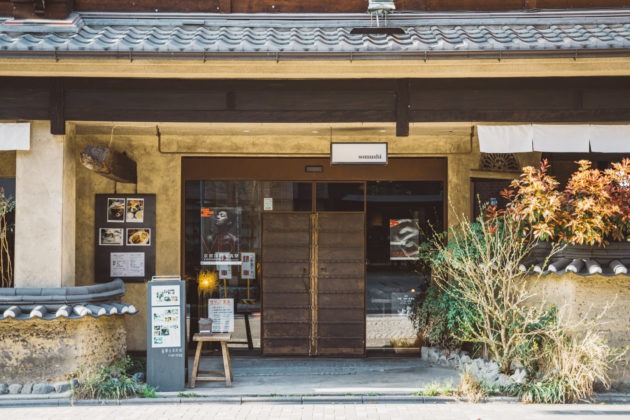 콘텐츠 파트너
Sharing Kyoto features the most popular things to do, restaurants, shops, and events in Kyoto, but also puts the spotlight on the trendy and hip things happening right now.
콘텐츠 파트너

Sharing Kyoto features the most popular things to do, restaurants, shops, and events in Kyoto, but also puts the spotlight on the trendy and hip things happening right now.
The building housing Somushi Korean teahouse on Karasuma Street has a dignified air about it. Perhaps it is the thick roofed mud wall that encircles it or the ornate bronze shutters that adorn the three-story façade, but regardless it seems in tune with the prestige of its proprietors: the famous obi maker Kondaya Genbey, established in the 1700s. The teahouse was created by renovating the first floor.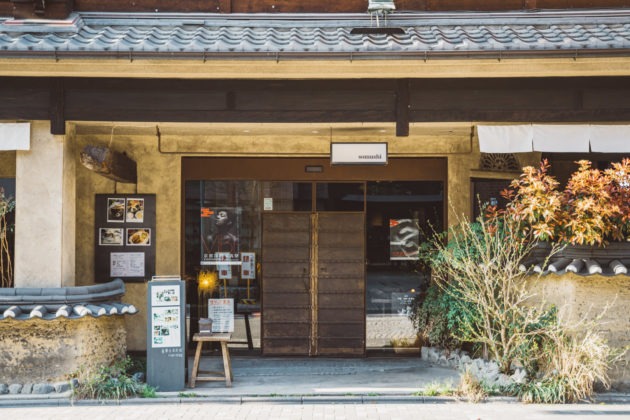 With the interior hidden from view, I step in through the imposing double doors, intrigued as to what I may find inside. The café is surprisingly spacious. The large, translucent, pojagi patchwork cloth suspended from the ceiling before me serves to separate a platformed area where guests—with shoes removed—dine at low wooden tables, from the floored area. Just beyond, is an extensive counter facing the preparation area — a space that has been dug out just deep enough that the staff standing and guests sitting on zabuton before them meet eye-to-eye. Behind the staff, stands a wall lined with shelves of teaware which somewhat work like a frame, giving structure to the scene. Narrow doorways lead off into intimate, low-lit dining rooms, and a small courtyard. Here and there are dainty ceramic pieces on display with the white slip typical of Korean wares, some medicinal herbs and delicate lights made from the flowers of dried Chinese lantern plants on sale. The whole venue is permeated with a neutral, earth-colored palette, with the natural materials, from the straw-embedded walls to the kakishibu-dyed cushions, lending rich textures and scents.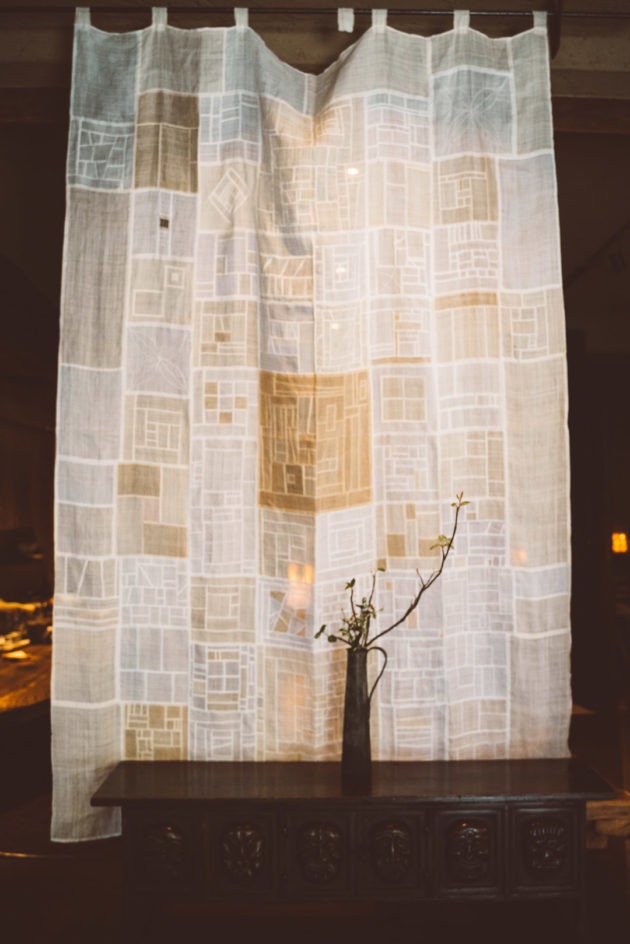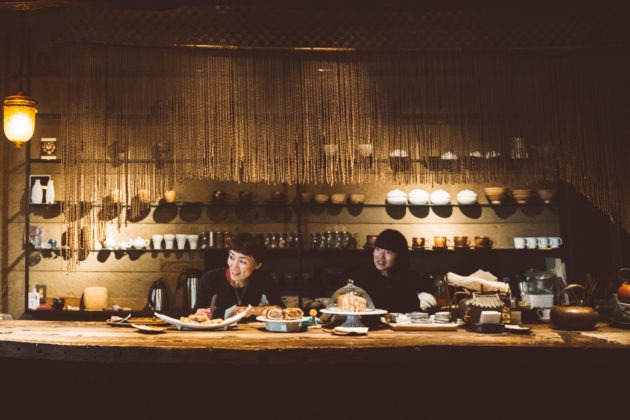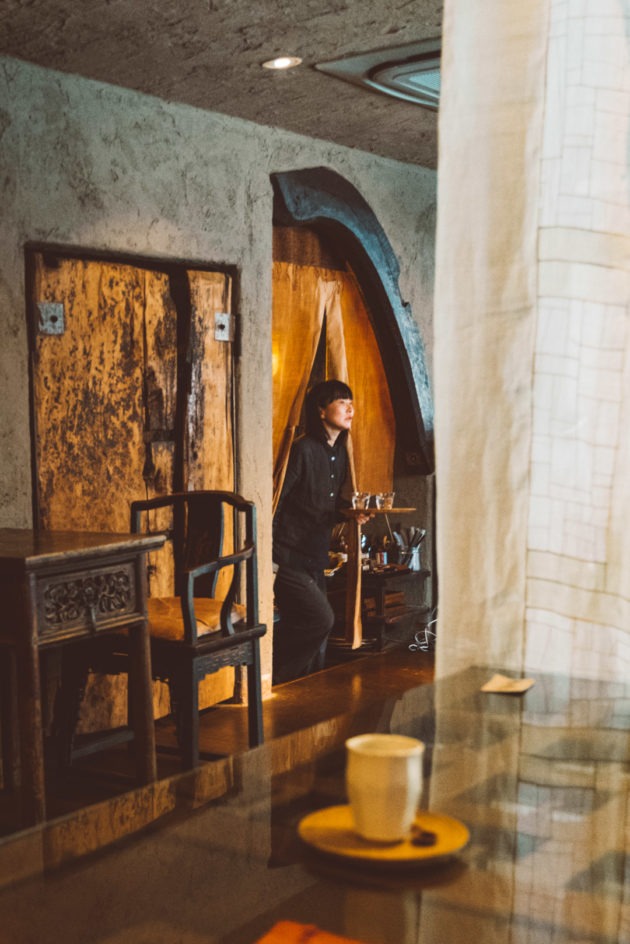 A petite lady gracefully crosses the room to greet me: Yeonkyung Yamaguchi, owner of Somushi and wife of Yamaguchi Genbei, 10th generation owner of Kondaya Genbey. Sipping on a delightful infusion of Korean ginseng and jujube, I sit down with Yamaguchi to hear the story behind the first Korean teahouse in Kyoto, which remains the only one of its kind in the city and has been a favorite of Kyoto Journal's over the years.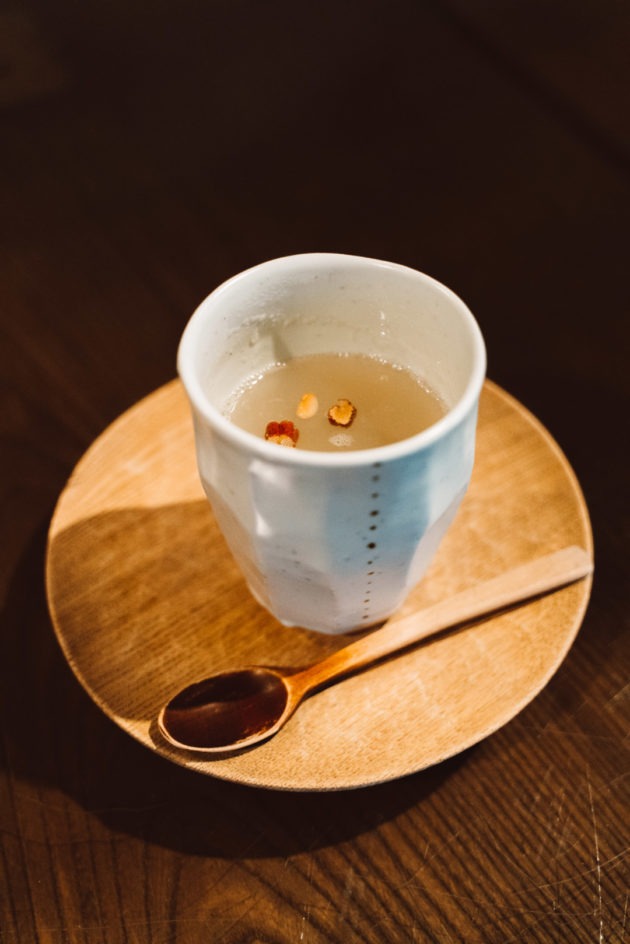 Can you tell me a little about yourself and how you got here?
I visited Japan as an exchange student, the first generation of exchange students at a two-year university in Kita-Shirakawa, in Tokyo. I came to Kyoto for an internship at a textile maker —mainly to draw obi designs. As a foreigner, I mostly did administrative jobs, but I guess they hired me in the first place because I could bring in foreign aesthetics and had no fixed conception of what "obi designs" should look like. I didn't really have any clue as to the ideal or typical colors and patterns, so I just kept stating my personal opinions.
This is around the time you met your husband?
Yes, I wasn't directly working for him or what would become his company, but the world of textiles is a small one. I didn't know that he was such a profound figure — I didn't even know that he was the 10th generation for Kondaya Genbey until just before getting married! Thinking about it, it was very long after we got married that I realized how much prestige and what a sense of purpose the role carried.
How did Somushi begin?
I built Somushi about 15 years ago. I've always worked but it was around then that the kids were getting older, and it was really just that I've always had the feeling of longing for my home country, being apart from it for so long. When I was young, my mother often made tea, rice porridge — things that are easy on the body. She rarely took us directly to the hospital when we weren't well. She took care of us with simple folk remedies, and I do the same with my own children. I thought, if I were to do something, running a teahouse would come naturally to me. Also, they weren't so many cafes around Kyoto at the time, and even if I went to one, I always felt on-edge and would end up gulping down my coffee and quickly heading home. I wanted to create a place where people could feel at ease.
So you decided to do this at your home?
Well, we weren't using this building's—well, our office's—1st floor for a long time. I didn't plan on making it this big, but I asked my husband if I could set up a small cafe here. We first started out with building an ondol, a Korean underfloor stove, for the whole sitting area. In Korea, your feet are always warm, heating you gradually from the inside. In modern Japan, air conditioners are the main source of heating, and I felt that warmth was missing from my daily life. After laying out the first ondols, my brother who is an architect helped me design additional ones.
Can you tell me about Somushi's concept?
I feel that people nowadays are becoming unconscious of their five senses. I wanted to create a space where people could have their senses stimulated by using natural material all around. At the start, I purposely didn't put up signs for the restrooms, nor did we have a menu. I wanted people to use their instincts and figure stuff out — to think before immediately asking for what they wanted. This table we are sitting at was actually the door of a Japanese storehouse. I put legs on it and made it into a table. I remember finding it with my husband and instantly liking it.
Would you say you are influenced by your husband?
We both love searching for materials, digging up treasures. It's funny how we like the same things. Also, as the heir to a long-established obi maker, it's obvious that he has a solid sense of duty. When I first started Somushi, he was the one that made me promise I would be true to Korean tradition, and I wouldn't compromise. He told me that as a Korean, it was my duty to cherish and retain Korean culture. He told me if I were going to do it, I had to do it without disguise.
What kind of responses do you get from your customers?
Serving herbal teas and dishes easy on the body, we receive a lot of positive feedback from health-conscious guests. It wasn't like this 15 years ago. No one really cared about remedies or healthier options. I feel like people started recognizing its significance two or three years ago.
Is there a particularly memorable response you've received?
I'm glad that I get to introduce Korean remedies through my cafe, and it's always nice to know that people appreciate the effect. But one response that really struck me was when one of my husband's friends came to the cafe, and while she was dining she came out to the group that she was Korean. She said she felt at ease saying it in Somushi's atmosphere, even confident, although she had hidden it for so long after coming to Kyoto, a city drenched in conservatism at the time. I myself have felt lonely many times — marrying into a traditional Japanese family, and on top of that, one running a centuries-old business in Muromachi, Kyoto. That loneliness compelled me to make Somushi, but it wasn't until then that I realized how much lonelier it could have been for others who had left their home early in their childhood to be in Japan. That was a moment when I felt I really needed to keep running the cafe while staying true to the same values that I promised at the start.
What are your thoughts on tradition and what can we expect from Somushi?
Korean guests come and are surprised at how Korean Somushi is. But it's not about pushing the Korean-ness, it's about the realness, creating something from the core. It's Korean tradition for me because I'm Korean, but I think what's important is universal. It's about appreciating nature and looking at the roots — how we are all connected. Through Somushi, I want to be true to myself as a Korean but also deliver warmth as one living on earth.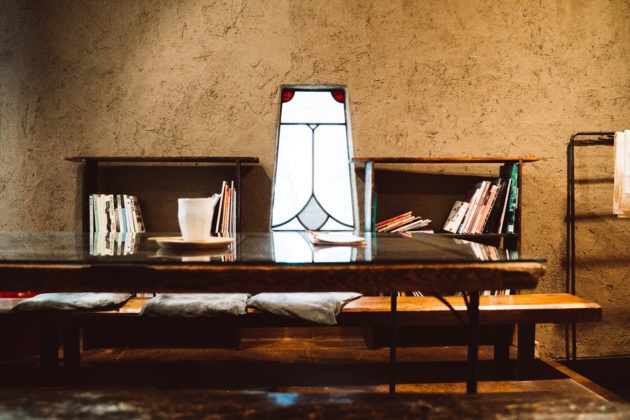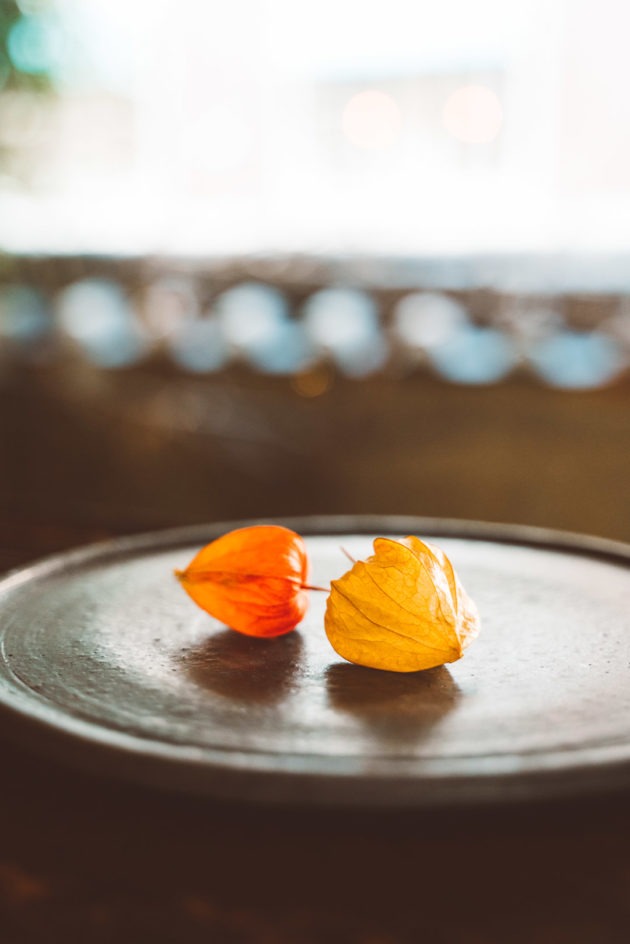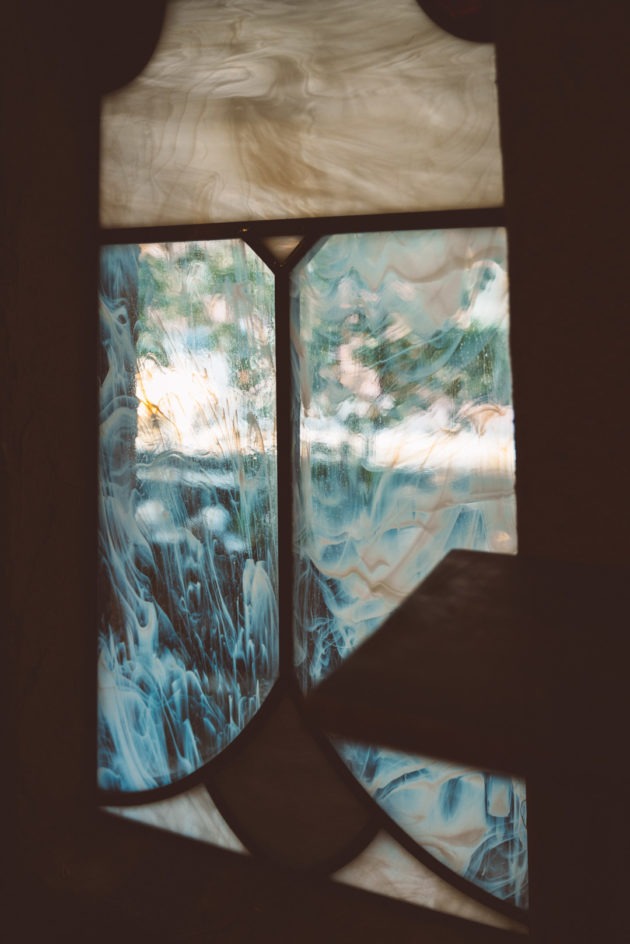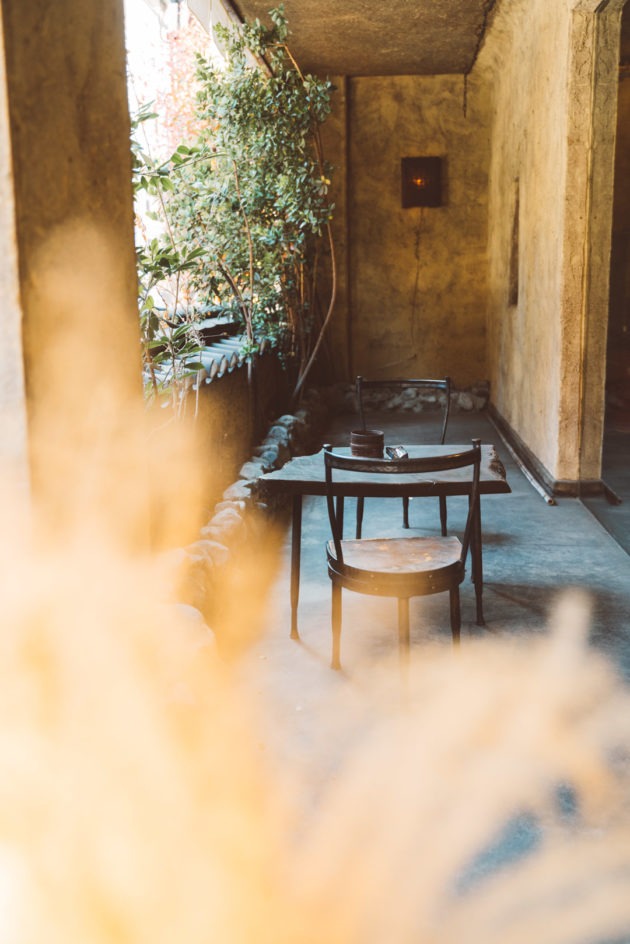 지도

73, Okura-chou, Nishi-iru, Karasuma-Sanjou, Nakagyou-ku, Kyoto-shi 604-8166

전화

+81-75-253-1456

웹 사이트
제휴 사이트에서 더 많은 기사 읽기

Sharing Kyoto features the most popular things to do, restaurants, shops, and events in Kyoto, but also puts the spotlight on the trendy and hip things happening right now.