We ask all visitors to Gion Matsuri Festival 's Yoiyama evenings and the Yamahoko Float processions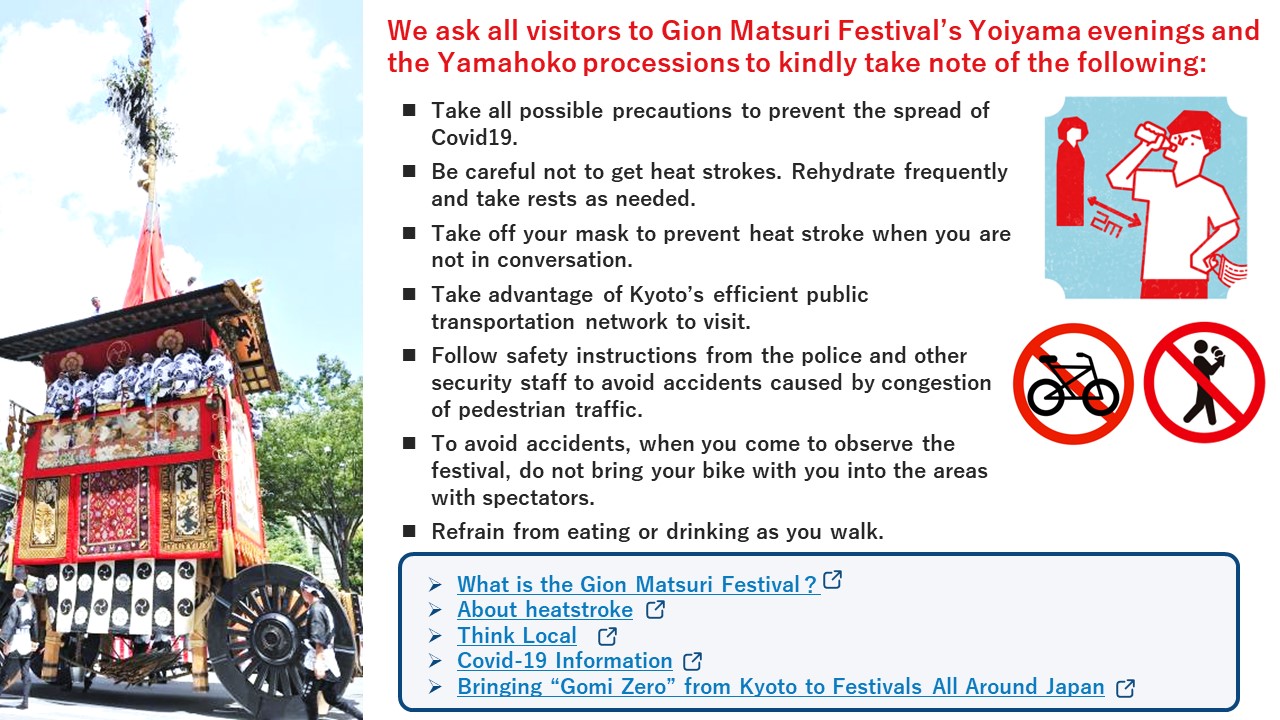 We ask all visitors to Gion Matsuri Festival 's Yoiyama evenings and the Yamahoko Float processions
We ask all visitors to Gion Matsuri Festival's Yoiyama evenings and the Yamahoko Float processions to kindly take note of the following:
Take all possible precautions to prevent the spread of Covid-19.

Be careful not to get heat strokes. Rehydrate frequently and take rests as needed.

Take off your mask to prevent heat stroke when you are not in conversation.

Take advantage of Kyoto's efficient public transportation network to visit.

Follow safety instructions from the police and other security staff to avoid accidents caused by congestion of pedestrian traffic.

To avoid accidents, when you come to observe the festival, do not bring your bike with you into the areas with spectators.

Refrain from eating or drinking as you walk.
Information regarding whether the Gion Matsuri Festival Parade Procession will be held will be available on this page on 6 a.m. on Sunday, July 17th.
◎For more information about the Saki Matsuri, or Pre-Festival: Yamahoko Float Procession at Gion Matsuri Festival, refer to the website below:
https://kyoto.travel/en/season_festivals/gion_matsuri.html

"Gion Matsuri Festival" is a large festival held by Yasaka-jinja Shrine with over 30 events in the month of July. The origin of this festival was a religious ritual to calm the plague that spread all over the country in 869.
The greatest highlight of the Gion Matsuri Festivities are the Yamahoko Float Procession, which occurs twice during the festival period, on the 17th and 24th.

We ask all visitors to Gion Matsuri Festival's Yoiyama evenings and the Yamahoko Float processions【PDF】